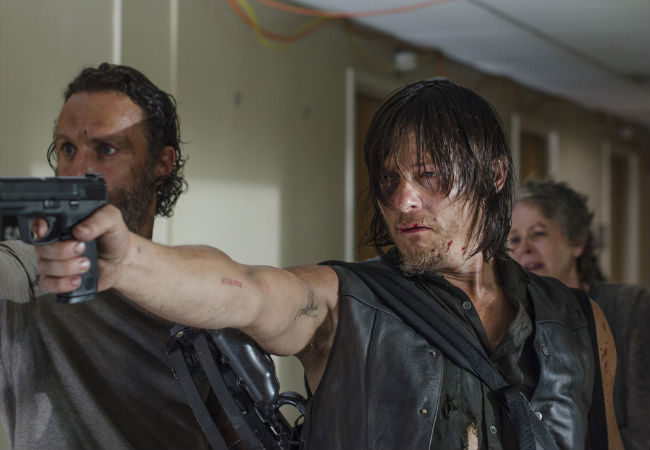 * SPOILERS AHEAD … AND A SCHOOL FULL OF APPLE-LESS ZOMBIES … SO MUCH FOR THE TEACHER'S FRUIT BREAK *
You have to hand it to creator Robert Kirkman, showrunner Scott Gimple, and the entire The Walking Dead team, in this case writer Angela Kang and director Ernest Dickerson.
With only minimal moving of the narrative chess board pieces, and a slow-burn mentality that saw portent-heavy conversations rule the day along with one short, sharp, and exquisitely, shockingly, heartbreakingly sad action scene, they brought forth to the audience a deeply-affecting mid-season finale that owed as much to Drive as it did to the zombie apocalypse genre.
The genius was that they didn't rush into action like so many 5 year olds on Skittles and Pepsi Max; they moved a piece here, a piece there, let a sharp spike into adrenaline sneak in there before letting things settle down once again, all the while building up to one of the most brutally-quick but impacting deaths in The Walking Dead history.
Truth be told, if you were going to pick anyone to shuffle off this mortal apocalyptic coil, it would have been Beth (Emily Kinney), removed for quite a while from the main cut-and-thrust of the plot but with still enough poetically rich meaning in her death to make a real impact, most particularly on Daryl (Norman Reedus) and Maggie (Lauren Cohen) who were left utterly broken and bereft in the wake of her shot-through-the-head passing at the hands of an equally soon-rigour mortis-prone Dawn (Christine Woods).
Even so, Beth's dramatically-sudden death, a starkly violent blip on an otherwise slow burning storyline (much like Drive), was a shock.
It didn't come out nowhere, of course, but for sheer dramatic effect it may as well have, leaving you reeling mere minutes before The Walking Dead heads off for a two month break, and with little to no time to process things before the credits rolled.
Naturally, as is the way with The Walking Dead, where every conversation Means Something Important, there were signs well before that darkened, near-silent hospital corridor at Grady Memorial Hospital that the someone was going to end up with a considerable amount of blood on their less-than-innocent hands.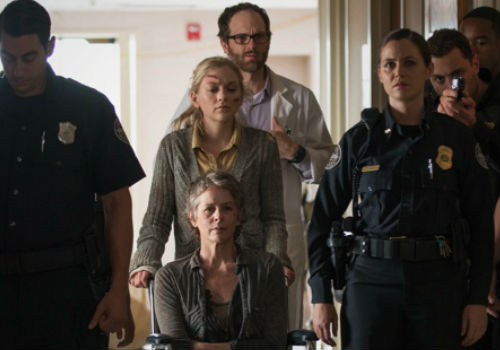 Beth and Dawn, in fact, spent many a scene together, mostly discussing whether whatever Dawn was doing, and frankly I don't think the woman was either Governor batsh*t-crazy nor a saintly Mother Theresa figure with OCD/control issues but rather a contrary mix somewhere in-between, was a worthwhile thing or not.
Dawn, as you might expect, thought she was virtue and good sense personified, holding a very shaky thin blue line against the prevailing undead forces of chaos and death until such time as civilisation re-asserted itself as she was sure it had to do at some stage.
Beth though was having none of this, her refusal to cry anymore joined by a dogged refusal to admit the glass is even half-full or even in the same county as the tap, and she called Dawn on her delusion time and time again to almost no effect:
Beth: "You keep telling yourself you have to do what it takes just until this is all over. But it isn't over. This is it. This is who you are and what this place is until the end."
Dawn: "This place saved you. I saved you. Twice. The others don't know what you did. They think Joan was trying to get back at me. And that Gorman and Jefferies were in the wrong place at the wrong time."
Beth: "That's what happened."
Dawn: "Bullshit! I saw the smashed jar. I closed up the office before it could be a problem … I protected you."
For all her dictatorial tendencies, her rigid unwillingness to bend the rules (except when it capriciously suited her such as giving Beth the means to give Carol medication on the sly), you got the impression Dawn was basically a good person who believed in a golden promised land of sorts that would only come into being if she kept the rule of law with an iron fist.
Unfortunately, as has been proved over and over in history, as on The Walking Dead, the best of intentions, no matter how sincerely felt or passionately enunciated, can survive long in the face of the brutal exercise of power (the lack of which, for the "greater good" naturally, Dawn believed, justified her doing away with the previous leader, her friend and mentor Hanson).
And so it was with Dawn, who for all her passionate belief that a Great and Wonderful Future lay just around the corner – ironically it was being held up as a sacred thing to believe in at about the same time that Eugene's lie was being exposed anew to the likes of Michonne (Danai Gurira) and any sense of a cleansing hope for the future was dying a quick death in Rick's group – was blind to the corrosive effect her wielding of power was having on her ideals, those around her, and the hospital as an incubator for civilisation reborn.
As Officer O'Donnell's (Ricky Wayne) insanely brief, aborted lunge for power made all too clear, there were already cracks forming in Dawn's virtuous in her own mind but nowhere else by the way iron-fisted rule (her belief was that her officers didn't need to love herand whatever she thought she was achieving was not long for this world.
Much like Dawn herself really.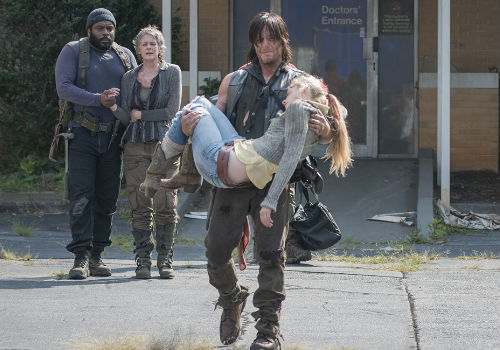 Rick for his part was bouncing somewhere between mad as a hatter – running down an escaping Officer Lamson (Maximiliano Hernandez) because "he wouldn't stop" and wise, consultative leader who was forced to re-visit their established plan to do a prisoner swap when he, um, killed one of the prisoners.
As it turns out, both Officers Shepherd (Teri Wyble) and Licari (Christopher Matthew Cook) were only too happy to go along with the "a zombie ate my fellow officer" excuse for Lamson's eventual no-show, and so the game was back on, with Rick managing to stay cool, calm and collected, and more than a little hardened, when Officers Franco (Rico Bell) and McGinley (Kyle Clements) turned up to organise the prisoner exchange for Dawn.
While they stood guard over Rick's little diplomatic tête-à-tête on the roof of the building, and took the occasional potshot at a stray, shambling zombie – the sheer casual ease with which they do this now is almost amusing – Tyreese (Chad L. Coleman) and Sasha (Sonequa Martin-Green) kept up their therapy by a thousand small conversations.
Sasha thought the old her was gone, washed away by the deaths of Bob, the subsequent death of love true love that it symbolised, and her self-perceived stupidity at letting Lamson go; Tyreese, who Sasha thought was still the noble man of integrity of old, begged to differ believing you could still hang onto your old self come what may (Rick may not agree with that summation necessarily).
One person who probably thinks the past is long gone, although he kept hanging onto it like a maggot-filled leg of memories, is Father Gabriel (Seth Gilliam) who, in short order, escaped to the school, found Bob's BBQ'd appendage, lost the plot (yes he still had plot to lose, believe it or not), enraged the zombies trapped in the school building (I'm guessing his old parishioners since he told Michonne later that he'd gone to the school "I had to see, I had to know"), ran from them, brought them back to the church imperilling Michonne, Carl (Chandler Riggs) and L'il Asskicker who were forced to escape the hordes by barrelling at breakneck speed under the church.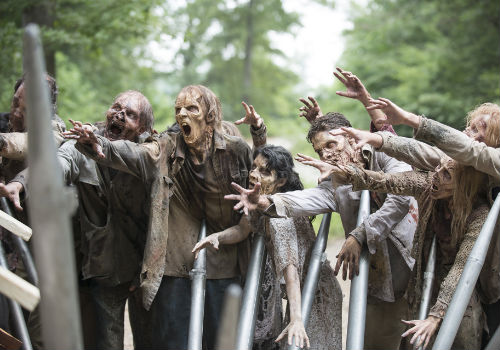 PHEW!
Thankfully before the zombies could escape from the church – the irony was that Father Gabriel's turned-away parishioners, the source of his enduring guilt and shame were now IN the church while he was NOT – Abraham (Michael Cudlitz), and the others came careering up in the fire engine, sealing off the doorway, and reuniting with Michonne, Carl and Gabriel who were wondering where the hell they could run to now (um, the school is kinda empty now, you may want to try that?).
Reunited, with Maggie thrilled that Beth had not only been located but was alive (sadly not for long), everyone piled into the fire truck, and set off for Atlanta at pace with Tara's rallying cry "Let's blow this joint. Let's save your sister!" ringing in their ears.
Alas, they arrived just as Daryl was exiting with Beth's dead body, any hope for the future temporarily dashed on the rocks on the rocks of all too common present grief.
It all added up to a nuanced, finely-tunedmid-season finale that successfully fought the urge for a massive, big blow-'em-up, bang-'em up showdown in favour of the devastatingly impacting harshness of sudden, unexpected death, a seizing of defeat, if you like, form the jaws of victory.
It was understated in form but full-on in effect, an exemplar of the way The Walking Dead has so successfully re-defined itself in season 5.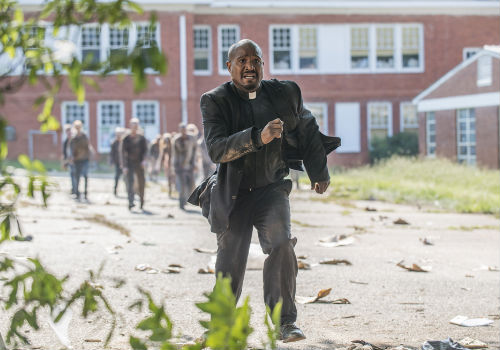 Oh and Morgan showed up in a small scene after the credits had run, Marvel movies-style, poking around the church until he found the map with Rick's name on it …
Looks like an old name is back in town, so to speak … what could this all mean?
* Now it may be two months away but here's the trailer for the second half of season 8, which returns 8 February 2015 USA/9 February Australia, in which an impassioned Michonne makes a plea for the group to find a place to be safe, off the road, and Rick seems to be rebuff her, arguing for home, home on the range where the deer and the zombies roam …