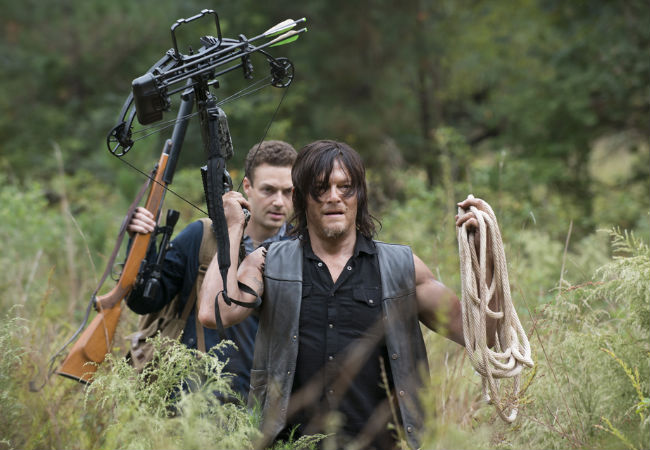 *THERE BE SPOILERS AHEAD … AND REALLY A REALLY SCARY, FRIGHTENINGLY NASTY … CAROL*
Once upon a time there were three survivors of the zombie apocalypse that found themselves living in the Alexandria Safe Zone … And they were each assigned duties in their safe new world … But something took them away from any feelings of peace and contentment … It's name?  Paranoia … (a *really* creative paraphrasing of the Charlie's Angels opening intro)
So two episodes into their new found domesticated, walled-in bliss, how are Rick and the gang handling the new normal?
Well, both way better in some cases, and not that well at all in others, and if you're Carol, ridiculously, insanely, brilliantly but-I-will-kill-you-in-your-beds-and-feed-you-to-walkers well, her "I'm Every Apple Pie Baking Woman" routine PR schtick in full twin set and pearls swing.
Forget" concentrated on Daryl, Rick and Carol in the main, and so naturally shall this review, but it's worth noting that:
(a) Sasha (Sonequa Martin-Green) isn't happy, declaring that the Alexandria Safe Zone (ASZ) is all a lovely mom-and-pop illusion to which the ex-Senator and ASZ cheerleader in chief Deanna (Tovah Feldshuh) replied a rather curt but resonant "Bullshit!"
The best shot in  Rick's group, who volunteered to form a part of an hilariously non-existent lookout team, a suggestion Deanna greeted with a reaction akin to that which you'd expect from someone trying to shut up a persistent telemarketer who has unsettlingly manifested in the flesh before you, and turned up at the big centrepiece "Welcome to the ASZ" soiree only to scream at a well-meaning fellow community member who, ahem, offered to cook Sasha her favourite dish, isn't enjoying herself … at all.
And how she's handling that beside shouting at people and ignoring friendly overtures from Deanna's handsome and non-douchebag other son Spencer (Austin Nichols)? Why by taking all the happy framed family photos from her house and shooting them to hell and back!
Take that well-adjusted happy people!
(b) Michonne (Danai Gurira) is faring far better but then given how much she was understandably jonesing for some domestic bliss and stability, that is exactly what you'd expect to have happen.
Dressed in her police uniform, an outfit she wears with some reluctance but also acceptance, she seems to have accepted the new "now" more readily than some of the others, increasingly using her katana to trim errant fabric lengths and as wall decoration, brushing aside concerns from Rick and Abraham (Michael Cudlitz) that she might go soft and forget how to lop and disembowel (as if …)
"You packing different steel these days [refers to Michonne's plastic canape sword she's twirling in her fingers]. You live by it, you die by it, you eat potato puffs by it. Pray to God you don't have to use it again, pray to God you don't get used to not using it again." (a drunk but insightful Abraham to Michonne)
My money's on her not wanting to use it again period.
(c) And everyone else, from a nicely-cleaned up Rosita (Christian Serratos) to Glenn (Steven Yeun) and Maggie (Lauren Cohan), who's now an advisor to Deanna, seemed to be doing their best to adjust to not fearing for their lives every 5.5 nanoseconds.
Which included being awkwardly uncomfortable/comfortable at their first party in five years, their atrophied social skills a little worse for wear but showing promising signs of return over canapes and beers.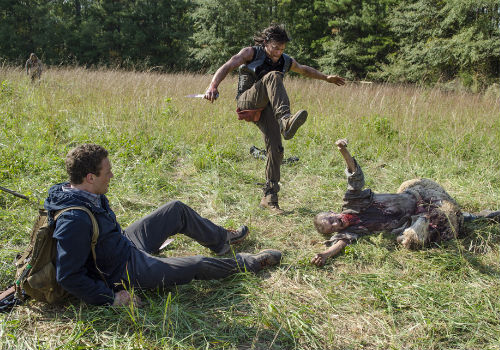 "There ain't much of a difference anymore [between good and bad people]"
With those words Daryl (Norman Reedus) made it abundantly clear to an eternally optimistic if cautious Aaron (Ross Marquand), who he surprised when he detected him following him stalker-style while out a-huntin', that he doesn't exactly maintain a glass-half-full view of the world.
In fact, with his every non-verbal gesture, and failure to shower AT ALL – seriously Daryl they have soap and water and deodorant; for the love of good hygiene and a lack of split ends, please use them – it became painfully obvious he wasn't about to play "Happy Families" anytime soon.
That, given Daryl's rather set, though occasionally malleable, view of the world, you might think is that.
But then a funny thing happened on the way to eating spaghetti one night at Aaron and Eric's (Jordan Woods-Robinson) place, and being shown a garage full of motorcycles and spare parts, and being offered the job of Aaron's scouting partner – he doesn't want Eric out on the frontlines anymore, yet another example of how protectively and sweetly he loves his man – and almost going to Deanna's party …
… Daryl realised he might fit in after all, even if he is, as Aaron rightly observed, not exactly the fitting in, Stepford Wives type of guy:
"I know you're feeling like an outsider. It's not your fault, you know. Eric and I, we're still looked at as outsiders in lots of ways. We've had our share of well-menaing but hilariously offensive sayings from some otherwise really nice men and women. People are people. The more afraid they get, the more stupid they get. Fear shrinks the brain. They're scared of you and me for different reasons. They're less scared of me because they know me, it's less and less every day. So let 'em get to know you." (Aaron to Daryl)
It was gradual slow build to acceptance of his new reality, with Aaron, perceptive, articulate Aaron, realising that approaching Daryl with a full-on sales pitch and enthusiastic limbs all akimbo is not the best way to win him over.
In fact, much like Buttons the horse, a one time pet of someone long undead person who roams the paddocks and forests outside the ASZ Black Beauty-style, who met a grisly end in what may a portentous sign for the group according to Norman Reedus – get too comfortable and you forget who you really are and then … BOOM! They get you and you're gone! – you need to softly sweet talk Daryl, meet him where he's at, assure him there's nothing to fear and then offer made, step back and let him decide what to do in his own time.
The building of the bond between Aaron and Daryl, one of the more unlikely friendships I will grant you but one which nonetheless makes sense given their mutual outsider status, was nicely built throughout the episode in ways that rang true for Daryl's character but which thankfully reversed the whole sourpuss "Them took our jerbbss!" mentality of the last few episodes when you just want to whack him around the face with a spare walker limb or two to knock some perspective back into him.
Perspective restored, Daryl is probably the happiest to be in the ASZ now, a marked change and one for the better, character-wise.
But then Rick (Andrew Lincoln) is only just a ways behind him.
He began the episode as suspicious and paranoid as Carol (Melissa McBride), gleefully plotting to stash away guns and wanting to kill zombies with gusto – no surprise it was Carol who did the killing with more shots that necessary from her gun to slightly shocked looks from Daryl and Rick – and finished it by kissing Jessie (Alexandra Breckenridge), rather chastely but meaningfully on the cheek after agreeing with her that "this place [Deanna's house] has a pretty amazing view".
The view being of course Carl (Chandler Riggs) acting like a well-behaved normal teenager with his new friends, Noah (Tyler James Williams), Glenn and the others doing their best impression of pre-apocalyse partygoers, and the world looking almost like it did before the world went merrily to hell in an undead handbasket.
Granted, it's not the same as it was, acknowledged Jessie to a thoughtful Rick (who also hit it off with Deanna's admiring husband Reg (Steve Coulter) who thinks highly of him as a leader of men) but the ASZ didn't take away everything:
"We all lost things but we got something back. It isn't enough but it's something."
She went on to point out, in the sort of thoughtful, considered and realistic way that won over Rick even as his face stayed Rick-tastically impassive, that the ASZ was the sort of societal melting pot that never would have happened back them that almost-everyone-not-a-walker olden days, and that despite all the death and loss and end of things, some things, some pretty good stick-them-in-your-Christmas-newsletter things had actually started.
Like a nascent romance between Jessie and Rick perhaps?
Well if Rick's lingering kiss on Jessie's cheek, out of sight of her alcoholic husband Peter the surgeon (Corey Brill), is any indication that would be a big fat Cupid in the room, fireworks going off overhead, coy smiles and snatched moments of budding happiness, YES.
Course if it's going to go anywhere, Rick is going to need to do away with Pete, which could be a problem since he's the only doc' in town and all but that's not something that will faze Carol the Butcher of Terminus who will likely do the job for target practice.
For all these happy realisations however, the episode on an oddly obtuse note with Rick, in full police uniform, walking through the houses to the big high wall of Reg-built protection and happiness and leaning against it, an ambivalent look on his face while a walker growls on the other side, the Bee Gee's "Spicks and Specks" playing rather chillingly as it all plays out ("chillingly" thanks to the line "The sun in my life, It is dead, It is dead").
Is he happy? Happy but mourning what he lost? Happy but unwilling to accept it all on face value?
Every indication up to that point says "Rick is happy!" but then you never know where you stand with Mr Grimes who seems to think that though the glass be sitting half full and then some before him, that it might tip over and empty out before him with the least provocation.
Hard to say where his head is at but he did seem in a better place even allowing for this final scene.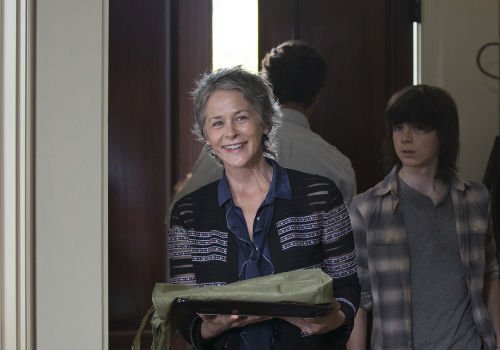 "Look at the flour Sam look at the flour"
Yeah I know I'm not the first one to make a play on the oh-so-freakily-famous line from season 4's "The Grove" but damn if it ain't the most perfect way to capture the fact that the more Carol "changes", the more she stays the same.
Conditioned, and very sadly so, to a lifetime of simply surviving by the domestic abuse she sustained at the hands of her now long gone monster of a husband,Ed (Adam Minarovich) she seems unable to take all the gifts the apocalypse has given her – like Daryl she has perversely gained more than she's lost from the end of the world – and fashion into a more whole, well-rounded existence.
The frightening thing is how good she is at pulling the wool over peoples' eyes to effect that survival, even when, to all intents and purposes – yes I am hedging my bets that, as in the comics, the ASZ is a cookie-filled blessing rather than a curse – and how coldly brutal she is when the pretense is found wanting.
After spending the episode publicly talking recipes with "the girls" on the porch, dressing in the a range of cardigans so vast you wonder if there isn't a grandmother tucked away in a basement knitting under threat of disembowelment by walker, and baking cookies using apple sauce instead of eggs ("You must give me the recipe darling!"), the Woman Voted Most Likely to Feature in a Hallmark Cards Commercial When the Apocalypse Ends – surely resurrecting the greeting card company is part of Deanna's ambitious plans for singlehandedly reviving civilisation; " And there'll be a police force … and a vibrant community … and ponies and unicorns and pigs that fly oh my!" – was in fact plotting possible bloody insurrection.
But you know only if it's eventually really needed. (Which is Carol-speak for letting me kill everyone and burn their bodies NOW.)
"One morning you will wake up, and you won't be in your bed. You will be outside the walls far, far away, tied to a tree, and you will scream and scream because you will be so afraid, no one will come to help because no one will hear you, well something will hear you, the monsters will come, the ones out there and you won't be able to run away when they come for you, and they will tear you apart and eat you up, all while you're still alive, all while you can still feel it. And then afterwards no one will ever know what happened to you…" (Carol to a perplexed then terrified Sam)
With Daryl and Rick, who became noticeably less thrilled about storming the ASZ battlements between the start of the episode and its end, she was intent on putting aside enough stolen weapons at the house Rick found – yep the same one where the gun he so carefully hid was taken by forces unseen, likely the same ones carving the letter "W" in the foreheads of walkers; "Hey guys, someone knows we're coming here so let's keep using it!" "Great idea Rick! You da man!" – to arm a small army.
Committed to the cause in a way that Rick and Daryl failed to sustain because, um, they actually want something from life beyond mere survival, Carol was happy to lie to everyone from the Keeper of the Guns and onetime basement meat-curer Olivia (Ann Mahoney), from whom the guns were stolen via an unlocked window, to Deanna ("Look at me, I bake cookies! And don't kill people … wait, what, no I didn't say that second sentence, nope not me") to well, everyone bar Rick and Daryl.
The one person she didn't lie to, and he probably, really, wishes she had was Sam (Major Dodson), the younger-son of Rick's would-be adulterous paramour Jessie, who seeing her sneaking into the gun lair, figured it was cookie time again – yeah, no, it wasn't Sam but you know that now don't you? – and ended up on the receiving end of motherf**king scary freaky Carol, a woman you don't want to cross right Karen and Lizzie and Mika and … ??
It was one of the most chilling scenes since "The Grove" and once again Carol, who has used her new found apocalyptic badassery talents for good more than evil admittedly – the group wouldn't be around if she hadn't gone full Rambo at Terminus – is back in the firing line as the one characters who will literally do whatever it takes to stay ahead of the curve and in the game.
Her actions in this episode, while not that different from a paedophile threatening a victim with retribution should they reveal all and all the more distasteful because of it, are in line with her character and motivations to date, and so make sense on one level.
But the writers, in this case, Corey Reed, are coming terribly close to rendering another female character as "Bi**h of the Month" award, a fate that oddly enough rarely seems to befall the male characters.
Yes she could end up saving the day again but by scaring kids half to death? Be careful what you write everyone, be careful.
*So with all that guarded domestic blissfulness on display, what's next for Rick, his group and the contented if deluded citizens of the ASZ?
Not all good things if the promo for "Spend", and EW's chat with Norman Reedus, is any indication …
And behold two sneak peeks clips for the episode, all rich with potential meaning according to Movie Pilot: