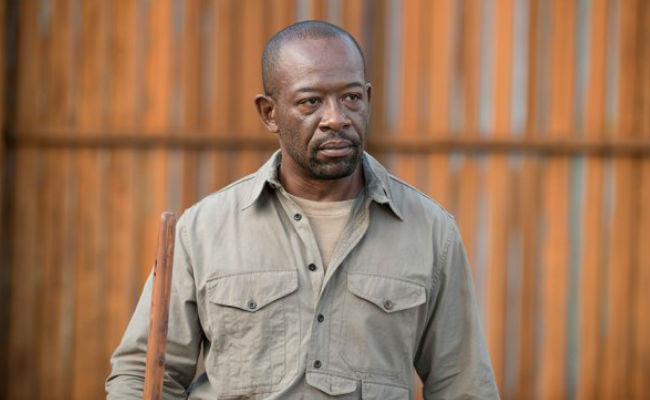 * SPOILERS … AND WAR AND PEACE AND CASSEROLES AHEAD *
"JSS" was the episode where all the blinders came off for pretty much everyone.
The good people of Alexandria, those left behind anyway while Rick (Andrew Lincoln) led the more capable fighting members off to steer the zombie quarry horde off to greener, less settled pastures, were given a brutal introduction to the ways of the brave new undead world they have hitherto been shielded from when the Wolves came bursting in, knives at the ready (but oddly no guns) and proceeded to hew and carve and chop into small pieces anyone unlucky enough to get in their way.
Fanatically pragmatic, and emboldened by a scorched earth/end of days philosophy that says the apocalypse is some sort of cosmic sign that humanity's days are over and we should leave the planet to the undead, the Wolves systemically went from house to house, street to street killing as they went.
It was like the Undead Crusades if you like.
One can only presume that when they have succeeded in ritually purging people from the face of the earth that they will kill themselves, but I suspect that someone somewhere at the top of the Wolves ranks will find a way to religiously justify their continued existence even when their twisted mission is complete.
The frightening thing about the Wolves, and what lent their attack a whole other level of terror, quite apart from its surprise element which caught everyone unawares, is that there was no reasoning with them.
Morgan tried it, as did a few others but the disciples of apocalyptic death were not working on rationale thinking but blind devotion to an unquestioned religious tenet that would brook no opposition.
The objective was total annihilation of the Alexandrians and nothing or no one, so the Wolves thought, was going to get in their way.
What they didn't count on of course was that even with Rick and the others away, that there were people in the Alexandrians ranks more than capable of defending themselves.
Not the original townfolk of course who for the most part found themselves mute and unable to join in the fight with Deanna (Tovah Feldshuh), the leader of the once naively bucolic township, and her son Spencer (Austin Nichols) staying outside the fences for the duration.
No, the ones who came riding in one figurative white horses were Morgan (Lennie James), newly arrived back from quarry duty, who quickly put an end to the cacophonous ruckus of the crashed truck (the one with that zombie-attracting horn) – to be fair to Spencer it was his quick shooting that killed the driver and stopped the town's protective wall being ripped asunder – and Carol (Melissa McBride), back in kill-everyone-now Terminus mode.
They, rather tellingly approached things from wholly different angles with Carol laying waste to any members of the Wolves she came across, while Morgan preferred to knock them out with his staff and in one confrontational instance, plead with the attackers to simply go so he didn't have to kill them.
No prizes for guessing who had the more effective strategy in the longrun.
While the Noble Peace Prize jury and pacifists the world over would no doubt have applauded Morgan's zen-like approach to dealing with the murderous blitzkrieg that descended on Alexandria, the reality is that in the end he too was forced to kill or be killed when one particularly obsessed attacked would accept "Peace, now go" as a response.
It raised once again a thorny recurring issue in The Walking Dead – is there any place, any place at all for the kinder, gentler angels of our nature in a fight where the mantra, one laid down by Enid (Katelyn Nacon), is simply to "Just Survive Somehow".
Clearly Morgan thinks there is, and writer Seth Hoffman did an impressive job of contrasting his kindler, gentler (knocking people out with a massive staff aside) approach to dealing with an enemy to Carol's far more pragmatic kill-or-be-killed strategy.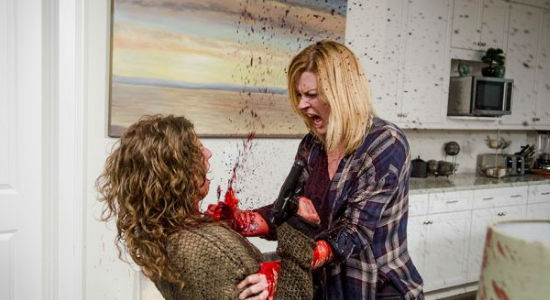 The ending though underscored that maybe there isn't really a place for a live-and-let-live response to violent, premeditated attacks by ruthless, ideologically-driven enemies.
The most effective responses to the threat of obliteration on a town-wide scale were those that employed force – see Jessie's (Alexandra Breckenridge) definitive killing of an intruder in her house and Aaron's (Ross Marquand) fierce willingness to fight back along Rosita (Christian Serratos) – and plenty of it.
You might have admired Morgan's tenets, wished that his way could be the right and only way, but in the end it was the Carolinator – OK not an elegant appellation but it conveys her cool, calm strategy to a tee – whose methods won out and saved the day.
A sad day for humanity, a little more of our collective soul chipped away or simply living out the mantra Just Survive Somehow?
Time will tell but the important thing is that the people of Alexandria now have that precious time to learn how to defend themselves, learn how to be better fighters, doctors, realists in a bloody world, something they wouldn't have had if Morgan's ethos had prevailed.
Amidst all the shocking, bloodthirsty action, and make no mistake it was intensely gripping stuff with bodies strewn everywhere and death literally around every corner, were some fine character moments – chief among them Merritt Wever's turn as psychologist-turned-town doctor Denise Cloyd who first blanched then stepped up to try and save the life of a mortally-wounded fellow Alexendarian – and even one particularly fine sight gag when Carol's casserole pinged to say it was ready and Carl (Chandler Riggs), adrenaline still pumping after defending Judith and Enid, who slipped away mid-tumult from the town – calmly pulled it from the oven.
But mostly it was full speed head, do what you have to survive, gut-ripping, soul-destroying action in a sterling episode brilliantly-directed by Jennifer Lynch, that tore the scales from the Alexandrians eyes and reaffirmed that like it or not, life will never be the same for anyone ever again.
Just how different it will be may have to wait a week as Rick and his quarry warriors spend next week's episode "Thank You" battling to get back to Alexandria, all the time outrunning the zombie horde they have unleashed.