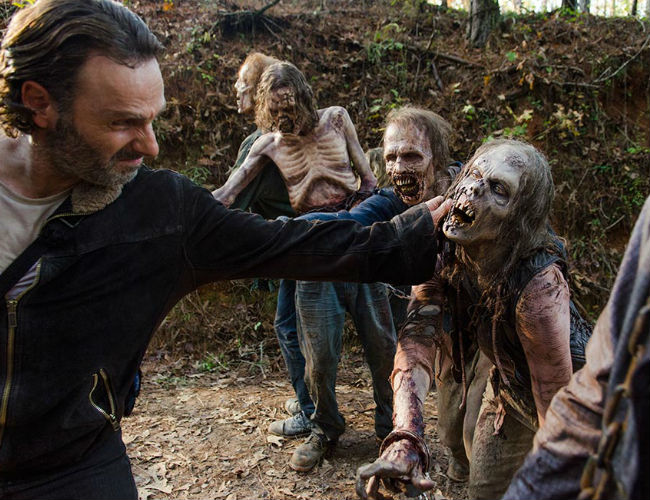 *SPOILERS AHEAD … ALONG WITH HUBRIS AND ITS INEVITABLE TWIN HUMILITY … AND MORE ROADBLOCKS THAN PEAK HOUR HAS CARS*
It's good to know that some things never change; even in the zombie apocalypse.
For instance, the idea that pride most often comes before a fall, nowhere on better display that in the final episode of the sixth season of The Walking Dead, "Last Day on Earth" in which Rick (Andrew Lincoln) and the gang discovered that a little bit of hubris goes a long way and can quite royally stuff things in ways no one, full of pride as they are, actually sees coming.
To be fair, at the time that they all come a-cropper, Rick, Carl (Chandler Riggs), Abraham (Michael Cudlitz), Eugene (Michael McDermitt), Sasha (Sonequa Martin-Green) and Aaron (Ross Marquand) are speeding a likely miscarrying Maggie (Lauren Cohan) to get some urgent medical attention.
Yes, unlike the much of the back half of the season where the "good" citizens of Alexandria were killing Saviors left, right and centre, calling into question just how good they actually are – one of the things this episode did brilliantly was raise the question of who is really in the wrong, Rick or new Big Bad Negan (Jeffery Dean Morgan) and his Saviors – everyone was simply trying to get a much-loved friend to the doctor on time.
And time was really of the essence this time with Maggie deteriorating by the kilometre.
Unfortunately what should have been a quick 23 mile dash to Hilltop became an arduous, almost cruel game of cat-and-mouse with the still-unseen Negan, as his Saviors, who seem to be breeding like rabbits and multiplying in number all the time, formed blockade after blockade, either in person or using burning logs or a chain of zombies strung across the road to stop the RV's progress.
Regardless of which route Eugene, now officially a badass brave-as-hell survivor who volunteered to drive the RV when Rick and the others deciding going overland on foot was their only option, plotted, the Saviors were waiting for them, either freakily silent or taunting them with passive-aggressive speeches that veered between platitudes to treat each other as if it your last day on earth and barely-veiled threats that trouble was coming the way of the Alexandrians … and FAST.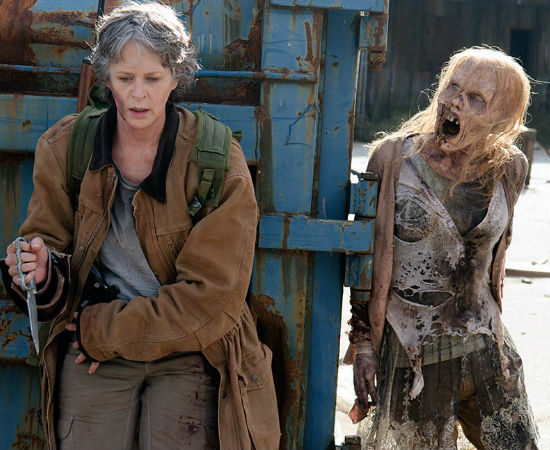 The more the RV-ites ducked and weaved, the more they discovered that their air of tactical superiority, one they had clung with a fierce sense that they had overcome in the past and would overcome in the future – Rick and Carl's assurances to each other that there was nothing they couldn't do together ended up looking like the height of vaulting hubris – was nothing but a great big bucket of delusional stupidity.
Granted they might have had some pretty epic victories in the past, and survived where all the odds said they shouldn't, but here they were facing an enemy who seemed to be able to pre-judge and counter every single move they made.
No amount of out-strategising was able to help an increasingly desperate and rattled Rick find a way out of the increasingly dire situation and each scene in an episode penned by the masterful Scott Gimple and Matthew Negrete drove home the point that all Rick and the team were about to ripped a great big new hole of humility by force.
The end result was not pretty.
As Rick and the others were hiking furiously through the forest, seeking to out-maneuvre the seemingly omnipresent Saviors, they heard an eerie whistling, that rose and rose in pitch and crescendo until lights snapped on all around and they found themselves surrounded by Negan, introduced in issue #100 of the comics and the biggest, nastiest opponent of them all, and his thugs without number.
As expected, Negan and his fearsomely-kitted out weapon of choice, a barbed wire-wrapped baseball bat called Lucille, was charismatically charming and fearsomely terrifying in equal measure, taunting the captured RV inhabitants, as well as Michonne (Danai Gurira), Rosita (Chrsitain Serratos), Daryl (Norman Reedus) and Glenn (Steven Yeun) with his displeasure at their coldblooded dispatching of some many of his pragmatic followers.
(It's doubtful anyone actually loves or even respects Negan; he rules with a perverse mix of rewards and threats and the killing of one person from a group to drive the point home that everyone needs to toe the line – of course they usually do and thus, the rabbit-birth like growth of his followers makes perfect sense.)
And then, in a cliffhanger worthy of an end of season episode, that will leaving us hanging until season 7 premieres in October this year, he brutally killed someone, sending the message loud and clear that vaulting hubris is not the kind of thing you get to hold onto for long in the company of Negan.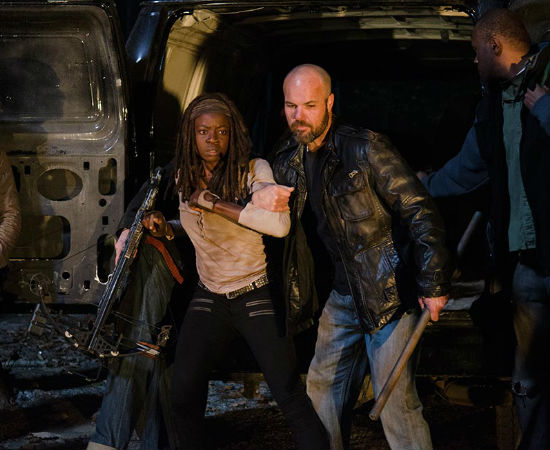 It was cold, hard and brutal but shocking as it was, it was nothing more or less than Rick and the others have done on countless occasions, raising the question of who is really the Big Bad here, and perhaps Rick is more like Negan than he's willing to admit?
It was this kind of moral relativity that drove the story, which focused on Rick's core group, save for Carol (Melissa McBride) and Morgan (Lennie James) who were playing their own game miles away (where they met members of the friendly Kingdom settlement who show a fondness for body armour) of "I wanna die!" (Carol) / "I won't let you!" (Morgan) and the way in their pride, and sense of moral superiority has both kept them alive and sealed their possible doom.
As The Walking Dead episodes go, and they have knack of combining action and philosophical questions elegantly and with great moral force, "Last Day on Earth" was a superb piece of television that dared to cast its central characters, though understandably frightened out of their minds by the real threat posed by Negan to their life, limb and their newly-established cosy way of life, as no better or worse than Negan himself.
It gives you a whole new, more complex understanding of the post-apocalyptic world in which The Walking Dead operates, and reminds us that in a world where the old rules of right and wrong have been pretty much thrown out the walker-smashed-in window.
It was a masterful example of how to end an episode and make some very interesting moral observations at the same time, and bodes well for the seventh season which, given the cliffhanger unveiled right at the end when things went dark, seems almost impossibly too far away.
And that it is for The Walking Dead for another bloody, cynical, dark season … but not for its spinoff companion, Fear the Walking Dead which returns for a second, greatly-expanded 15 episode season which Vanity Fair has promisingly called "Fresh, Exciting, and Suspenseful" … first episode up is appropriately titled "Monster" …