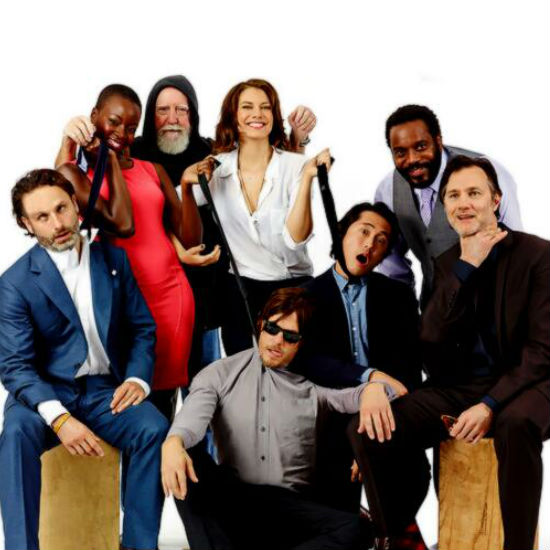 It will hardly come as a shock to anyone familiar with the ongoing, ever-building successful of AMC's highest rating scripted series The Walking Dead that it has been renewed for a fifth season.
With the premiere episode for season 4 ratings its decayed body parts off – according to blogs.amctv.com "the premiere episode set a new record for the series, delivering 20.2 million viewers, live+3, and 13.2 million adults 18-49, a new record for any non-sports cable telecast" – it was pretty much expected that the show, much like the zombie apocalypse in which it is based, would go lurching on and on and on.
It's something that even the president of AMC, Charlie Collier, had to acknowledge in his announcement:
"We are very happy to make what has to be one of the most anti-climactic renewal announcements ever: The Walking Dead is renewed for a fifth season. This is a show that has erased traditional distinctions between cable and broadcast. Its expanding base of passionate fans has grown every season, most recently — and most notably — with the season four premiere earlier this month, which broke viewership records for the series and became the biggest non-sports telecast in cable history. On behalf of the incredible team on both sides of the camera, thank you to the fans and here's to more Dead."
The "well duh" nature of The Walking Dead's renewal also triggered some mischief on Twitter with TV.com particularly having some fun with it …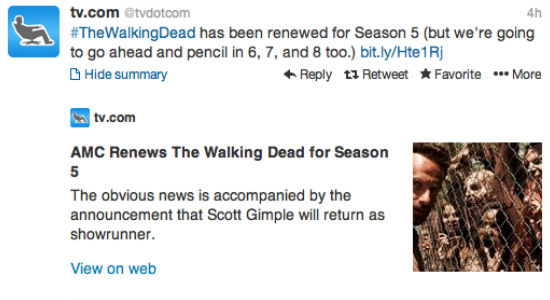 Given the way the show is rating, and the fact that Scott Gymple is returning as showrunner, along with executive producers Robert Kirkman, Gale Anne Hurd, David Alpert, Greg Nicotero and Tom Luse, I would wager that tv.com's optimism is well founded.
The odds of the show still being around for a few more years are better than excellent, especially given AMC's earlier announcement that the creator of The Walking Dead universe is also working on an allied series set in the same apocalyptic universe.
Never have so many zombies looked so good.
The Walking Dead series 4 is currently showing on AMC.