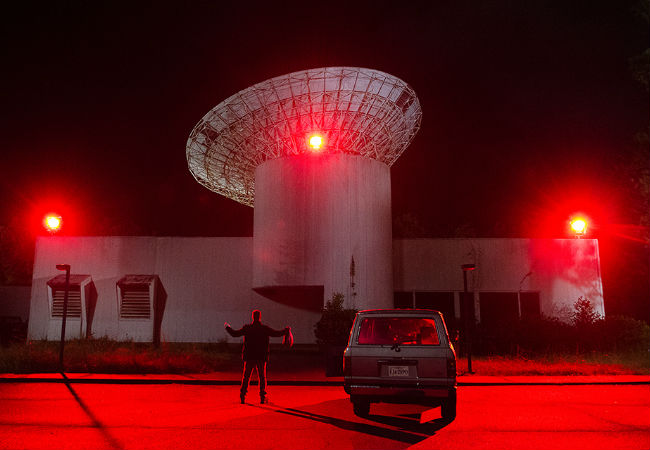 *SPOILERS … BRIGHT RED LIGHTS AND MORAL CONUNDRUMS AHEAD*
Sinners or saints? It was THE big question looming large over The Walking Dead this week in "Not Tomorrow Yet" when everyone was forced to confront whether they weren't getting a little morally questionable and relativistic in their old survivor age.
After all, while it was hard to deny that they needed food and medicine and the newly-discovered community of Hilltop had both in abundance, and that to get these relatively bountiful supplies they had to do a spot of mercenary work for the good citizens of the agrarian idyll, effectively led by Jesus (Tom Payne) who they found a couple of episodes back – that will never grow old as a play on words, trust me – by killing local psychopathic warlord Negan (Jeffrey Dean Morgan) and his squad o' brutalist goons …
… It was also difficult to fully justify the fact that this meant killing a whole lot of people in cold blood as they slept, which is exactly what newly together couple Rick (Andrew Lincoln) and Michonne (Danai Gurira), Glenn (Steven Yeun), newly broken-up couple Abraham (Michael Cudlitz) and Rosita (Christian Serratos), cookie baker Carol (Melissa McBride), Daryl (Norman Reedus) et al and Jesus – you really should follow him wherever he goes you know? – had to do when they stormed Negan's satellite-topped bunker in the dead of night and stabbed a lot of people in the head … JUST … LIKE … THAT …
Leaving aside the fact that it was a kinda crazy move storming a complex about which the intel has extraordinarily thin on the ground – they had the word of one member of Hilltop, not Jesus, whose word you should always listen to; lordy this review is resembling a revivalist meeting ain't it now? – it was also a massively morally suspect, if gutsy manoeuvre (one that saw sentries Carol and Maggie, played by Lauren Cohan, captured by some of the Saviors).
Sure, we all know from the comics that Negan is capitalised BAD, a man who has brought together a lot of people – maybe; no one knows for sure but it's more than a basketball team we know that much as the bodies stacked up this week – that he can't be trusted, plays DIRTY realpolitik and wants to rule them all, with or without the one ring … but is the answer to go storming in in, kill everyone as they tussled with Mr Sandman and then march out into the compound proclaiming Negan and his ilk dead and if not buried, removed as a threat?
You could argue yes, no  and maybe a thousand ways until Sunday, and no one is doubting that Rick and the Alexendrians and the Hilltopians have a sturdier claim to being the Good Guys than Negan and the Savior but cold bloodedly killing everyone in pursuit of simple survival?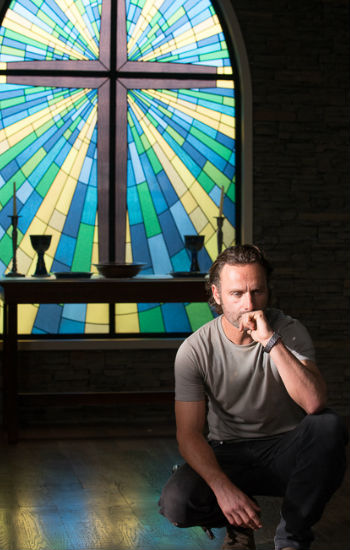 Ah that, THAT, is the great big rocky moral conundrum upon which a good many souls breached themselves this week.
Some argued that it was a necessary preemptive move in the wake of the Wolves attack on Alexandria; how long could it be until Negan's goons did the same thing with far deadlier results?
Others maintained that they need the food and medicine and if the price is turning mercenary then so be it; the starkest reactions to all this to-and-froing came from Carol, who though she'd donned the air of sunny 1950s housewife to fit into their new home as a weird disguise early on, now seemed to genuinely inhabit it and was loathe to forsake it, and Father Gabriel (Seth Gilliam) who stoically quoted Bible verses to people as he killed them.
After all, nothing solves the problem of which of the moral divide you're on than an endless commentary of heartwarming Bible verses in the midst of rampant death and destruction? It worked for the Crusaders, why for Father Gabriel and the gang?
To the credit of writer Seth Hoffman, and director Greg Nicotero, there was no attempt to come firmly on one side or the other; the arguments were laid out, the mission was carried out and Death had a field day with people like Glenn killing non-Walkers for the first time.
It was what had to be done right? It was done in the cause of the greater "good" yes? Maybe but you could help feeling in the aftermath of all that killing that Rick and his Alexandrian cohorts had crossed a line, one that might stain their souls still further, no matter how arguably virtuous they and their cause might be.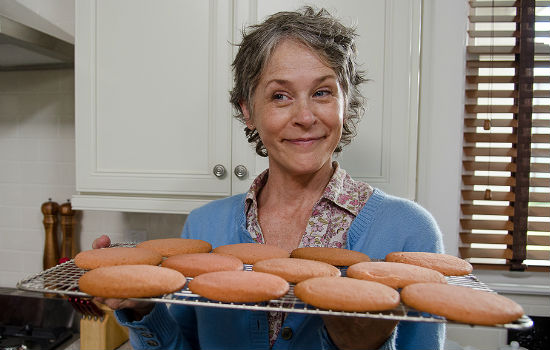 While everyone did or didn't worry themselves with the moral fall out this week – Rick, as ever, seemed utterly OK with it all – love somehow managed to both flower and flounder.
Abraham finally bit the proverbial bullet and told Rosita on the eve of their morally questionable outing that he only loved her because he thought she was the last woman left on earth. OUCH! That hurt and it didn't help things when goofy, loveable Eugene (Josh McDermitt) chose that moment to appear and remark on the goodness of Carol's acorn and beet cookies.
Rosita was doubly heartbroken and while it no doubt fuelled some nasty Negan's goons killing the next day, you can't help but feel it'll come back to haunt her and Abraham in time.
While love was exiting stage right in the most coldblooded fashion – seriously Sasha (Sonequa Martin-Green) back the hell away from the man; he's an angry piece of potentially-cruel work – Tara (Alanna Masterson) told Denise (Merritt Wever) that she loved her, partly to cover up her fear but hey she LOVES her!, and Carol and Tobin (Jason Douglas) shared a sweet gentle kiss after he told her that while she was motherly and lovely and not just cause she baked cookies that he saw her completely differently.
Over the din of Caryl shippers everywhere screaming "NOOOOOOOOOOOOO!" and the rest of us wondering if all this Tobin/Carol love is founded on a lie or whether Carol really is Ms. Mom now for real, tomorrow strutted it's stuff, offering up new relationships, the end of one other, and as the main game in town, the possibility that a whole lot of killing could birth a new and just "next world".
Don't count on it – whatever the motivations, death is death and if there's one thing we've learnt from The Walking Dead, that hasn't really worked too well for humanity up until this point.
*But what about next week when everyone is in "The Same Boat"? What about then? Nah I doubt even then that death and the moral conundrums that come with its misuse will be any the easier to deal with, and could potentially be a whole lot worse …