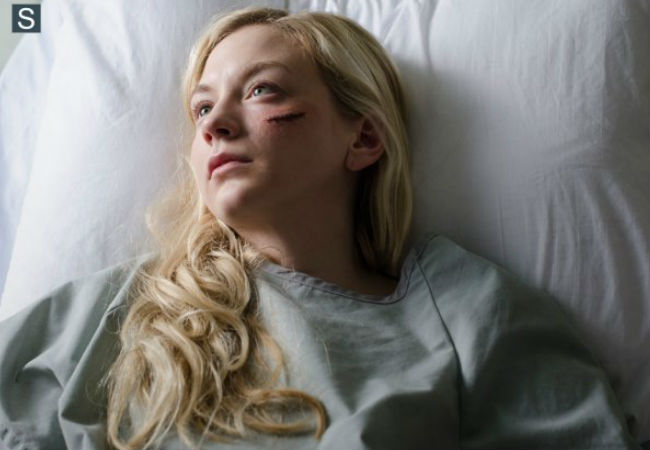 * SPOILERS AHEAD … and ROTTERS and THE CREEPIEST CARNIVAL RIDE EVER *
Another episode of The Walking Dead, another group of deluded individuals thinking they are are rightly re-forming society in their own image, the last bastions of humanity in a barbarically murderous world (at least that's what they tell themselves).
But what truly sets apart the people who eke out a shadowy existence in the sealed off corridors of Grady Memorial Hospital in Atlanta is that unlike Gareth (Andrew J West) and the twisted, bloody once-were-do-gooders of Terminus, who were unmistakably evil writ large, the inhabitants of this Darwinian medical facility, where you only survive if you are worth the resources necessary to save you (and crucially will be able to work to pay them back), are a far more insidious threat, people who actually believe they are doing the right thing (the Terminites, for all their many cannibalistic faults, always admitted they were not).
"If we hadn't saved you, you'd be one of them right now. So … you owe us." (Dawn Lerner to Beth)
Theirs is an existence motivated by what appears, at first, to be altruistic motives – to go out and rescue those who cannot help themselves, bring them back to the relative safety of the hospital, which has been cleaned of "Rotters" who are left to roam the ground floor as some sort of clean up crew for the bodies of those who aren't worth rescuing or simply don't live through their medical procedure, where once healed they are put to work for what the leader of this hospital-based police state (in the truest sense of the word), Officer Dawn Lerner (Christine Woods) terms the "greater good".
Trying to work out exactly what constitutes this "greater good" is the much-speculated about Beth (Emily Kinney) who disappeared in season 4 episode "Alone", abducted by persons unknown in a small black car with a white cross (the same one glimpsed by Daryl and Carol in "Strangers"), who awakes to find herself in a strange room experiencing the mother of all "Where the hell am I?" moments.
But this is not a jetlag-soaked overseas holiday and it's most definitely not a case of "if it's Tuesday, it must be Belgium."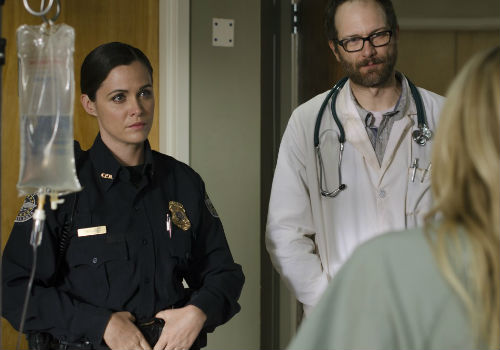 Rather Beth, who has every reason to feel all at sea, with her last memories being of a fight with a walker by the roadside, one she was in mortal danger of losing if Lerner's lecherous, rape-inclined deputy Gorman (Cullen Moss) is to be believed, is effectively a prisoner of a bizarre cargo cult of sorts, one driven by the idea that sooner or later, rescue will come and it is incumbent on the survivors to hold out till it does.
Spirited back to the sealed confines of Grady Memorial where an uneasy system is in place whereby Dr Steven Edwards (Erik Jensen) is allowed to help selected people as long as they can be of benefit to the amorphous "greater good", Beth passively accepts her her fate, though it is clear from her fraught exchanges with Lerner, Edwards (who is essentially good to her throughout) and Gorman that she won't remain compliant.
It soon becomes clear that everyone is in a bizarre Cold War of sorts with each other with Lerner's OCD-driven dictatorial rule ("She likes things neat" says Edwards at one point) constantly in danger of being upended by everyone and anyone including the calculating Gorman and the cowardly, self-protecting Edwards who is not above killing another doctor rescued from a nearby building – in rather sleazy, duplicitous fashion, he uses Beth to unwitting administer the lethal dose of the wrong meds – or escaped from which Joan (Keisha Castle) unsuccessfully, and the likeable Noah (Tyler James Williams) successfully, manage.
Edwards: "Art isn't about survival; it's about transcendence. Being more than animals, rising above."
Beth: "We can't do that anymore?"
Edwards: " I don't know."
Beth: "I sing. I still sing."
It's not much of a life really but Edwards in particular, whose office is a shambolic mix of everything from LPs to a rescued Caravaggio painting – he and Beth have a philosophical discussion of sorts about whether humanity is able to pursue "transcendent" pursuits such as art or singing in an age of animalistic survival – as a way of giving the big "F**k you!" to Lerner, seems resigned to it, happy to still be breathing.
Beth though is made of tougher stuff, although rather lacking in the subtle political manoeuvring department which doesn't exactly help her cause – Noah by contrast is a master of the art, adept at protecting himself in a system weighted to favour those wily enough to survive it – and resists every step of the way until she and Noah attempt a joint escape which doesn't exactly go as planned.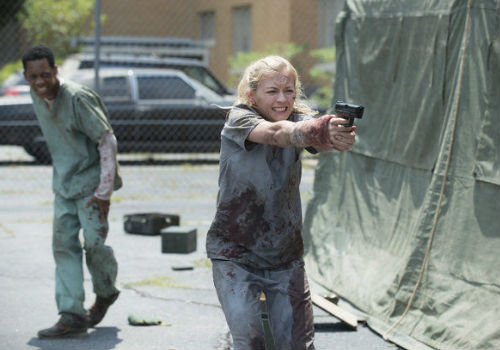 "Slabtown" is a return to the fractured storytelling of season 4 where The Walking Dead would depart from the larger group narrative – to be fair in that season the group, as such, didn't really exist – and while suffering a little from a rather slow moving plot and Kinney's lacklustre acting, does a good job of giving us insight into what is happening for other people in this blighted post-apocalyptic world of ours.
A "ship in a bottle" episode of sorts, which doesn't venture outside the suffocating surrounds of Lerner's delusional kingdom – she honestly believes help is going to be forthcoming, something Beth does her best to dissuade her from believing with less than stellar success and more than a few cuts and bruises to show for her ill-judged trouble – it is a study in what happens when you coop a group of people with different world views up in a small location with survival as the only goal.
Lerner: "Who the hell do you think you are?"
Beth: "He [Gorman] attacked me. Just like he attacked Joan. Just like you let him. You knew what's happening here and you let it happen."
Lerner: "So that we make it."
Beth: "No one's coming Dawn. No one's COMING. We're all going to die and you let this happen … for NOTHING."
The trouble with that kind of game plan is that it is hideously open-minded, something the human psyche, which craves end points and tangible results, does not cope well with.
Not for nothing does the Bible point out that without a vision, people will perish.
On the surface everything looks fine in "Slabtown" but it doesn't take much clumsy digging by Beth, who frankly is the worst resistance fighter known to man with all the finesse of a dissenting bull in a tightly-run chain shop, to uncover that Lerner is driven by desperate fear masked by bully boy tactics, Edwards is a snivelling, though well-intentioned narcissist who places his own survival above even those he is supposed to care for, and Gorman is a barely-disguised pretender to a rather empty-handed throne.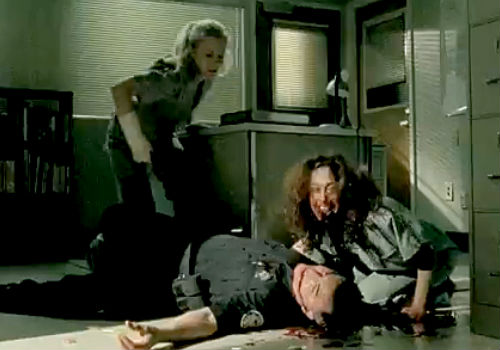 The real genius of the episode, which favours muted, quiet scenes over larger-than-life action – the only exception to this is the heart-stopping scene where a turned Joan, who has deliberately committed suicide in Lerner's office, takes down Gorman, stopping his obscene rape of Beth in the process – is  the way it both explains where Beth has been while unobtrusively and quietly underlining once again that humanity's greatest battle is not with the walkers but rather with the lesser, and largely degraded angels of its own nature.
It doesn't matter if its barbarically obvious, as it is with the cannibals of Terminus or frighteningly bland and orderly as with the inmates of Grady Memorial, humanity is not faring well with keeping hold of the one thing that separates it from the zombies.
The final scene too was a masterful reveal with Carol (Melissa McBride) being wheeled in to Beth's astonishment, proof that she and Daryl ran into some trouble once they reached Atlanta and raising the question of who exactly is with Daryl, the figure in the bushes who weren't allowed to see at the conclusion of last week's episode "Four Walls and a Roof".
My money is on Noah, who for all his limping, looked determined to get away from the hospital even if it meant taking a host of risks; it makes sense that he would have run headlong into Carol and Daryl who likely witnessed the whole escape attempt by Noah and Beth or at the very least arrived soon after.
It provides the perfect trigger for the show's predicted return to a more urban setting, something which will amp up the tension a hundred-fold and given the plots an even more claustrophobic feel than they already in the brilliantly-written, expertly-executed, uniformly-excellent fifth season.
But first another diversion in next week's episode "Self Help" which sees us catch up with Abraham Ford (Michael Cudlitz) and his quixotic quest to reach Washington DC and its nirvana-like promise of civilisation restored (in that respect is he any less delusional than Lerner?)