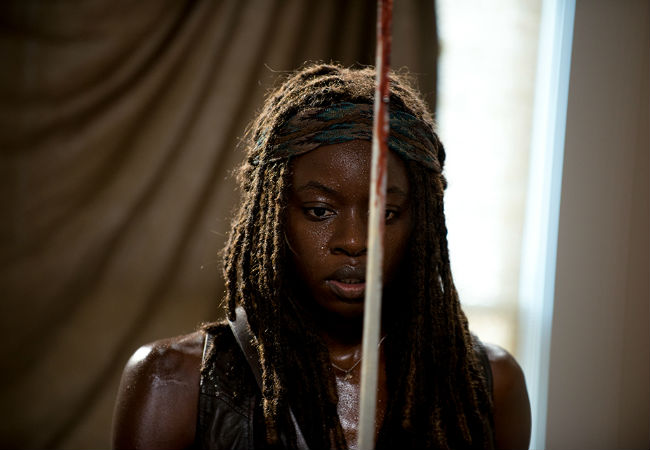 *SPOILERS … AND BROKEN WALLS, ILL-TIMED FIGHTS AND THE LATEST IN ZOMBIE-INSPIRED FASHION AHEAD.*
One of the things that The Walking Dead has always done exceptionally well is weave deep, thoughtful ruminations on the nature of humanity and how it reshapes itself in the face of great threats into its ongoing narrative.
It makes sense – it's a show about people coming face-to-face with a deep, unceasing threat to their very existence, a situation which lends itself rather nicely to all sorts of well-articulated existential angst.
Well, when your characters aren't running from walkers anyway.
Thus it was that the mid-season finale of season 6 came loaded with all kinds of pontification on life, the universe and everything even as walkers, a huge wave of them in fact, came surging through the gaping wall wrought in Alexandria's fence by the collapsing church tower.
It focused primarily, as the title might suggest on the journey everyone in Alexandria has been and whether, in the light of current rather disastrous developments, whether they will have the luxury of finishing off in a way of their choosing, or whether that zombie bird has well and truly flown the apocalyptic nest.
It was as much about Alexandria as a whole as the individuals in it, and the abiding question was "Where to now?"
The way in which the episode was framed lent itself nicely to this line of questioning with everyone forced to rush for the nearest home, regardless of where they happened to be at the time, meaning that all kinds of unusual groupings ended up waiting for the walkers to lose interest and amble off.
Which they, rather annoyingly as is the habitual way of the undead, failed to do throughout the entire episode leaving all the survivors cooped up in houses and all kinds of tension and niggling issues coming to the surface at the worst possible time.
Timing, people timing! Alas the majority of you do not have it.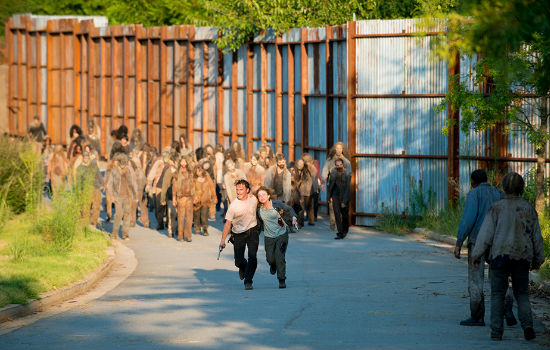 Carol (Melissa McBride) was the reigning queen of "Seriously? You want to do this NOW? SERIOUSLY?!"
Trapped in the same house as Morgan (Lennie James), a man who earned the dubious distinction of being the person carol disliked the most in Alexandria – yup she even likes the Idiot Priest Gabriel Stokes (Seth Gilliam) more than Morgan; kinda skewed priorities but there you go – and suffering from a concussion when she fell fleeing the herd, the one Morgan saved her from by the way, she initially played nice.
But as soon as Morgan back was literally turned – Carol is not a believer in metaphorical niceties but hey that's hardly a surprise – everyone's favourite two-faced cookie maker raced down to the basement to kill the Wolf (Benedict Samuel) Morgan had locked away in his Kumbayah 12 Steps to a Nicer Apocalypse program.
She wasn't dissuaded by Denise (Merritt Wever) presence as a ministering angel, not Morgan's entreaties that now was not the time to have a stoush about the best way to approach threats in the apocalypse.
Carol less than politely disagreed, things went a tad awry – OK a lot awry as in she and Morgan knocked out on the floor and the Wolf making off with Denise as a hostage, guns in hand in awry, and Rosita (Christian Serratos), Tara (Alanna Masterson) and Eugene (Josh McDermitt), who raced to the rescue from the garafe above, looking on helplessly.
You may think Morgan hopelessly naive and idealistic but hey in this instance, he was right on the money and now was NOT the time to have a discussion about philosophical approaches about the best way to smite one's enemies.
Coming up a close second timing-wise however was Ron (Austin Abrams) whose plans to shoot Carl (Chandler Riggs) in the back backfired when the walkers decided that the two of them should die instead.
Carl begged to disagree and along with Rick (Andrew Lincoln), Jessie (Alexandra Breckenridge) – who it must be said saved everyone's arses in spectacular fashion; way to adapt to a new reality! – the Idiot Priest and Michonne (Dania Gurira) ended up stuck inside Jessie's home with her other Greta Garbo-esque son, Sam (Major Dodson) holed up in his room drawing "call a psych major!" artwork and listening to "Tiptoe Thru the Tulips", as creepy as song as any ever recorded.
Now you'd think with life hanging in the balance and the walkers threatening to storm the home – bad news they did and the survivors all had to resort to Rick's season 1 gambit of smearing themselves in zombie goop to leave the house; well until Sam started TALKING that is *face palm* – Ron would dial back the teenage angst to a more opportune time.
Well, you would be wrong – Ron instead upped the angst ante and managed to whack a great big hole in the garage door while he was trying to take Carl out with a  shovel.
Yup, timing was shit all around in Alexandria.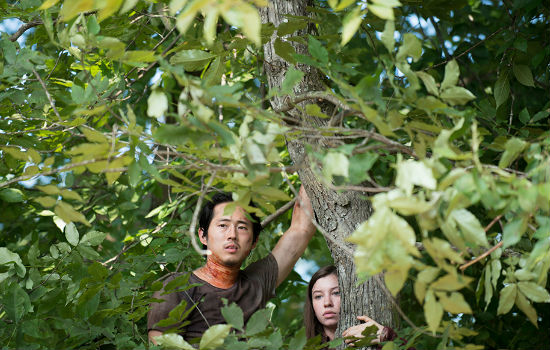 And one person who suffered because of poor timing but not of her making was Deanna (the wonderful Tovah Feldshuh) who got herself bitten as she successfully saved Rick from the surviving horde.
The discovery of said bite, uncovered when Michonne tried to tend the wound, was greeted with quite possibly the most memorable of all "I'm infected" reactions when Deanna simply said "Oh … SHIT."
Amen sister, only way to describe it; why did no one say that sooner?
Tended to by Michonne, with whom she had some deep and meaningful conversations about the fact that you can't just want something to survive, in this case, Alexandria itself, you need to know WHY.
Michonne hadn't quite answered that question by the time she and Rick and the gang fled the house, very very slowly and smelling, literally, like death, but it was a fitting way to send off Deanna who went out on her own terms, killing walkers, screaming at the world before presumably killing herself.
It was a desperately poignant scene, given that Deanna was the heart and soul of the township, but one that resonated profoundly, underling the prevailing them of the episode that you don't just give up because everything's gone right royally to shit.
But as Glenn (Steve Yeun) – GLENN LIVES! Yes it still pleases me greatly – said to Enid (Katelyn Nacon) you can't just wash your hands of things when they go south.
You have to FIGHT, but just as importantly, know what you're fighting for; the motivation is as much the thing as the actions taken, and it's those two things working together than inform anyone's journey.
Even in the midst of a messy uncontrollable apocalypse where getting from A to B, from "Start to Finish" is never easy, and walkers are everywhere including in your once picture perfect sanctuary, you still need to ask yoursefl "WHY" just as much as "WHAT DO I DO NOW?"
A thoughtful apocalypse? Once again The Walking Dead delivered that in spades, with all sorts of existential threads left nicely untied and the world in jeopardy once again, the destination line anything but certain.
And behold ladies, gentlemen and self-aware walkers, the introduction of Negan and the Saviours in all their fearsome glory in a scene that appeared as an epilogue post-credits to "Start to Finish" and gave us a taste of the second half of season 6 which premieres on February 14 2016 in USA/ February 15 Australia.