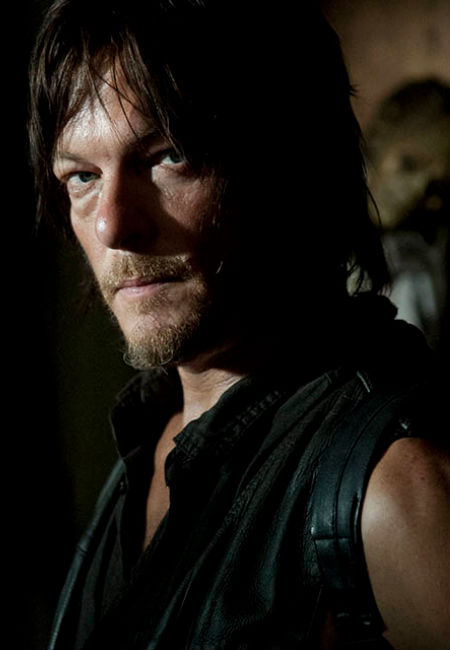 It was a case of burn, baby, burn in latest The Walking Dead episode "Still".
But not in the way you might think.
No, this was a case of burning old memories and finally moving on, with Dr Beth (Emily Kinney), she of the newly acquired moonshine liquor habit – you'll be relived to know she is a happy drunk except when she's practising her crack line of redneck psychoanalysis – tending to her patient Darryl (Norman Reedus), who didn't have a few skeletons to clean out of his badly decorated closet so much as a whole cemetery's worth.
And her therapy of choice, apart from having top of the lungs shouting matches in woods crawling with noise-zeroing-in walkers, was to set fire to their temporary home, a hillbilly shack in the woods that was a dead ringer for Darryl's blighted childhood home, down to the dump-sourced reclining rocker, and hot pink bra spent cigarette receptacle.
It was less than tasteful pre-apocalyse chic and pretty much deserved to become a bonfire for the ages but I was wondering why they decided to torch it in the middle of the night when shelter, even of the interior decorator dead zone kind, would be rather more important than exorcising redneck ghosts.
Still it made for great visuals and the walkers loved it, so whom am I to complain?
It was a rather spectacular end to a taut emotionally satisfying episode which focused on Beth and Darryl exclusively, allowing both characters to flex their backstories in considerably more robust fashion that has hitherto been the case in the series.
But before either of the Odd Couple-esque twosome could get in touch with their inner "never had anyone to rely on" child (Darryl, who's father's idea of family bonding was shooting at his kids indoors) or douse them with enough illicit liquor to have them swimming in crooked lines for years (Beth), they first had to endure the latest fad eating pattern – The One Day/One Night Boot of a Car Surrounded by Walkers Diet.
Haven't heard of it?
It's BIG in Georgia right now and coming to a survivor community near you soon.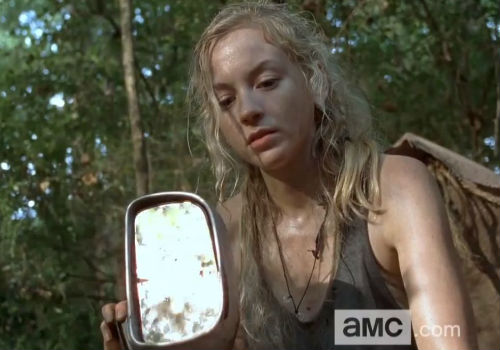 Seriously though the opening scene was a humdinger of a tension-filled piece of drama.
Forced to grab the nearest hiding post by, by a herd of walkers than is heard rather than seen, which is the thankfully spacious boot of an abandoned car, Beth and Darryl have  no choice but to stay put till the walkers shuffle off, in that narratively-conventient way that they sometimes do.
Frankly I would've expected the walkers to set up camp, chompers at the ready and knives and forks in their decayed hands, salivating a la Looney Tunes waiting for their living prey to finally emerge.
But clearly there must have been a better living humans buffet elsewhere and they shuffled off leaving Beth and Darryl to play happy snake-eating families around the campfire, which the young farmer's daughter managed to light in something approaching nanoseconds.
But teenagers will be teenagers, and though Beth proved adept at fire-lighting and walker-trap setting (using about half of the car they had just sheltered in), all she really wanted was a drink.
A big long draft of hootch thank you very much, the kind that gets every teenager should have, she reasons, by dint of being, well teenagers, and which up till now Hershel had denied her (for obvious AA-attending reasons of course).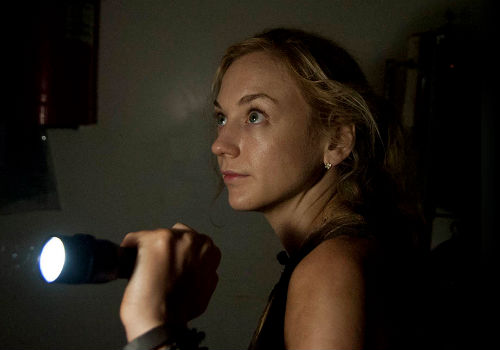 And she wasn't going to wait around for Darryl to finish his BBQ'd mud-coated rattlesnake, rather petulantly storming off into the undergrowth, more concerned it seems with doing shots than shooting the ever present walkers.
Thanks to some well timed stone throwing and Darryl's belated arrival, petulance did not lead to death and living decay, and Darryl rather reluctantly set off with Beth to find her a first drink.
First stop was the walker-infested PIne Vista Country Club, which in its new apocalypse guise had rather let its standards drop, filled with sleeping bags, broken glass cabinets and mummified corpses/hanging zombies (always adds something to the decor don't you think?).
No sign of the tennis coach but I was rather hoping to see a few walkers shuffling around the court, racquets in hand.
What we got was more of Beth being petulant, determined to have that fist sip of alcohol even if it meant fending off a freezer-dwelling walker, and drinking – ye gods no! – Peach Schnapps, which was a bridge too far for Darryl who seemed intent on throwing darts into every pasty-faced rich guy featured on the club's membership board while Beth tried in vain to find a clean glass.
What could have easily been a tit for tat case of argy-bargy between the accidental duo turned into something a whole lot more meaningful, not that you would have got Iron Lady Darryl to admit to anything of the sort, when Beth attempts to drink the Schnapps devolved into crying, we assume, over her until-then largely unmourned father.
It was a sign that there is life in that seemingly calcified, boyfriends what boyfriends heart of hers, as well as a small chink opening in the cold war between her and Darryl, who comforted her in the only way that made sense to him.
By smashing the bottle of Schnapps into a thousand tiny "no drinking for you right now young lady" pieces.
(Their visit to the once-rarefied climes of the rich and famous also established Beth as the emergent conscience of the twosome when she attempted to take down a mummified ex-member of the club who wore a "rich bitch" sign and had been arranged like she was some sort of macabre statue; she didn't get taken down but Darryl threw a cloth over her to hide her view, which Beth accepted, realising this was as good as she was going to get).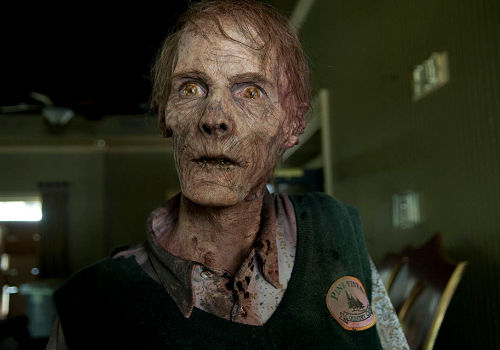 Next stop was the redneck cabin in question and after a whole lotta hard moonshine liquor and an ill-advised drinking game where you had to share something you hadn't done, Darryl lost it in spectacular fashion, tired of Beth's persistent questions about his undisclosed past, and unsettled by having to camp out in a house a little too much like the one that had made his childhood its pre-apocalyptic chamber of horrors.
His childhood was so bad in fact that the apocalypse wasn't that much of a change in lifestyle for him, the admission delivered with the sort of matter of fact sadness that someone belittled and denigrated through life knows all too well.
It was a wrenching moment and beautifully handled by Norman Reedus who has fashioned Darryl into a highly sympathetic character who wants to break down and admit he's hurting but who is wholly ill-eqipped to do so.
When the deprivations of the walker-filled apocalypse is pretty business as usual lifestyle-wise for you, then you're going to be understandably reluctant to talk about it.
Until of course you're a prying teenage girl, drunk on moonshine has poked and prodded you with a bedside manner that could use more than a little finessing, and you're three sheets to the wind and not inclined to make nice.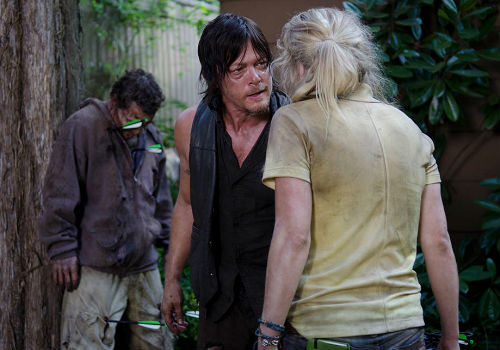 Then it's time for some good old fashioned emotional exorcism, of the aforementioned top of your lungs variety, some storming out of the house, again as loudly as possible and some rather muscular and ill-aimed target practise with the nearest member of the undead.
It was messy and chaotic and you wondered if Darryl wasn't going completely berserk – Beth clearly thought he had, her earlier bravado evaporating into wide-eyed apprehension – until a few choice exchanges of emotional and other failings between the two led to a tear-filled breakdown of the rather cathartic sort.
And some deep and meaningful chitchat on the porch, leading of course to the rather s'mores-deficient bonfire.
It capped an episode that didn't waste a second of it's airtime, unlike last week's "Claimed", expertly exposing emotional fault lines and regrets in both characters, and in turn allowing them to grieve over the many things they have collectively lost.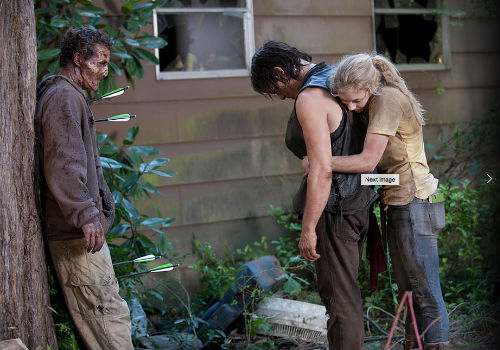 But it was at heart Darryl's episode, a chance for us to peer under the hood of a man who has grown in leaps and bounds from surly redneck to trusted member of the prison gang inner circle but who had scrupulously declined up to this point to share anything about his past.
It was a powerful unleashing but well-written and handled, a chance for Darryl to finally come clean about the man he used to be – a man Beth rather wisely said he could now leave behind with the burning of the house – and for Beth to demonstrate she has a heart, and the ability to look after herself when needed.
If you're going to spend an entire episode of a precious 16 episode allotment on just two characters, this was the way to do it, with revelations, steps forwards and cathartic moments a-plenty, all tautly written and delivered with some zombie-killing action thrown in for good measure.
Of course in the history of The Walking Dead, these sorts of gargantuan character reveals are usually the entree to a rather grisly end but for now Darryl and Beth have cleansed their souls, burnt down a building and walked off into the night a little lighter on their feet than they were.
And to Darryl's inordinate satisfaction no doubt, still unsullied by Peach Schnapps.
* Here's the promo for next week's again single word episode "Alone" (clearly AMC have clamped down on the budget for titling syllables) …
And a sneak peek …