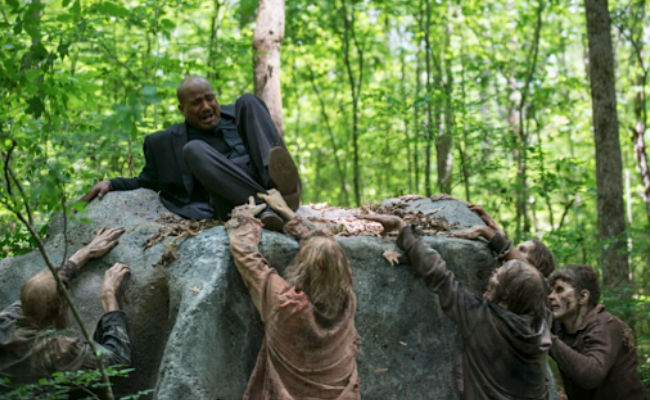 *Hey they're spoilers ahead … and walkers … and foul, damaged humanity … but you knew that already right?*
Well, no surprises for guessing that once again humanity came off second-best in the PR stakes to the walking dead.
You have to wonder how that can be don't you, what with zombies possessing the sort of sunken, sloughed-off faces only a motherly member of the undead could love, an incessant need for human flesh which kinda makes it hard to make friends with anyone but other rotting dead people, and the social niceties of, well, zombies?
It's an especially confounding thing to grapple with in an episode like "Strangers" that featured, among its carnival of apocalyptic nasties, a sunken pool of zombie-swimming horror inside an abandoned food bank that smelt so bad that, in Bob's immortal words, "if a sewer could puke, this is what it'd smell like".
And almost beyond comprehension when you ponder the fact that Rick (Andrew Lincoln), Michonne (Danai Gurira), Bob (Lawrence Gilliard Jr.) and Sasha (Sonequa Martin-Green) had to then semi-swim around in this 3ft tall pile of rotting flesh and water to (a) kill a lot of zombies and (b) retrieve shelves full of food in cans so they could eat after a couple of days with just dead squirrels, courtesy of Daryl (Norman Reedus), for sustenance.
Somehow though, even with all this highly objectionable stuff to their credit, and more besides – exploding skulls of someone that someone that used to know? Yes Gotye your song still has emotional resonance even after civilisation has well nigh breathed its last – the zombies came off looking better than humanity (hell of a PR team guys!).
And we can slate this reputation-winning strategy to three people; or more correctly one person, a ragtag bunch of other people with a taste for human flesh – yes the Terminians led by Gareth (Andrew J. West) after back to their finger-lickin' worst with poor zombie virus-infected Bob on the menu in one of the more horrific twists a show full to the brim with them has pulled – and a mysterious person or persons in a car with a cross stuck onto the back window who may or may not have kidnapped Beth (Daryl and Carol, played by Melissa McBride took off in their newly-discovered, though sadly not latest model Hyundai, car to see if that's them).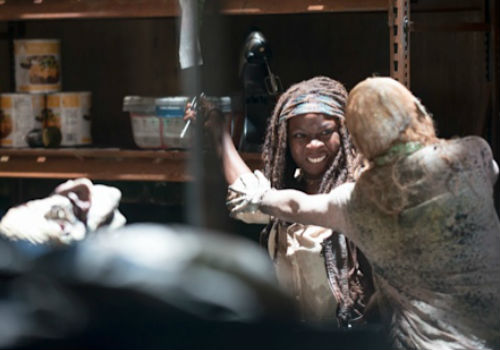 Even worse for humanity there's a mighty good chance that all these seemingly disparate people know each other, a highly unsettling idea for Rick and his "family" – yes the people that Abraham (Michael Cudlitz) declared could be better than "survivors" if only they'd go to Washington DC on Eugene's (Josh McDermitt) likely fool's errand (hell even in the apocalypse you have to constantly better yourself; oh the pressure!)- who have just shacked up in a church with one of them, a man of God by the name of Father Gabriel Stokes (Seth Gilliam) who you'll be pleased to know has so many sins to his credit that he has to confess them every day to God.
Just God, mind you and no one else, something which gets Rick more than a little nervous; that and the fact that someone is trying to gouge their way in with knives through the windows, is scrawling "YOU'LL BURN FOR THIS" in the wooden exterior walls (scary enough to make "We're strong enough to help people" Carl (Chandler Riggs) re-think his new kumbayah strategy of relating to the world), and the good old reverend overall well-fed, well-laundered and just fresh as an un-walker-trampled daisy good looks.
Something smell rotten and it's not a decayed swimming pool full of zombies.
But with Father Stokes played the "gee whiz I can't kill zombies" card because, and I quote "The Lord abhors violence" (so the whole Old  Testament was just one long uncorrected typo then?) and demonstrating an almost laughable inability to fend for himself – they meet when the survivors, at Carl's urging, rescue the reverend from atop a rock surrounded by snapping walkers – and the not small matter of the church to shelter in and food to eat, Rick has no choice but to trust him for now, albeit with two very wide open eyes not letting him out of his sight (which is why Gabriel came to the food bank too where he, ahem, met an old lady friend of his, looking slightly the worse for wear).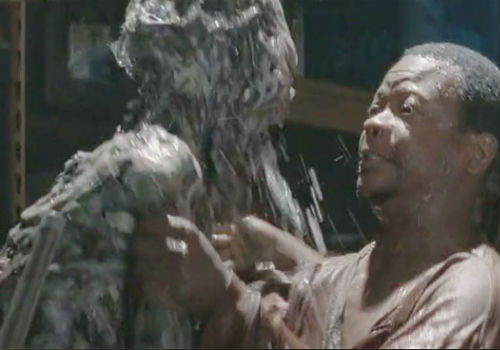 It wasn't exactly looking like humanity's finest hour but somehow this didn't deter Bob – yes he who would later find himself the centre of the Terminians latest freakish repast where he also had to listen to a stomach-churningly self-serving lecture from Gareth about how they're not bad, just misunderstood and pushed into a man-eating corner; in other words, all human limbs and no responsibility – from expecting everything to come up roses.
In one of four major themes that percolated their way through "Strangers" – along with Optimism vs. Pessimism, we had Old Lives vs. New Starts (Michonne confessed she was OK without the katana since it represented her old, little-lamented pre-Rick and the gang days), Things Hidden Vs. Things Disclosed (Tara confessed her Governor-heavy past to Maggie and got nothing but hugs while Father Stokes kept mum on everything) and Taking Charge vs. Victimhood (hello Gareth you eternal bleating victim you!) – Bob, in endlessly kissing love with Sasha (who very much returned the favour), decided that the bluebird of happiness, and not the zombie crow of rotting flesh and misery, was following them all the live-long day.
Witness this exchange, a game called Good, Ugly, Bad between Bob (B) and Sasha (S) to get some sense of the man's sunny side up state of mind:
S: "Wet socks."
B: "Cool feet."
S: "Mosquito bites."
B: "Itching reminds you you're alive."
S: "Danger around every corner."
B: "Never a dull moment."
S: "Hot sun beating down on you."
B: "C'mon! A glorious tan" [they both smile then break into laughter] "Well I said it and I meant it."
S: "No privacy."
B: "A captive audience" [kisses as Tyreese (Chad L. Coleman), Judith's new eternal shadow, looks on smilingly]
The man is damn near unstoppably upbeat even answering Rick's grim assessment that "This is the real world" with "Nah, it's a nightmare and nightmares end."
It was a pleasure to behold, to see someone so in live with life in a world that most assuredly isn't, and it made the idea that Bob likely got bit in his encounter with an aquatic zombie in the flooded basement, all the more desperately sad (although if he succeeds in infecting the Terminians as they chow down on him without his permission then silver lining regained people!).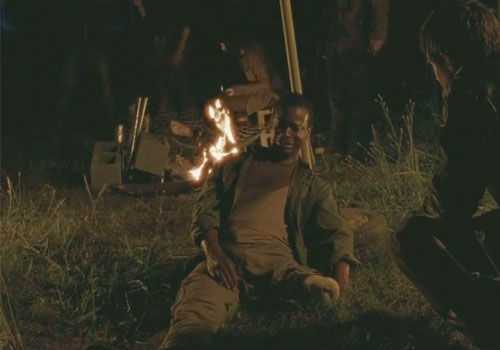 While slower paced than last week's full-on flaming zombies season 5 opener, "Strangers" suffered nary a sophomore episode slump, succeeding brilliantly in:
* cementing the relationships between everyone in the group via a series of rich little person-to-person vignettes, many involving Carol, focused on confessing past sins with the constant refrain of new starts, something Daryl particularly was keen on and Rick wholeheartedly embraced telling Carol "I owe you everything".
* introducing a kick ass new environment in which to wrestle with zombies (all that's left is a pool full of jello/jelly) and giving us some emotionally-fraught – for Father Gabriel anyway who reacted none too well to his supposed now zombiefied paramour swimming to wards him in the rotten goop – action of the highest order.
* and weaving in all manner of philosophical conversations (see the bolded bits above) that have been just as much a mainstay of the The Walking Dead as its heart stopping action.
It was a fine piece of taut, character and action rich storytelling, reinforcing the idea that the show is on a narrative roll (and that humanity needs to hire a better PR consultant stat).
Watch out for next week's "Four Walls and a Roof", the promo for which follows …