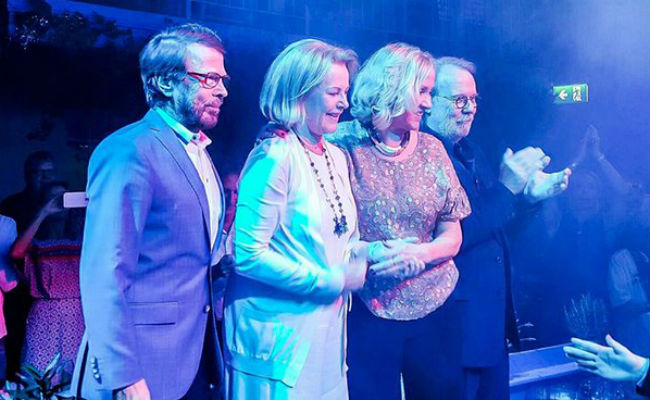 At last ABBA has reformed!
Well before we, and by we I mean I get completely carried away – with ABBA this is extremely easy to do such is my four decade long devotion to the musical cause of four talented Swedes who made some of the best pop music ever – it must be said that the long hoped-for concert reunion and new album is not a happening thing.
What did take place on 5 June however at the Berns Salonger hotel in downtown Stockholm was on stage gathering together of the four members of ABBA, a rarity if there was one – the only other major reunion was 20 January this year when they launched their Mamma Mia! restaurant where they talked but did not sing – in front of 350 close friends where they celebrated the first meeting of Benny and Björn 50 years ago, which according to Just Backdated, went something like this:
"The occasion was the 50th anniversary of the date when Björn Ulvaeus first met Benny Andersson, on June 5, 1966, at a pop  festival on the Ålleberg hill, three miles southeast of the town of Falköping. At the time Björn was a member of The Hootenanny Singers while Benny was the keyboard player with The Hep Stars, and both bands happened to be playing the festival that day. Afterwards, at the hotel where The Hep Stars were staying in Linköping, the two future Abba songwriters were introduced and ended up with playing guitars together, sitting in a park until the sun came up, singing songs by The Beatles and The Kingston Trio."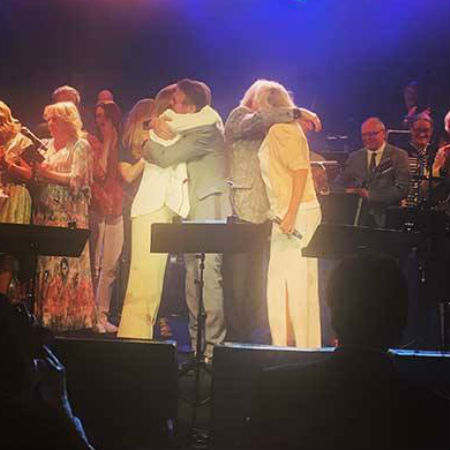 Guests, according to Benny and Björn's official site, icethesite, included "Agnetha Fältskog and Anni-Frid Lyngstad, Görel Hanser, Michael B Tretow, Tommy Körberg, Helen Sjöholm and BAO, Tim Rice, Murray Head, Judy Cramer, Peter Jöback, Thomas and Marie Ledin, Lill-Babs, Kristina Lugn, Björn Skifs and Janne Schaffer, to name but a few!"
Sir Paul McCartney even sent a video message, an especially meaningful gesture given how much of an influence he has been cited as being for the now five decade long partnership between Benny and Björn.
All the guests in attendance, who were handpicked and represented the many stages of the two men's careers, were treated to Agnetha and Anni-Frid singing "The Way Old Friends Do" and Benny and Björn singing "Does Your Mother Know" as well as a host of other artists singing a range of the two men's compositions:
"Some of the guests took to the stage in musical tribute: Benny's sons Ludvig and Peter performed Rock Me, Helen Sjöholm sang Where I Want To Be, Peter Jöback Det kan ingen doctor hjälpa and Svenne Hedlund Isn't It Easy To Say. There were also performances from Lill-Babs, Lena Philipsson and Pernilla Wahlgren." (icethesite)
And it wasn't just the guests who were surprised by the artists who paid tribute.
"Benny said that most of the entertainment was as much a surprise for him and Björn as it was for the invited guests, having been planned in secret by a committee consisting of Ludvig, Görel, Lars Rudolfsson and the evening's toast-master Claes af Geijerstam.

"'When we started talking about throwing a party about a year back, Ludvig suggested that maybe they should do something that we didn't know about,' Benny told us. 'It is incredible that so many people wanted to participate. We had such a great time and I think they did too,' he said." (icethesite)
The highlight of the night, of course, were the four members of ABBA onstage together (sparking naturally enough fevered speculation about a reunion tour), and while they didn't sing together, the very fact that they appeared together was reason enough to make this an epic night for ABBA fans.