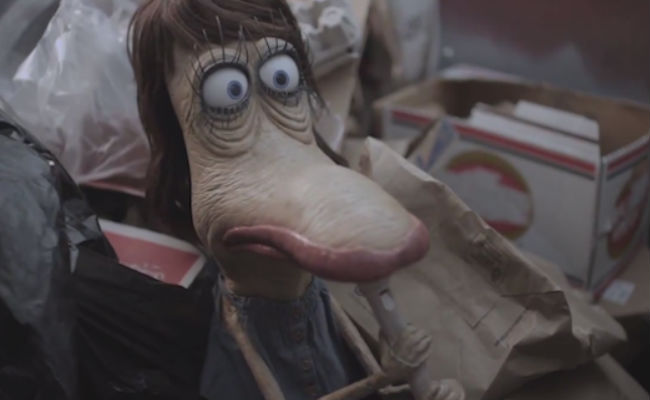 Love isn't easy … for anyone really.
Imagine though how much harder it must be when you're a young kidnapped alien from the moon, all alone on earth with no one for company, your only activities playing the recorder in the trash, holding up ad signs for fried chicken shops and mourning your dead boyfriend while you sit washing your clothes in a laundromat.
Sad though it sounds though, Kathleen Hanna (Bikini Kill/Le Tigre/the Julie Ruin) who gives voice to Myrna in the Ian Samuel's created Myrna the Monster, which premiered at this year's just-concluded Sundance Film Festival, manages to inject just the right amount of world weary whimsy and endearing resignation to the character.
The inspiration for Myrna the Monster, a production of MTV Other which features a brilliantly good soundtrack by BOYS (Jona Bechtolt, Rob Kieswetter, Jeffrey Brodsky of YACHT) was explained by Samuel in a statement (via Pitchfork):
"I was walking downtown a couple years ago thinking; if you actually dropped a real live alien from the moon on the street somewhere, probably no one would notice. Maybe she's originally from someplace else, or had some work done, or is homeless, or just rolled out of bed at noon, or maybe it's Hollywood. She's just over there, going through the dumpster by Starbucks."
All whimsy aside however, the 14 minute short film is a telling commentary on the way our society can all too easily marginalise and ignore people most in need of companionship or just a shoulder to cry on.
Tough though the message may be, it is wrapped in an imaginatively-articulated package, a touching, heartfelt exploration of what it's like to try and fit in a world where you don't really belong.
(source: Stereogum)