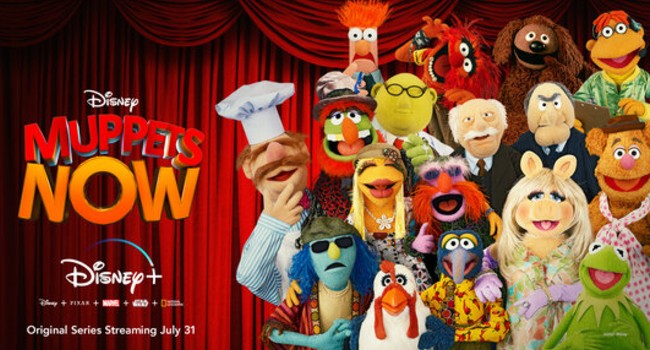 As someone who had the distinct pleasure of watching The Muppet Show when it first premiered in 1976, and who thanks also to Sesame Street, has had a lifelong association with and love of the Muppets, it's always been fascinating to watch how the legacy of Jim Henson's superlatively wonderful creations has been maintianed.
The movies that followed the show, which ran from 1976 to 1981, generally captured the sensibility of Kermit, Miss Piggy, Fozzie Bear, Gonzo and the gang, reflecting the beguiling mix of hilarious over-the-top antics and heartfelt moments that always meant the Muppets were always far more than the sum of deftly executed verbal and visual jokes.
There have been missteps, of course such 2015's The Muppets which didn't hit the mark, but by and large, the legacy has been well upheld although anyone can notice that the Muppets are no longer the zeitgeist juggernauts they once were.
The good news is that while it won't be to everyone's taste, Muppets Now does a pleasing job of taking Kermit et al. into the 21st Century while preserving all those endearing qualities that made them so lovable in the first place.
With each of the six 20-something minutes buttressed by Scooter who is charged with uploading the show for eager consumers and who has to contend with ill-timed tech upgrades, sleep deprivation (and a very loud Animal alarm clock!) and an overeager social media team headed by Kermit's nephew, Robin, Muppets Now is like a remake of The Muppet Show in the digital age that doesn't feel like a tired retread of the original.
It is not, in other words, held captive to nostalgia which is always a good thing when it comes to re-imagining beloved old TV properties.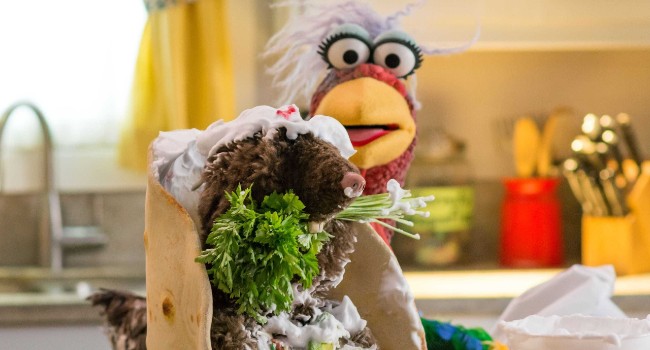 It's entirely understandable that some people's perceptions of Muppets Now will be coloured by a longing for the show of old, and that makes sense in a way since The Muppet Show is so exquisitely perfect, but the good news is that a lot of the spirit of the '70s incarnation is present and accounted for, just in bright and shiny online packaging.
Rather than sticking with the Vaudevillian style of old, Muppets Now is put together as a series of skits held together by Scooter's travails, hilarious advisories by Kermit and new character Joe from Legal (he is very risk averse) and the uploading icons which are their own kind of fabulously colourful theatre.
The key word here is "theatre".
While the Muppets may not be in the theatre that was home to The Muppet Show, there is no missing the madcap hilarity that suffuses each and every segment, all delivered with a the kind of theatrical flair that makes the Muppets such an enduring pleasure to watch.
Each of the segments are highly, amusingly theatrical, reflecting very much the feel of The Muppet Show but with a distinct modern sensibility that reflects the different way, not simply that people communicate, but how they frame their presentations.
Take the revived Muppets Lab segment for instance.
Once again featuring Dr. Bunsen Honeydew and Beaker, with the former characteristically making life impossible for the latter to great comic effect, Muppets Lab is not very Mythbusters-ish, retaining the humourous approach of the '70s iteration but with a distinctly big-bang-fun approach that is the hallmark of modern segments of this ilk.
Miss Piggy too has moved with the times, presenting a segments known as Lifestyle – though a running gag is not that no one has get the name right with the name typically rendered as Lifesty-le in various permutations – which incorporates celebrity segments with Taye Diggs and Linda Cardellini, some very modern wellness advice (which rings with hilarious inauthenticity) and a Zoom chat which, as is the way with videoconferences with many and varied attendees (try a cow and a bunny at various times) that never quite goes to plan.
Miss Piggy is as self-involved as ever, staying true to her character who is as diva as divas get and who makes life hell-ish for the likes of her thespian assistant Uncle Deadly who puts up with a lot but does a nice job of subtlely getting his own back.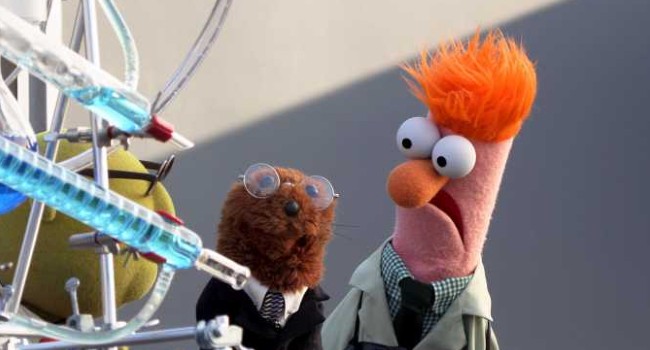 The off-the-wall hilarity continues in other regular segments featuring the Swedish Chef ("Økėÿ Døkęÿ Køøkïñ" which actually features real chefs cooking alongside him), Pepe the King Prawn ("Pepe's Unbelievable Game Show" where anarchy rules to showrunner Scotter's chagrin) and "Mup Close and Personal" which features a revolving host list including Miss Piggy and Fozzie Bear.
Not every segment works perfectly and some do feel like they peter out before their run time is over but by and large, Muppets Now retains the glorious insanity of The Muppet Show while brightly and giddily styling things up for the digital generation.
The only negative note to sound, and really this is a small thing when so much goes so amusingly right is that there's not enough Fozzie or Gonzo or Rowlf the Dog, three particular favourites of this reviewer, which likely reflects the decision to make many of the segments recur each episode rather than being far anarchic and eclectic as was the case with the show's '70s predecessor.
Hopefully season 2 of the show, and here's hoping Disney sees fit to approve one, brings more of the gang back into the fold in a more complete and fulsome way (more time for Statler and Waldord too would be wonderful.
Overall, Muppets Now, while not perfect, is a treat, updating things quite beautifully while keeping true to the spirit of the original show and to the look, feel and personalities of a quite beloved group of characters who have been given a digital opportunity to reacquaint with old fans and find new ones and who look to have quite a lot of life left in them yet!