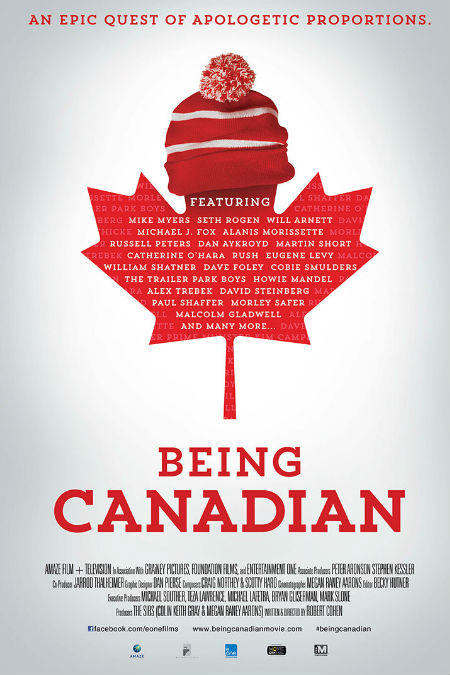 Stereotypes are funny things.
Sure they allow pretty much everyone to get a handle on an issue, a person or an entire nation in record time, and yes, there are some elements of truth to them, but by and large, they're not really all that accurate, and hence, not really that useful.
One man frustrated by the complete lack of accuracy when it comes to Canadian stereotypes is Robert Cohen, described by EW as "an Emmy-winning TV writer-(The Ben Stiller Show, The Big Bang Theory)-turned-director (Maron, Netflix's upcoming Lady Dynamite) who grew up in Calgary", who decided to do something about it.
The result? "Being Canadian" a documentary which draws on interviews with a host of well-known Canadians like Howie Mandel, Nathan Fillion, Cobie Smulders, Michael J. Fox, Alanis Morrisette, Seth Rogen and 40 Angry Mounties, and a coast-to-coast trip Cohen took to show Canada in all its great, and rarely-reported-correctly glory.
"I made the documentary because after literally decades of dealing with the same problems, I wanted to once and for all explain Us to Them, and make a visual user's manual on Canadians. It really was trying to put an end to this pervasive problem that I and other Canadians had experienced." (EW.com)
And what did he learn from his stereotype-busting trip across the country?
"What I ultimately learned that the country that I loved and was trying to defend so vigorously currently does not need my defense. Canada has just grown into such a super proud, effusive, patriotic country that is so confident about its value that it doesn't need me defending it." (EW.com)
And if you're wondering what his top 10 peeves about the way Canadians view non-Canadians, you can check out his amusing list at EW.com.
Being Canadian is currently available to view on demand.