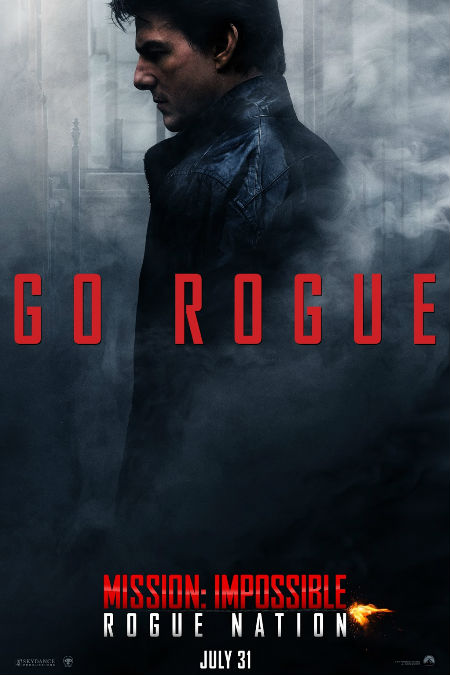 SNAPSHOT
"Ethan and team take on their most impossible mission yet, eradicating the Syndicate – an International rogue organization as highly skilled as they are, committed to destroying the IMF.

"Directed by Christopher McQuarrie and produced by Tom Cruise, J.J. Abrams and Bryan Burk. The executive producers are David Ellison, Dana Goldberg and Don Granger of Skydance Productions and Jake Myers. Drew Pearce, Christopher McQuarrie, Will Staples, Laeta Kalogridis & Patrick Lussier and Dylan Kussman wrote the screenplay, based on the television series created by Bruce Starr.

"Starring Tom Cruise as Ethan Hunt Jeremy Renner as William Brandt, Simon Pegg as Benji Dunn and Ving Rhames as Luther Stickell. The film also stars Rebecca Ferguson, Sean Harris and Alec Baldwin." (official synopsis via The Geek Twins)
You have to admire Ethan Hunt (Tom Cruise) and his highly-trained, utterly fearless Impossible Missions Force (IMF) team – no matter how impossible the mission might be, they will take it on without a second thought (but not it must be noted without raised eyebrows and jocular quip or two).
They're back at their taking-it-to-the-baddies best once again in Mission: Impossible Rogue Nation, hanging off airplanes that are taking off, swimming through an insanely large amount of water without oxygen tanks – breathing? Pfft! It's for espionage rank amateurs! – and almost dying, and then, naturally enough, getting into high end very fast car … and driving.
As you do.
It's all in a day's work for the IMF's best and brightest, who are battling a shadowy organisation called The Syndicate who means to bring them down, way, way, wiped from existence, down.
Not very nice people at all, really.
So naturally Ethan and the gang fight back, and fight back hard as only they can, and we, dear gloriously over the top espionage-loving viewers of four Mission:Impossible films before this, are the lucky recipients.
All we need to do now is buy some popcorn, find the code to open the plane door ahead of time (not, I repeat, not during take-off; so many OH&S issues … so, SO MANY), and oh yes, fasten our seatbelts before backing at high speed into a canal.
Yep, that happens too.
Mission: Impossible Rogue Nation opens in USA on 31 July 2015 and Australia on 6 August.
And here are the rest of the characters posters for Mission: Impossible Rogue Nation …