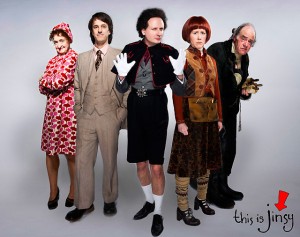 I am not sure which slow boat this series fell off on its way to the Antipodes but This is Jinsy, a comically absurd British sitcom whose pilot aired on 1 March 2010, has finally reached Australia via ABC 2 [an observant reader has noted it screened on UKTV on cable here in Australia; the ABC is the first free to air screening], which is quickly establishing  itself as the off beat alternative to its older, more serious broadcasting sibling, ABC1.
(It should be noted that the pilot episode, which aired on BBC3 was not screened with the series starting here with episode 1, "The Wedding Lottery".)
And I give a thousand thanks, and sacrifice a million Kim Kardashian DVDs, to the pop culture gods (they can be as trashy as hell when they want to be) that this inspired show has made it onto our screens.
It is, in short, a comic gem.
Based on life on the Channel Island of Guernsey, a tribute of sorts by the series' creators and writers, Chris Bran and Justin Chubb, who grew up there, it is one of those rare sitcoms that manages to be simultaenously as quirky as they come – read League of Gentleman/Monty Python/The Goodies absurd pretty much most of the time – while somehow still telling a story that has a reasonably identifiable beginning, middle and end.
Not that This is Jinsy is in any way slave to a customary narrative.
But rather than a series of loosely gathered together sketches like Psychoville or League of Gentleman where the storyline is overarching at best, This is Jinsy has a basic narrative into which are threaded, without much warning, and very much in a Monty Python-esque style, gleefully weird, and laugh-out-loud-funny segments such as the one featuring the electric owls above.
Or the talent contest below, where the prowess of the singers is judged by a dog who licks the winners with an enormous tongue at the end.
Think how much more fun The Voice or X-Factor would be if Simon Cowell was a Great Dane with a buzzer!
(It is an enormously addictive song by the way – I dare you to get it out of your earworm for days after you listen to it. Yes insanely odd but melodically addictive.)
The storyline in the opening episode though is as odd as the segments which punctuate it.
Using screens that resemble the retro broadcast technology used in the movie adaptation of George Orwell's book 1984, which the technician for the island, one Soosan Noop (Alice Lowe) describes breathlessly as "glorious medium definition", the wooly-headed, high pants-wearing Arbiter (somewhat like a parliamentary leader who answers to the unseen The Great He) of the fictional island, Maven (Justin Chubb) announces, with his long suffering cynical assistant Sporall (Chris Bran) loyally by his side, that the tri-annual wedding lottery will be held shortly.
In this hilarious send up of lotteries, social engineering and societal conformity all in one, all the married couples on the island are required to pack their bags, and wait for news of who their next partner will be, courtesy of a ceremony overseen by Arvbiter Maven and the camper-than-camp Mr Slightlyman (David Tennant guest-starring in a gloriously over the top role which is all eye-blinding yellow jacket, bright paisley tights and gestures so over-pronounced they could take an eye out).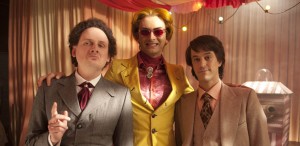 But even in the consistently surreal world of Jinsy there is corruption and underhand behaviour, and after both Arbiter Maven and Sporall end up roped into the lottery (they were previously exempt), Sporall discovers that Mr Slightlyman is taking bribes to rig the contest.
Deciding to take advantage of this shady behaviour and well aware that Soosan Noop fancies the Arbiter, Sporall pays a bribe to the dwarf in the lottery machine to take Ms Noop as his own.
It all comes undone of course when the machine explodes, the Arbiter's pink ceremonial leotard is set on fire, and the Wedding Swan is used (pushed by four pink tutu-clad girls) to chase an escaping Mr Slightlyman down.
It's all beautifully, deliciously silly and so over the top that, when you're not laughing, you are marvelling at how fully complete, inspired and clever the anarchically weird world of Jinsy is.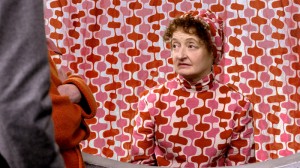 You do get the sense that though Jinsy looks like a mental asylum that anyone of even moderately right mind would want to escape from, that everyone is blissfully happy and there's a good chance that if you choose to take in this madcap series, you will be of like mind and never want to leave.
I, for one, plan to move in for the duration.
Nightly bye!