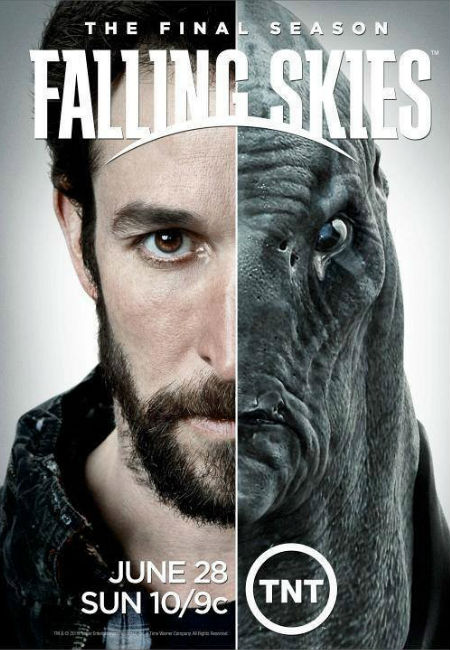 If Earth wasn't already overcrowded, what with humanity, the "fishhead" Espheni and the Volm all duking it out for control of our pretty blue planet (or what's left of it anyway), then it's about to resemble a crowded commuter train at peak hour when a brand new "beautiful" race, the one Tom Mason (Noah Wylie) encountered in the season 4 finale "Shoot the Moon", come down to join the galactic party.
Quite where their loyalties lie is anybody's guess, as is their relationship to the Espheni and the Volm, who enjoy what can only be termed a complicated adversarial relationship that doesn't involved Christmas cards and the exchange of pleasantries at social events.
The one thing humanity, fresh from their victorious destruction of the Espheni's moon-based power source, the one that powered ALL of their invasive, cruel activities on Earth – thank you Lexie (Scarlett Byrne) for your self-sacrificial act of the highest order! – and poised to wipe the floor with the genocidally-obsessed enemy, doesn't need is another alien coming along and added another degree of difficulty to an already uphill fight (unless, as rumoured, they bring some metaphysical gung-ho qualities onto Earth's side).
And what a fight it will be!
Skitter heads are cut off, executions loom, major characters are in peril, there are fires and bombs galore, and the fight for Earth comes to what many hope will be a gripping, satisfying conclusion.
Bring on the overkill – it's time to take our planet back!
Falling Skies season 5 premieres June 28, 2015 on TNT.
And for your informational pleasure, courtesy of Screenrant, "in an interview at the London MCM Expo (aka MCM London Comic Con), stars Moon Bloodgood (Anne Glass), Drew Roy (Hal Mason), and Will Patton (Captain Weaver) all but confirm the final season's upped ante, teasing major character deaths and a satisfying, "powerful" close to the series as a whole."