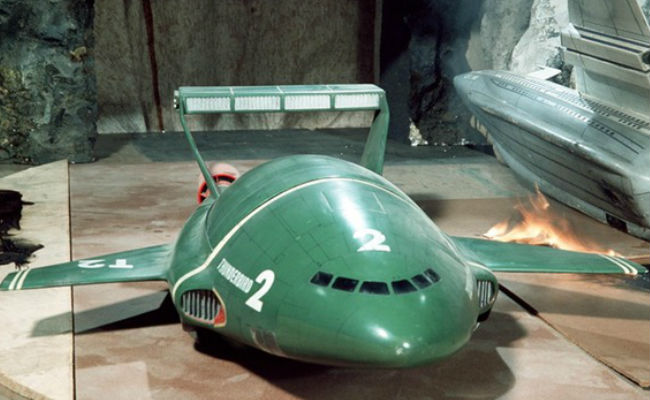 One of the fondest pop culture memories of my childhood, of which there are many – even then I was juggling my time between books, TV shows, movies and music so what maketh the  boy very much maketh the man – was getting up just before 6am when we were staying at my grandparents place in Sydney (a blessedly twice-yearly event) and watching Thunderbirds which always began a block of children's programming on one of the commercial channels.
There was something utterly beguiling about what has been referred to as the "supermarionation" of Gerry Anderson (he died last year at the age of 83) and his wife Sylvia who first broadcast the adventures of International Rescue, run by secret island headquarter-occupying Tracy family (aided by the ever-lovely Lady Penelope and her dependable aide Parker), in the year I was born 1965.
The initial series led to a couple of movies in 1966 and 1968, Thunderbirds Are Go and Thunderbird 6 respectively, and I must have watched these movies and the TV episodes over and over till my eyes bled, playing with the toys – one of the happiest days of my nascent TV memorabilia collecting days was when Geoffrey Bates swapped one of my toys for his model of Thunderbird 2; happy playing days indeed! – and imagining myself as one of the dashing, albeit slow-moving, Tracy brothers.
Granted some people who don't fully appreciate the  well-told stories and vividly-realised characters and world-building that underpinned the series now mock the clunky-looking marionette animation but I was hooked and remain hooked from the first moment I heard the immortal TV show intro:
5 … 4 … 3 … 2 …1 … Thunderbirds are GO!
So imagine my delight – I am happy to wait while you do so; good, all done? Let's move on – when ITV announced a year or so ago that they were reviving the look and feel of the old series, combining CGI and "supermarionation" for a 26 half-hour series entitled Thunderbirds Are Go! which will broadcast on UK's ITV and CiTV channels in the northern hemisphere spring with, as Digital Spy reported, a bevy of well-known actors providing the voices for the characters we know and love:
"Actors voicing the Tracy brothers and their friends include Rosamund Pike (Gone Girl) as Lady Penelope, Thomas Brodie-Sangster (The Maze Runner) as Tracy brothers Gordon and John, Rasmus Hardiker (Your Highness) as Scott and Alan, and David Menkin (Arthur Christmas) as Virgil."
The episodes are being produced in conjucntion with "New Zealand-based Pukeko Pictures, in collaboration with the Weta Workshop, famous for Avatar, King Kong, and Lord Of The Rings", one of the co-owners of which seems as excited as I am about the return of the ever-reliable, dashing Tracy brothers Scott, John, Virgil, Gordon, and Alan, and their father Jeff, and their breathtakingly daring exploits:
"Thunderbirds was a hugely influential television series in my childhood. It is thrilling therefore to think we have the opportunity to work with ITV on this new series inspired by this most wonderful of British shows. I look forward to designing and creating an inspirational world that will engage the imagination of a whole new generation as it did for us nearly half a century ago."
While the new series can't help but being a little, or a whole lot different, from the originals, revivals of other much-loved series such as Star Trek the Next Generation and Battlestar Galactica prove it is possible to pay homage to what has gone before while still infusing it with the spirit of the modern age and not end up with something as awful as 2005's re-imagined travesty of Bewitched.
While we wait to see exactly where they land on the nostalgia vs. modern statement scale, ITC have released a very teaser-y teaser trailer  – so teaser-like in fact that it barely teases with much of anything before it's gone like one of International Rescue's dashing spaceships off a mission – which despite any real details, still manages to induce that spine-tingling, gut-churning sense of excitement I felt every time I switched on the TV oh-so-carefully in the early hours of the morning all those years ago.