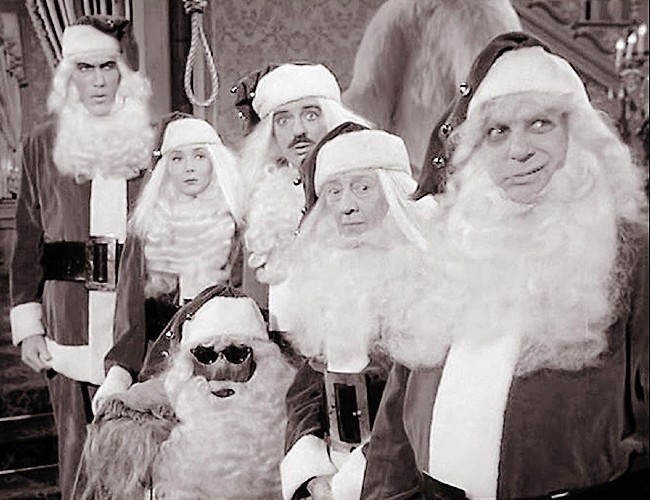 Just how many Santas is too many?
And, by extension, how many presents are too many?
You might think that there can't possibly be a surfeit of either thing at the most wonderful time of the year but in "Christmas With the Addams Family", broadcast on 24 December 1965, that is precisely the problem that a bemused Pugsley (Ken Weatherwax) and Wednesday (Lisa Loring) have to grapple with when everyone in Charles Addams' delightfully ghoulish gets a little too enthusiastic on Christmas Eve (for all the right reasons, of course).
Now, you might think that a mainstream holiday like Christmas would hold little interest for Gomez (John Astin) and Morticia (Carolyn Jones), and that they would be more of a full-on Halloween couple, but what you need to remember is that at the heart of this "creepy … and kooky" family is a whole lot of love.
They care deeply for each other and the others' welfare and happiness matters greatly to the other; it's precisely the point of Addams' creation – just because someone else might look different to you, doesn't mean that the same human needs and motivations don't surge through their veins.
Of course they do, and though the Addamses might have Frankenstein, deep boomy-voiced butler (Lurch, played by Ted Cassidy), a cousin called Itt covered in hair and prone to nonsensically skittish jabbering (to us anyway; to the family he makes perfect sense), a grandmama (Marie Blake) that looks like she spends her days putting fingers in electrical sockets, a hand named Thing to help find costume shops in the phone book and an uncle named Fester who mixes up fudge recipes with those for explosives (Jackie Coogan), and they look nothing like white bread middle class America, they are still living, breathing, loving Christmas.
Who LOVE Christmas.
Yes, from a spindly, leafless Christmas tree that has been in the family for generations to broken ornaments to singing Deck the Halls with a giddily celebratory dirge-like chant, the Addams Family love getting festive and adore, like any family, making each other happy.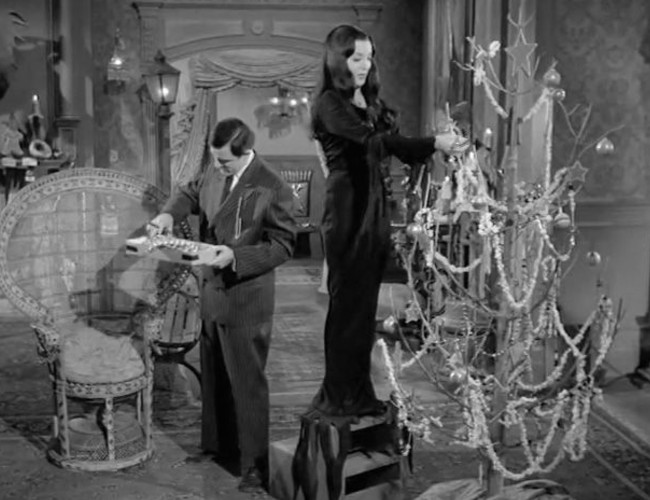 In this case, the objects of all this festive bliss making are Pugsley and Wednesday who have been told by Mr Thompson next door there there is no Santa Claus!
What?! Why that's like saying there are no witches or dragons!
Naturally, both of these supposedly mythical beings exist, and so must Santa Claus which is what the family sets out to convince Pugsley and Wesnesday of to poorly-coordinated effect.
You see, no one checks with anyone else to see if they are dressing up as "Santy Claus", as Uncles Fester endearingly refers to him, and so as the hours count down to midnight, each of them turn up with a Marie Antoinette doll for Wednesday's guillotine (the way to every little girl's heart) and a bow and arrow for Pugsley.
Sweet, beautiful, selfless intent, you are a Christmas wonder, but as the dolls and bow and arrow sets accumulate, first to the delight then bemusement then consternation of the kids, it becomes clear there might be a little much Santa-channelled love going around.
Well, okay, you can't have too much love but you can perhaps pull back on how Santas deliver that love.
Or can you? Because for all the surplus gifts and the bumbling expressions of eggnog-laced love, what Pugsley and Wednesday see demonstrated and in multitudinous comedic abundance is how much they are loved and cared for.
And you honestly can't have too much of that.
Quite apart from being a lot of endearing festive fun, with quirky gifts from maharajahs and the perfect present for Morticia, "Christmas With the Addams Family" is a delightful reminder, even 55 years later, that no matter who we are or how we look or act or what's important to us, that we are all people, we all express love and that Christmas is the absolutely right time to go all out, excess Santas be damned.