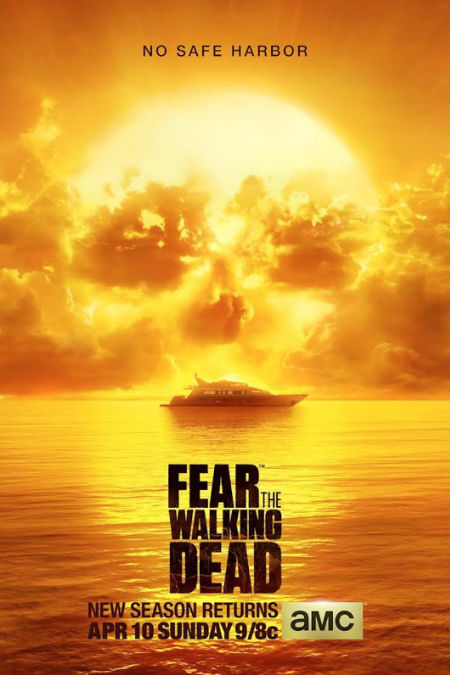 SNAPSHOT
"Season one left off with Madison, Travis and their extended family taking temporary shelter in Strand's gated estate overlooking the Pacific Ocean. As civil unrest continues to grow and the dead take over Los Angeles, the group prepares to escape to Abigail, Strand's large yacht moored offshore."
There is no escape.
That's the chilling truth for Madison (Kim Dickens), Travis (Cliff Curtis), Nick (Frank Dillane), Alicia (Alycia Debnam_Carey), Daniel (Ruben Blades), Ofelia (Mercedes Mason), Chris (Lorenzo James Henrie) and Strand (Colman Domingo) as they realise that while the sea beckons, it may not much of a sanctuary after all.
After all they're not the only ones with access to a boat or the idea of fleeing the growing apocalyptic pestilence on the land for the relativity safety of the open water.
But will it be safer out there? Sure the undead can't swim but with the monstrousness of the situation turning people into monsters to survive – it doesn't take long for the thin fragile veneer of civilisation to crack and peel away now does it? Now that's a scary thought – the real danger could come from people stealing your boat right out from under you.
And at some point you have to go back onto land but where exactly? Where does safety lie? How can you possibly know where you'll be able to find any kind of safe harbour? Does such a thing even exist anymore?
The world is indeed a frightening place with great change coming within and without, and as the showrunner of Fear the Walking Dead, Dave Erickson, makes clear in a reasonably wide-ranging interview with EW, everyone in the show is going to be tested in some fundamental way:
"The big challenge and the big question as this family lands on this boat going into the season is: Are they going to be able to hold it together as a family? Also, bear in mind, there are still a number of people in this makeshift family who don't know each other very well. Strand is a new entity for all of our characters. I think Daniel and Ofelia have become part of the family, but there is still a bit of a distance between Salazar and the rest of the clan. One of themes and questions that will be prevalent this season is what Exner aid last season, which is: What is family? Is it blood or bond? And that is going to be something that is tested on the boat as we get into the first few episodes, and throughout the entire season, frankly."
Abigail may offer a good first step towards survival but she is just the start of what's shaping up to be a very intense, frightening, exhausting and transformative (goodbye humanity anyone?) journey through the first chilling days of the zombie apocalypse.
Fear the Walking Dead season 2 premieres 10 April.