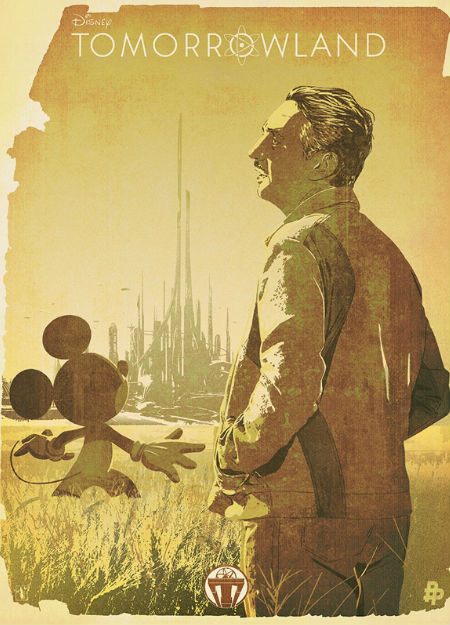 SNAPSHOT
Tomorrowland is directed by Brad Bird (of The Incredibles, Ratatouille, Mission: Impossible – Ghost Protocol) who co-wrote the script with Damon Lindelof (Star Trek Into Darkness, Prometheus). Bound by a shared destiny, a bright, optimistic teen (Britt Robertson) bursting with scientific curiosity and a former boy-genius inventor (George Clooney) jaded by disillusionment embark on a danger-filled mission to unearth the secrets of an enigmatic place somewhere in time and space that exists in their collective memory as "Tomorrowland."
You have it to Disney – they seem to be able to take what seem on paper to be fanciful ideas, namely turning Disneyland rides into movies, into films that, contrary to initial expectations, people will actually want to watch.
They managed it with Pirates of the Caribbean, and now they look set to do it all over again with Tomorrowland, a very promising movie indeed, directed by the divinely-talented Brad Bird, a director who seems to innately understand that all of us have, to lesser and a greater degrees, a child and an adult simultaneously residing in us.
His movies thus simultaneously appeal to our awestruck, wonder-filled inner child while serving up to the more discerning adult intelligent, heartfelt storylines and well-wrought characters, ensuring that every last part of our movie-loving psyche finds something to enjoy.
In that sense, he seems to have kindred spirits in the folks at Poster Posse who delight in turning their immensely talented hands to creating their own thoroughly unique adult and child-pleasing posters for upcoming movies, the latest being, Tomorrowland, which opens on 22 May in USA and 28 May in Australia.
And they are, quite simply, wonderful, harkening to the idealism of Walt Disney and his original plans for the part of Disneyland he named "Tomorrowland", as well evoking some of the retro-futurism of the '50s and '60s.
You can check out more of the art from "a world beyond" at Poster Posse.