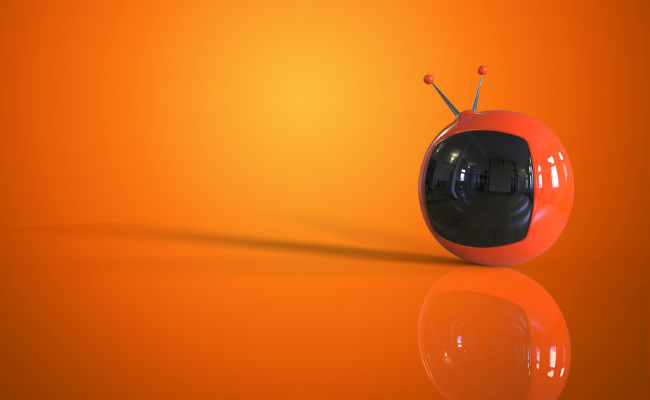 Oh ye who think that you might actually have some time to sleep, eat and smell the roses once you're done with the five programs in Tons o' Trailers #1 – abandon all hope of doing anything but watching a host of great programs on TV … because here are five more progams that may be worth your time, and remote-clicking effort, snack-preparing effort.
You're welcome.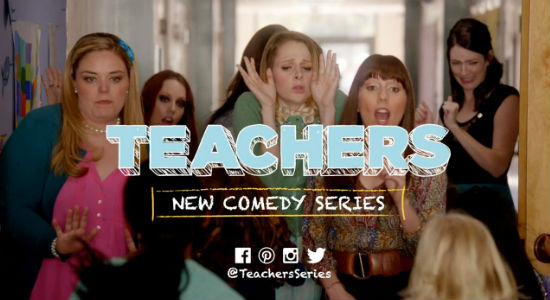 SNAPSHOT
Teachers stars improv group The Katydids (Caitlin Barlow, Katy Colloton, Cate Freedman, Kate Lambert, Katie O'Brien, and Kathryn Renee Thomas) as six jaded and inappropriate elementary school teachers — forcing students to Facebook-stalk an ex-boyfriend and hooking up with the school janitor are among their transgressions. (synopsis via EW)
Starting off life as a web comedy series, Teachers is a rare show on TV these days that has gone from the web back to the old medium of TV, rather than staying put or finding a home on Netflix or Hulu.
That kind of against the grain, swimming up stream approach fits the modus operandi of The Katydids, "a six member ensemble whose names all happen to be derived from Katherine" to a tee.
And it promises a TV show that will either be hilariously funny and clever, or wear out its welcome very quickly as it struggles to move beyond its possible one-joke premises of teachers behaving very badly.
Frankly I'm hoping its the former since who doesn't love a gleefully subversive sitcom?
Teachers premieres 13 January 2016 on TV Land.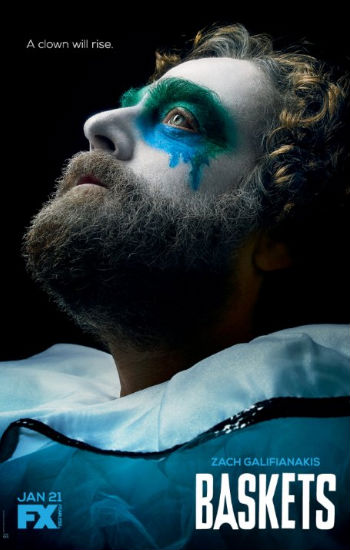 SNAPSHOT
In a world constrained by corporate interests and the homogenization of society, one man in Bakersfield, California dares to follow his dream of becoming a professional clown.  But after an unsuccessful enrollment at a prestigious clowning school in Paris, the only job he can find is with the local rodeo.  Baskets follows Chip Baskets' (Zach Galifianakis) pursuit of his dream, against all odds, to be a respected clown. (official synopsis via Collider)
Dreams right?
You have 'em, you pursue 'em, you crash-and-burn and you simply give up on 'em right?
Hell to the red nosed clown NO! Especially not if you're Chip Baskets, a man who thinks there must be more to life than sitting in a cubicle watching the world go by and decides that it must involve, HAS to involve being a clown in Paris … or you know Bakersfield.
Whatevs. Same same. The point is he doesn't give up on his dream and the result is some melancholic-laced humour from one of the masters of the trade.
Baskets premieres 21 January 2016 on FX.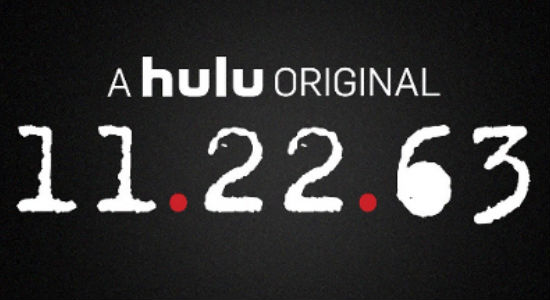 SNAPSHOT
"On November 22, 1963, three shots rang out in Dallas, President Kennedy was killed, and the world changed. What if you could change it back?"
Take a journey to find out in the genre-busting 11.22.63, an epic new nine-hour event series from J.J. Abrams' Bad Robot Productions (Person of Interest, Fringe, Lost), acclaimed international author Stephen King, executive producer/writer Bridget Carpenter (The Red Road, Parenthood, Friday Night Lights) and Warner Bros. Television. Additionally, Academy Award® winner Kevin Macdonald (The Last King of Scotland, State of Play) will direct and executive produce the first two hours of the series.
Based upon the bestselling novel written by King and starring a terrific ensemble cast embodying deeply complex characters, 11/22/63 hurtles viewers deep into the unpredictable darkness of the American dream.
James Franco stars as Jake Epping, a high school teacher at a loss with his life, who wants to make a difference and do something meaningful. Encouraged by his ailing friend (Chris Cooper), Jake journeys back in time to prevent the assassination of President John F. Kennedy.
The story transports audiences into the world of 1960s Texas as Jake explores the multiple mysteries surrounding the alleged assassin Lee Harvey Oswald. But Jake's mission faces threats not only from Oswald, but from Sadie, a beautiful librarian he falls in love with, and from the Past itself… which doesn't want to be changed. And if the Past doesn't want to be changed, it will push back—often violently.
History is littered with "What ifs?" and it's fuelled a rich genre of alternate history stories that wonder what might have happened if events had taken a left turn instead of a right, if good men and women hadn't taken a stand or hadn't been strong enough when they did.
Stephen King has tackled one of the biggest of them all, thinking about what might have happened if someone was thrown back in time with the express purpose and opportunity of stopping the assassination of JFK.
What might have happened? We can't know for sure of course but in the master storyteller's hands, it makes for an intriguing premise, a gripping book and now a potentially engrossing eight-episode TV series.
11.22.63 premieres 15 February on Hulu.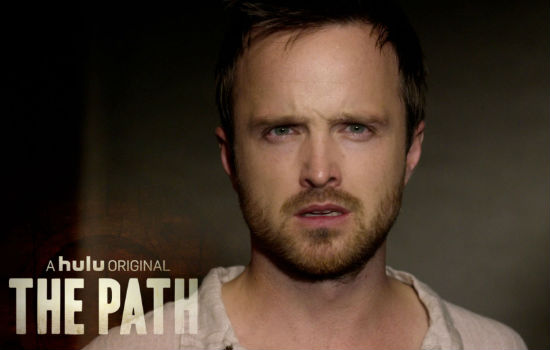 SNAPSHOT
The Path follows a family at the center of a controversial cult movement as they struggle with relationships, faith, and power. Each episode takes an in-depth look at the gravitational pull of belief and what it means to choose between the life we live and the life we want. The series blends elements of mystery-thriller, romance, and mysticism.

The Path comes to Hulu from Universal Television and Jason Katim's True Jack Productions and was created by Jessica Goldberg who will write and executive produce the series, along with Katims and Michelle Lee of True Jack Productions. (official synopsis via Hulu)
We all want to believe in something.
Preferably something that makes us difference, that enriches us, makes the world a better place, and helps us to feel as if all the banality of life has a higher purpose, one that makes it worth getting up in the morning.
That drive to have faith helps explain why cults like the one that Aaron Paul's character finds himself can be so beguiling – they us a framework, a way forward and moral compass in one easily-digestible package.
But all that certainty comes with a price, one that makes a rich platform for drama.
The Path premieres on Hulu on 30 March.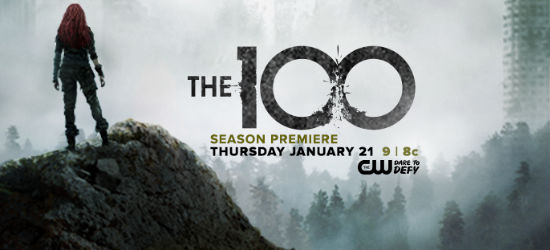 SNAPSHOT
For two seasons, the refugees of The 100 sent to Earth have been at war. First with themselves, then with the Grounders, and finally with Mount Weather. Many have lost their lives along the way. All have lost their innocence. They have learned the hard way that in the fight for survival, there are no heroes and no villains. There is only the living and the dead.

But now the war is over. The battle against Mount Weather has been won. The prisoners have returned home to a world seemingly at peace, but can they find peace within themselves after what they had to do to escape? And is there more to life than just surviving? Unfortunately, their newfound sense of normalcy will be short-lived, and their lives will be changed forever, as threats both old and new test their loyalties, push them past their limits, and make them question what it truly means to be human. First, they fought to survive. Then, they fought for their friends. Now, they will fight for the human race. (official synopsis via IB Times)
No one much like Clarke right at this point.
So much so that they're all out hunting the woman who use a deadly dose of radiation to kill everyone at Mt.Weather, in the process throwing the delicate peace between the Grounders and the space station refugees into turmoil.
Suffice to say, there's a lot going on when The 100, the apocalyptic show that proved it has way more grit and authenticity than anyone might have initially given it credit for.
And according to executive producer Jason Rothernberg it even has an ending.
But not just yet. Phew!
The 100 kicks off its third season on 21 January.