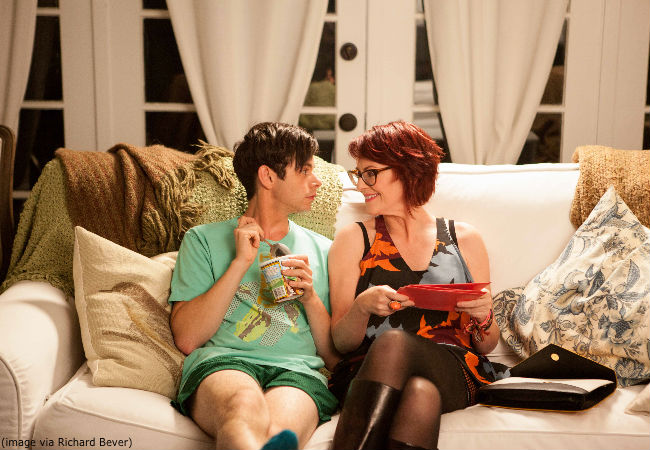 MOVIE SYNOPSIS
The bitter fight for supremacy between a school's most popular girls takes an unexpected turn when Tanner (Michael J. Willett) becomes its first openly gay student. As they race to bag the big trend in fashion accessories, the Gay Best Friend, Tanner must choose between skyrocketing popularity and the friends he is leaving behind. Darren Stein (Jawbreaker) returns with another comic send-up of high school clique culture, including memorable cameos by Megan Mullally and Natasha Lyonne.
Prada. Manolo Blahnik. G.B.F.
Just some of the accessories that an up-and-coming high school teen queen must acquire these days apparently if she is to rule from her eyrie of rarefied popularity with the requisite style and panache.
You're likely familiar with the first two but the third?
Ah it's all the rage darling, ALL. THE. RAGE.
GBF, for those not in the know, stands for Gay Best Friend, and for today's high school crowd, it's an absolute must if you're to have any sort of social currency.
And despite the fact that glitter-spangled gay boys seem to be a dime-a-dozen on TV shows and movies these days, surprisingly hard to come by.
Which is where the new movie from the famed director of Jawbreaker Darren Stein, and screenwriter George North comes in.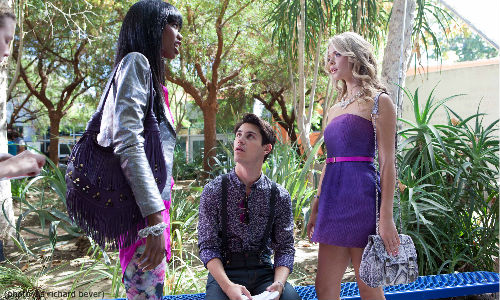 Making its world debut on April 19 at the 2013 Tribeca Film Festival, G.B.F., which largely stars a gaggle of impressive unknown actors, explores what happens when who you are becomes less important than what you represent, and you are reduced to little more than an object to be acquired.
Of course Tanner (Michael J. Willett, United States of Tara) who ends up getting outed instead of his similarly-closeted best friend Brent (Paul Iacono, The Hard Times of R.J. Berger), who naturally sees being the only out male student at his school as the best way to advance his lacklustre social standing, doesn't see it that way at first.
Once he recovers from his accidental outing, Tanner embraces his new role as G.B.F. to the highest bidder – he becomes the subject of a heated battle between competing queen bees, Fawcett (Sasha Pieterse, Pretty Little Liars), Caprice (Xosha Roquemore, Precious) and 'Shley (Andrea Bowen, Desperate Housewives), all of whom have their own reasons for "acquiring" him – and revels in his new found popularity.
But is he in danger of losing who he is, and old friends like Brent, whose over-accepting mum played by Will and Grace's Megan Mulally is one the hilarious highlights of GBF, in his possibly misguided quest for all-consuming acceptance in the notoriously fickle-world of high school?
Highly likely I would say but it will fun watching him work out what matters and what doesn't against the wider backdrop of the social battleground that is high school, and the even wider trend in society to greater understanding and acceptance of GLBTQi people.
However you slice it, G.B.F is going to be a groundbreaker, something Darren Stein was very much aiming for:
"We've seen gay teens as leads on TV, but having one as the focal point of a big screen teen comedy is uncharted territory … All high schoolers have an insecurity that keep them in a variety of closets; G.B.F. uses the gay closet as a way in to a more universal high school experience." (source: Darren Stein's director statement)
Partially funded using an Indiegogo campaign, G.B.F. has it all – a witty script, stellar performances, a social conscience, and it's finger right on the pulse of today's society.
Forget Prada and Manolo Blahnik.
G.B.F. is the only accessory anyone aspiring to the in-crowd needs to have this season.