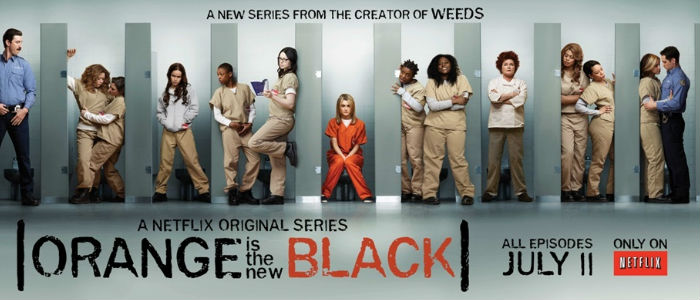 Right so Orange is the New Black is one series that I am quite late to the party to by virtue of Australia being criminally Netflix-less and no one wanting make up for that terrible reality by buying the show a ticket on that fast track express mode of transmission so beloved of local broadcasters of late (and of which I am inordinately fond).
Belated though my viewing of Netflix's latest success story may be, I am so glad I finally got to see the new series from the inspired folks who brought us seven seasons of suburban pot smoking and dealing on Weeds, and supremely happy that it is as good as the near cacophonous hype made it out to be.
When a long period of buzz precedes viewing of any series, it's easy to think that the producers of the show "doth protest too much" but in this case they, the critics and sundry viewers are right on the money.
This is one clever, standout show, and well worth your time in an already crowded TV landscape.
Based on Piper Kerman's brilliantly-titled book of the same name, it centres on Piper Chapman (Taylor Schilling), a woman moving determinedly down the path to middle class respectability and happiness with her fiance Larry (Jason Biggs) who is pretty much the most wonderful, understanding, caring guy ever (is anyone ever that nice?), when her past comes back to bite her on the you-know-what.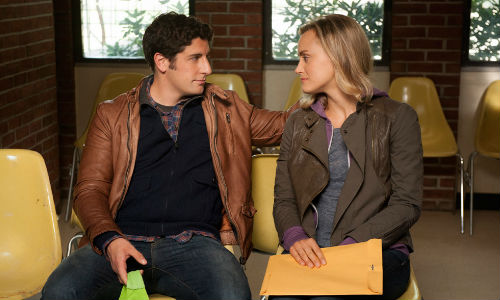 Suddenly falling in love with the glamorous Alex Vause (Laura Peon) straight after college and agreeing to carry one shipment of money earned from Alex's international drug trafficking operations to Belgium for her seems less like playful post-study exploration than a truly dumb idea borne of emotional immaturity and naivety.
But Piper is a big girl thank goodness (a character whining and complaining about fate dealing them a raw hand when they were the one shuffling the deck is annoying to say the least), and owning up to her poor decisions, hands herself in to serve a 15 month prison term at Litchfield Correctional Facility.
Treating it like any other task in her highly organised life, she reads up on what to expect in prison – you never ask what an intimate did to get there nor do you ever use your first name, something she only picks up in the prison van from helpful veteran inmate Morello (Yael Stone), a sign that books can't fully prepare you for somewhere unpredictable like prison – another example of the control she tries to hang onto in a situation where self-determination is just an illusion.
While she does get to drive to the prison with Larry, after a final meal with good friends and stop-start nervous sex, to hand herself in under what's called a "self-surrender", any sense she has control over what follows disappears the moment a prison guard comes out to the waiting area and tells her she has to come inside NOW.
No ifs, ands or buts and no chance to see Larry again till the first round of visits.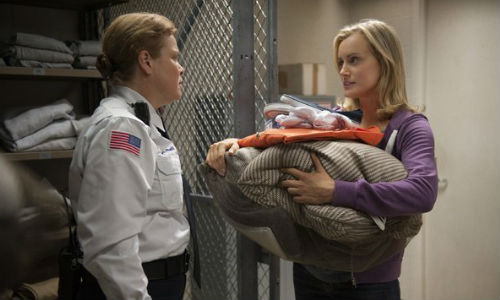 Taylor Schilling takes a perfectly calibrated script by Jenji Kohan and Liz Friedman, which successfully juggles her life with Larry, her previous life with Alex, and the resulting entry into prison, and runs with it, rendering Piper as a woman who is both wide-eyed and terrified, and yet more than capable of holding her own (once she finds out what prison is really like, of course).
She is subtlely funny in ways that suit the moment, using black humour -laden observations, and wry inisghts borne of nervousness, to find a way to accommodate herself to her unwelcome new reality.
Thankfully Litchfield isn't presented as some kind of Oz, rife with every prison cliche under the sun, with her counselor Healy (Michael Carney) assuring her that women fight with gossip and rumours rather than thuggish brutality.
He leaves no doubt though that that former, in its own way can be just as deadly as the latter.
While inmates like Morello, who seems relaxed and eager to help new inmates fit in, and Yoga Jones (Constance Schulman), who talks like a New Age practitioner who didn't just drink the tofu-laced Coolade, she bought the factory it's made in, seem to be genuinely nice people, Healy words come back to haunt Piper when she meets inmates like the fearsome Red (and it begins to dawn on her just how tribal the prison ecosystem is, riven by racial and sexual divides).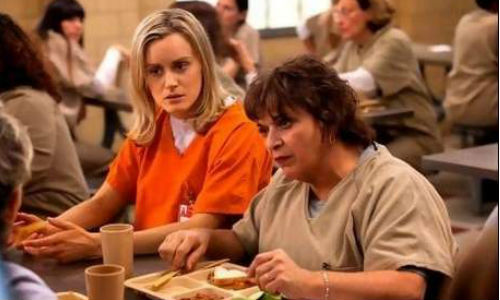 Red (Kate Mulgrew), Russian queen bee of the kitchen and ruler of the prison, actually takes a shine to Chapman till the latter makes the classic rookie mistake about criticising an aspect of life in the prison, in this case the food, before working who is responsible for what.
Not the smartest move but wholly in keeping with Chapman's persona which is all innocence and self-control mixed with an inability to use common sense when it's most needed.
While the pilot essentially exists to tell Chapman's story and we don't get to see much of the inmates in action, the elegance and admirable brevity with the script introduces multiple characters is impressive indeed and a sign that this is a show with an intelligence and astute observation of the human condition underpinning it.
A lot is revealed and yet you never feel rushed or under-served with knowledge, with the flashbacks, again economically used, filling in many of the blanks and giving us insight into the fearsomely challenging journey on which Chapman is embarking.
You get the sense at the end of the pilot that Chapman, though reassured by Yoga Jones' sage words that prison is temporary and you should make the most of it – a weird meld of Hallmark and Anthony Robbins sentiments to be sure – is going to find her time at Litchfield the most challenging of her minutely controlled and hitherto well-orchestrated life, with a cast of characters refusing to play to her expectations.
All of which means great drama lies ahead as Chapman does her best to navigate a world with endless possibilities, none of them quite as good as Yoga Jones makes them out to be.