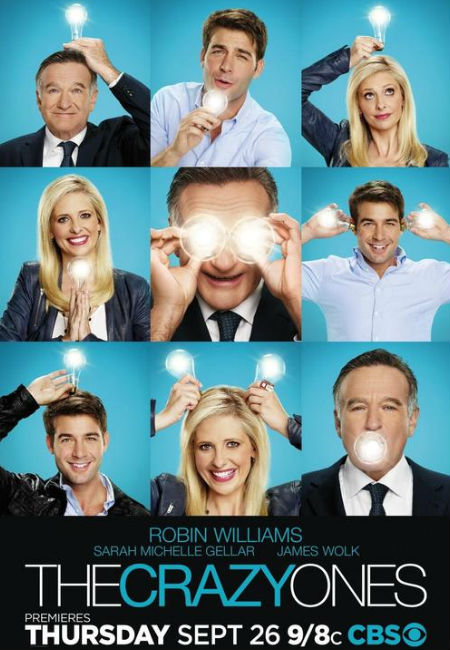 Ladies and gentleman of the blogosphere I have finally found my breakout sitcom of the new season!
The Crazy Ones, by TV maestro David E. Kelley (Boston Legal, Ally McBeal), is that almost elusively perfect blend of snappy, not a syllable wasted clever writing, spot on comic timing, and a workplace situation ripe with possibilities.
I was won over somewhere within the first few minutes, and completely besotted by the second break, a dynamic that almost never occurs with most new shows, most of which shows promise and nothing more, and are nowhere as fully formed as Robin Williams first TV-starring vehicle since Mork and Mindy nanoo nanoo'd its way out of our lives back in 1982.
While Brooklyn Nine-Nine came beguilingly close to hitting the bullseye and is gathering strength week to week, The Crazy Ones knocked it right out of the park from the word go, managing to give us a sense of all of its characters and the perilous world of advertising in which they work, and serving up plenty of genuine laughs, in a pilot that clocks in at slightly under the normal running time.
Now, while you may be thinking that Robin Williams is the main reason to tune in, and if you're a fan you will enjoy his inspired ad-libbing and comedic riffing, his character, zany, inspired, idiosyncratic ad executive Simon Roberts fits neatly into the overall ecosystem of the show, noticeable naturally but not overshadowing his more than able co-stars.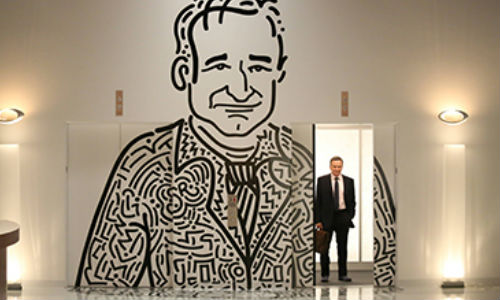 Chief among them of course is his Sarah Michelle Gellar who plays his daughter Sydney, long-suffering straight woman to his comic clown, and does it with aplomb, managing to match him step for step, essential if the show isn't simply going to become a stand up comedy show for the talented comedy veteran.
In fact, it's the second Roberts in the advertising firm Roberts+Roberts that manages to save the day in an episode where she must convince a clearly reluctant Kelly Clarkson to "sing about meat", or in other words, record a jingle for McDonalds new campaign, an account they are in danger of losing if they don't dazzle with a big name star and a snappy new ad line.
And she does it in a way that proves she has the comic chops to more than hold her own if necessary.
Playing more than ably alongside Williams and Gellar is the company's himbo and sometime copywriter, Zach Cropper (James Wolk), who spends his off time "conjugating" with others in the industry (read sleeping with them) and somehow manages to schmooze his way into singing with Clarkson, who is determined till Sydney's timely intervention to sex up the McDonalds campaign.
Rounding out the talented cast is one of my favourite sitcom actors, Hamish Linklater (The New Adventures of Old Christine) , who is given much to do but hopefully will be, and Amanda Setton as Lauren Slotsky, an assistant who dreams of making it big as a producer but is content for now to let Simon sniff her hair for inspiration (apparently it works).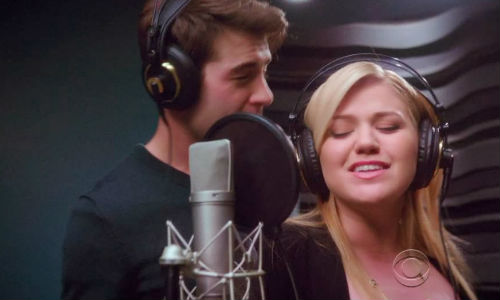 And though you may be sceptical, Williams and this small but perfectly formed cast work almost perfectly together, playing off each other far more cohesively than I expected them to.
In fact, according to an article in The Sydney Morning Herald, David E. Kelley is adamant that Williams, apart from a few off-the-leash moments, was more than happy to stick to the script and play well with the other members of the ensemble, something that I'd believe given how he doesn't dominate as much as you might think:
"He says my words pretty perfectly, and then he uses his. He very much likes the box. He manages the box, and then we give him a few takes where he gets to break out of it. The architecture of the script is mainly the script, but you've got ad-libbing."
It has a few rough edges sure, most noticeably its under-use of the two of the cast but for the most part, executes its brief impressively, giving us back the comedic force that is Williams in the power pocket of tight storytelling that is this well told sitcom, and providing him with ably talented costars against which to riff and have some fun.
The pilot is a standout introduction to the manic, crazy and yes funny world of Roberts+ Roberts, and the best pilot of the season so far.
And here are some funny, very funny, outtakes from the show …