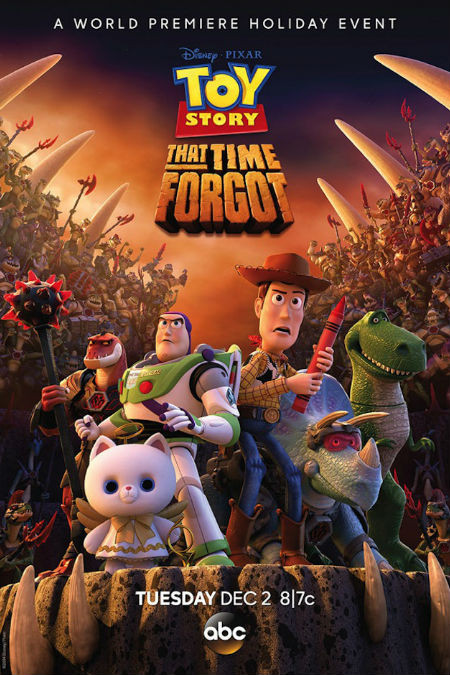 SNAPSHOT
After a post-Christmas play date, the Toy Story gang finds themselves in uncharted territory when the coolest set of action figures ever turn out to be dangerously delusional. If the gang hopes to return to Bonnie's room, they'll have to rely on Trixie the triceratops (Kristen Schaal). (synopsis via EW)
Another holiday season beckons, and with it, happily for those of us who love Pixar and all its marvellously whimsical, engaging creations, another hilarious, imaginative and inspiring Toy Story special.
Everyone we know and love is back for this latest excursion into Buzz Lightyear and Woody's lunacy-laced, heartwarmingly funny world including the two protagonists (voiced as always by Tim Allen and Tom Hanks), "Isn't this festive?!" Rex (Wallace Shawn) and Trixie (Kristen Schaal), and they're joined this time around by newcomers Angel Kitty (Joan Cusack) and Reptillus Maximus (Kevin McKidd), who heads the Battlesaurs, a new line of dinosaur toys introduced in the special, who are completely and delightfully delusional, having no idea they are toys.
It will be up to Wood and Buzz and the gang, which will includes Jessie (Joan Cusack) and Mr Potato Head (Don Rickles) to help them realise they are the playthings of the children, that this is incredibly special (a message Toy Story has always been at pains to get across) and they need to embrace who they are, and yes let everyone return to Bonnie's room.
While not a Christmas special per se, Toy Story That Time Forgot does take place around the holiday season with Derek Thompson, head of story for the special explaining to Hypable what they were aiming for with Woody and Buzz's latest adventure:
"We were very conscious of trying to keep the Christmas ingredient integrated in the show in an organic way and not feel like a tacked on thing, so beyond the fact that it's the setting of Christmas, we have the Angel Kitty. Her participation in the show actually expanded during the story development because she could represent the voice of holiday wisdom."
One thing that Thompson was quite clear about is that the theme of giving, central to any Christmas story, is front and centre in the storytelling of Toy Story That Time Forgot:
"Charlie Brown Christmas does a great job of having a real heart about the values of Christmas, and we talked about values at the holidays like giving and surrender. This notion of giving is really important. Does a toy give themselves over to a kid when they're played with? And Trixie's issue in the beginning is she wants to be played with in a certain way. So she's going on an adventure to give oneself over to their child."
The real fun, as always, will come from the playful anarchy and heartwarming, though never saccharine, sweetness of each and every one of the Toy Story characters, who somehow manage to have an insane amount of fun and adventure while learning some sort of (non heavy-handed) lesson along the way.
Toy Story That Time Forgot premieres on Tuesday, 2 December at 8 p.m. ET on ABC.