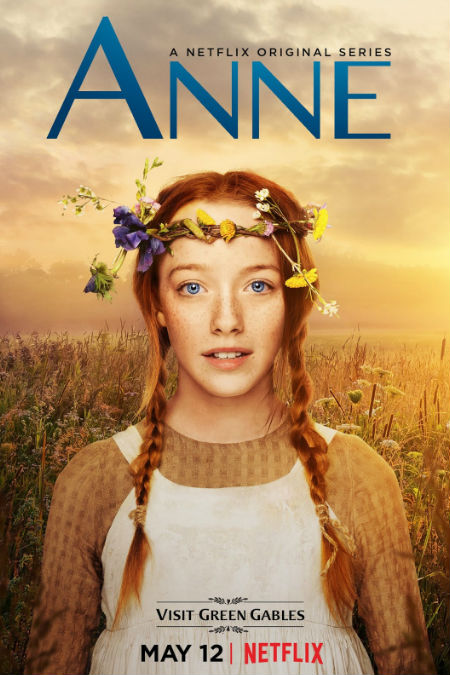 SNAPSHOT
Anne is a coming-of-age story about an outsider who, against all odds and many challenges, fights for love and acceptance and her place in the world. Set in Prince Edward Island in the late 1890s, the series centers on Anne Shirley (Amybeth McNulty), a young orphaned girl who, after an abusive childhood spent in orphanages and the homes of strangers, is mistakenly sent to live with an aging sister and brother. Over time, 13-year-old Anne will transform the lives of Marilla (Geraldine James) and Matthew Cuthbert (R.H. Thomson) and eventually the entire small town in which they live with her unique spirit, fierce intellect and brilliant imagination. Anne's adventures will reflect timeless and topical issues including themes of identity, feminism, bullying and prejudice. (official synopsis via Coming Soon)
One of the key reasons people love Anne of Green Gables so much is that it doesn't just suggest, but comes right out and says, that you are not a victim of your circumstances.
It's a powerful statement, made all the more impacting by the fact that Anne, the beloved protagonist of nine books by Lucy Maud Montgomery (the first, Anne of Green Gables, was published in 1908), was an orphan in age when that status was a thing of disrepute and grave suspicion.
Like many a pointless prejudice, those attitudes were made to be smashed on the rocks of basic love, humanity and common sense, and so Anne, just being herself and on no kind of crusade, does just that, elevating not just herself but everyone around her in a story that retains the kind of longevity that comes from challenging life's unfairness that captures peoples' imagination.
Rather bravely, given the fondness of people for the 1985 miniseries starring Megan Follows as Anne, which is by no means the only adaptation of the tale but the most visible and highly-regarded of the modern era, Netflix have decided to provide their own twists on Anne's story, and with no less than a former staff writer on Breaking Bad, Moira Walley-Beckett, in charge.
Screenrant confirms that the tone and feel suggested by the trailer is well represented in the opening episode:
"The first episode of Anne was directed by Niki Caro, the acclaimed filmmaker behind Whale Rider, McFarland, USA and most recently, The Zookeeper's Wife. Based on the Anne footage featured in the Netflix trailer, Caro succeeds here at establishing a strong sense of atmosphere and tone with her own episode, in turn giving rise to a larger visual aesthetic for the series that brings to mind such relatively recent (and acclaimed) period dramas as Cary Fukunaga's Jane Eyre and Jane Campion's Bright Star, in terms of its lived-in style and feeling."
As they acknowledge it will probably lay it on thick, emphasising all of Anne's superlative qualities and her unwillingness to let life set the terms for her, but then that's exactly why we love her and why millions of us will turn into the series in droves to see Anne once again confound a thousand different petty human emotions in the pursuit of simply being delightfully, inspiringly and heartwarmingly herself.
Anne premieres on Netflix on 12 May.