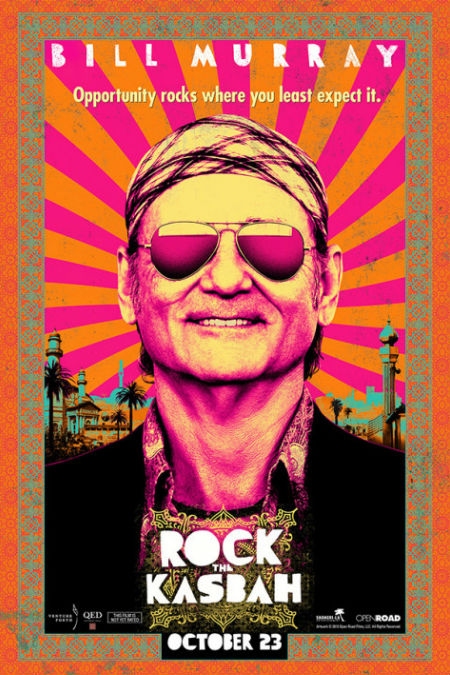 SNAPSHOT
Rock The Kasbah is the story of Richie Lanz, a rock manager with a golden ear and a taste for talent, who has seen better times. When he takes his last remaining client on a USO tour of Afghanistan, she gets cold feet and leaves him penniless and without his passport in Kabul. While trying to find his way home, Richie befriends a band of misfits and discovers a young girl with an extraordinary voice.

Against all odds, Richie will take his last shot at creating an unlikely superstar. (official synopsis via Screenrelish)
So what would you do if you suddenly found yourself alone in a war torn country, penniless and without purpose, with your last client, a vomit-prone singer played by Zooey Deschanel, nowhere to be seen?
Well if you're Richie Lanz, played with customary out there comedic zeal, and not a little pathos by the legendary Bill Murray, you would do everything you could to recover the situation, realising this is likely your last chance to make of anything of your hitherto less than stellar life.
And Lanz, judging from the trailer, appears to go hard at it pushing cultural envelopes left, right and centre, convinced he is in Afghanistan, a country better known for derailing the best laid plans of men than aiding and abetting them, by fate.
Quite what fate is he isn't sure but he knows he must keep searching until he finds it, which is how he happens across an unstoppable talented singing force heading in the other direction, a young female singer played by Leem Lubany, who is determined to make her mark on TV singing competition Afghan Star.
Together they might just be able to make each other's thoroughly conventional dreams come true in the most unconventional of ways.
Given it's a movie about the music industry, there is as much music as there is comedy, as Rolling Stone quite neatly points out:
"Toward the end of the trailer, he performs a spirited – if out-of-tune – a cappella version of Deep Purple's brooding anthem 'Smoke on the Water.' In keeping with the theme, the clip incorporates other classic rock tracks like David Bowie's 'Rebel Rebel' and Harry Nilsson's 'Jump Into the Fire.'"
With a script by the enormously funny Mitch Glazer, who penned the very funny Murray classic, Scrooged, Rock the Kasbah looks like being one of, if not the, must see comedy film of the year.
Rock the Kasbah opens on 23 October 2015 in USA.