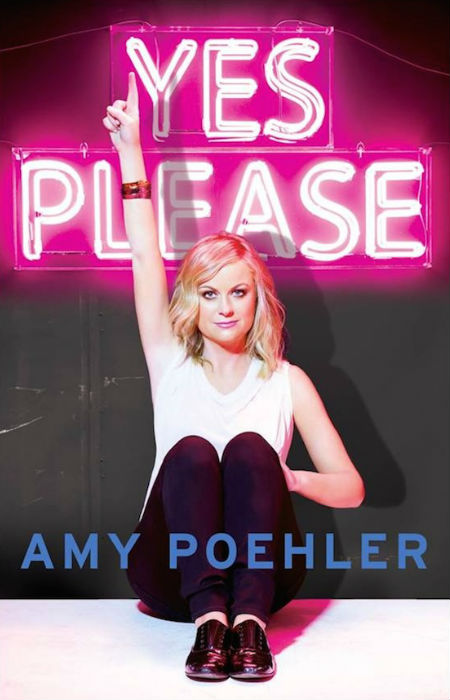 I am fairly certain … no wait, I know beyond a shadow of a doubt in fact … that Amy Poehler is the funkiest, coolest, funniest, female entertainer on the planet at the moment. *
It stands to reason then that if you have achieved that exalted status, and have successfully been part of the legendary comedy juggernaut that is Saturday Night Live, helmed your own critically-successful sitcom Parks and Recreation (as well as working with your brother to launch his own Welcome to Sweden), and successfully co-hosted The Golden Globes twice with the equally hip and wonderful Tina Fey, that a book is the next logical step.
And 'lo that logical step has indeed been taken with Amy Poehler's book Yes Please, a memoir-ish look at her life and career hitting bookshelves on October 28, courtesy of publisher Dey Street who has called her book "original twist on the conventional memoir [that] will have universal appeal."
Appearing at the just concluded BookCon in New York, where Poehler was interviewed by the almost as funny Martin Short  – OK he's freaking hilarious! – who is also about to drop his own book I Must Say: My Life as a Humble Comedy Legend (out 4 November, Harper), she described the book, according to USA Today, as a "'missive from the middle of my life', an attempt to describe what it's like to feel 'young and old at the same time'".
The only problem with this amazing, forthcoming book is that its release date is 5 months away.
Five whole months people! FIVE … FIVE. 
So to ease the pain of waiting for Yes Please to arrive at a bookstore or mailbox near you, The Nerdist, which is pretty much as excited as I am about the release, has reminded me, and now of course you, of what we can expect from Amy Poehler with an excerpt from an evocatively poetic essay she wrote in The New Yorker called "Take Your Licks":
"If you were young, you were expected to have a part-time job. I got one, scooping ice cream at Chadwick's, a local parlor that specialized in sundaes and giant steak fries. Summer jobs are often romantic; the time frame creates a perfect parenthesis. Chadwick's was not. Hard and physical, the job consisted of stacking and wiping and scooping and lifting. At the end of my shift, every removable piece of the restaurant would be carted off and washed. Vinyl booths were searched and scrubbed. This routine seemed Sisyphean at first, but I soon learned the satisfaction of working at a place that truly closed. I took great joy in watching people stroll in after hours, thinking they could grab a late-night sundae. I would point to the dimmed lights and stacked chairs as proof that we were shut. It was deliciously obvious and final."
Now all you have to do is find a time machine somewhere, project your consciousness (and wallet) into the future  a la X-Men Days of Future Past … or just patiently wait for the book to fall into your hands.
Back to the waiting … are we there yet?
* Except of course for the amazing, down-to-earth, talented Sandra Bullock who is a god among actors and can do no wrong (Speed 2 and Two If By Sea notwithstanding)
And here's further proof of Amy Poehler's effervescent wonderful-ness …