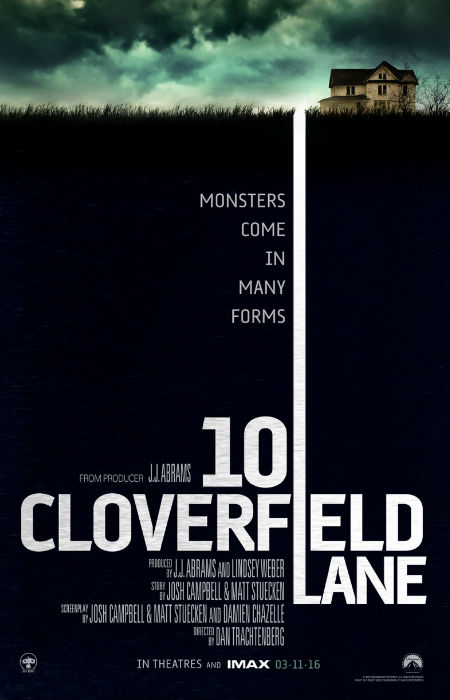 SURPRISE!
That's not something you often hear when it comes to new movie projects; birthday parties and unexpected gifts yes, movies, no.
And it's especially so in our hyper-connected age where it's enough for an influential blogger or industry insider to hear a movie producer murmur about a new project in passing before news of it is splashed across every last millimetre of the interwebs.
You only have to see the cacophony of gleeful anticipation that preceded Star Wars: The Force Awakening to realise how hard it is to keep anything secret in Hollywood these days.
Which is why the sudden release of a movie trailer (and a poster) for a movie called 10 Cloverfield Lane, which may or not be a sequel to found-footage sensation Cloverfield (2008), depending on who you listen to, and will be in cinemas as soon as early April, is such an achievement.
Admittedly something had been known about this project, which at one time was called Valencia, from Bad Robot, J J Abram's company, but the trail had gone cold and far as anyone in the know was concerned, there would be no sequel to Cloverfield, which featured a Godzilla-like creature apocalyptically rampaging its way across New York City.
It's possible that 10 Cloverfield Lane, which stars John Goodman, Mary Elizabeth Winstead and John Gallagher Jr. takes place in the same universe as Cloverfield but no one is confirming or denying this.
All we know is that we have three people down in well-stocked and quite nicely-appointed bunker waiting out an apocalyptic event above with jigsaw puzzles, games and some good old fashioned-sandwiches.
Yeah and maybe some paranoia that one of them, read John Goodman, is up to no good.
We'll find out just what is what on 8 April this year when 10 Cloverfield Lane opens.