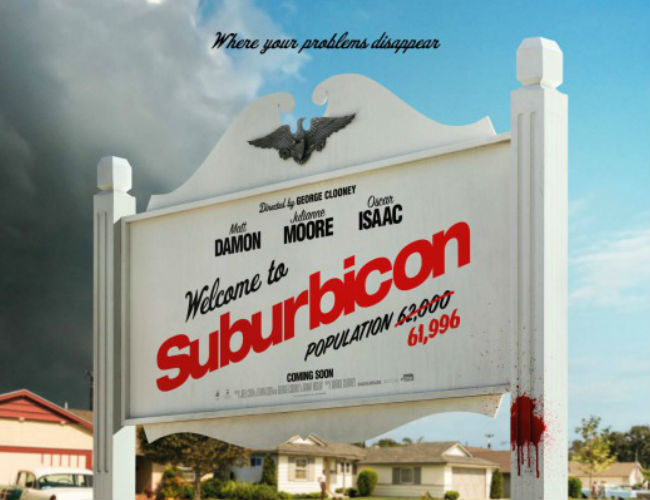 SNAPSHOT
Suburbicon is a peaceful, idyllic suburban community with affordable homes and manicured lawns… the perfect place to raise a family, and in the summer of 1959, the Lodge family is doing just that. But the tranquil surface masks a disturbing reality, as husband and father Gardner Lodge (Matt Damon) must navigate the town's dark underbelly of betrayal, deceit, and violence. Suburbicon is this Autumn's much-anticipated dark comedy, with a fantastic cast also including Julianne Moore, Oscar Isaac and newcomer Noah Jupe. (synopsis via Den of Geek!)
Ah, suburbia.
Once burgeoning with promise and renewal as the inner city decayed, it is now seen as bland, staid, pretty as a picture on the outside but dark as sin on the inside.
Suburbicon, directed by George Clooney to a script written by the Coen brothers (with contributions from Clooney and Grant Heslov), is the latest in a long line of films to call suburbia on its true nature.
Is it a place of bucolic family upbringing, of blissfully romantic marriages and content children playing in the yard? Or is it something else entirely? Or are we seeing shadows and lies where there are none?
While it's an interesting question even now, especially with inner cities gentrifying like there's no tomorrow and very much back in vogue, in 1959 it's a question that really has some stinging resonance. A lot is riding on the answer.
After all, if suburbia isn't exactly as promised, then what the hell is?
Suburbicon opens 27 October USA, 2 November Australia and 24 November UK.