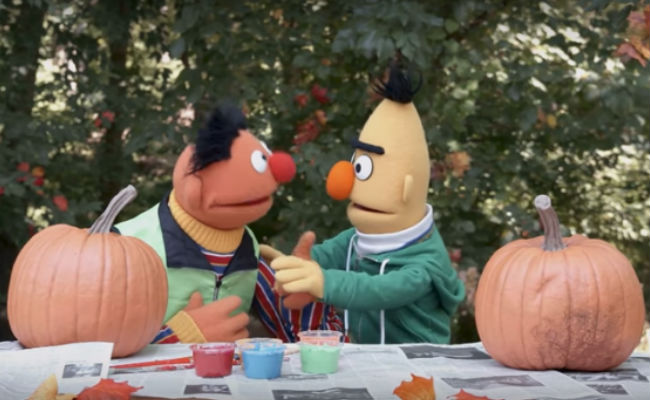 SNAPSHOT
Welcome to Backyard with Bert, a vlog hosted by your favorite Sesame Street duo: Bert and Ernie! In today's vlog, Bert & Ernie are competing in the Pumpkin Painting Challenge where they'll have to draw a self-portrait on their pumpkins…blindfolded! (synopsis via Laughing Squid)
Ernie and Bert have been together a long time as close friends and roomies (and no, I have no intention of going any further with that, thank you) and so it makes the the hilarious yin and yang pair would team up on Bert's new weekly vlog series Backyard with Bert.
Part Martha Stewart homemaker fabulousness, part DIY fiesta and all Bert being adorably serious and intense – as is his way; Ernie on the other hand not so much – one of the latest episodes feature two friends, who bicker like only two longstanding friends can do, about the vlog's newest project – painting faces on pumpkins.
It's a hot topic, what with Halloween looming and all, and so Bert gives it his all, blindfoldedly creating a life-realistic (he thinks so, at least) self-image, while Ernie … well, who not watch and see.
Suffice to say it's very funny and a lesson in, ahem, being prepared.
(source: Laughing Squid)