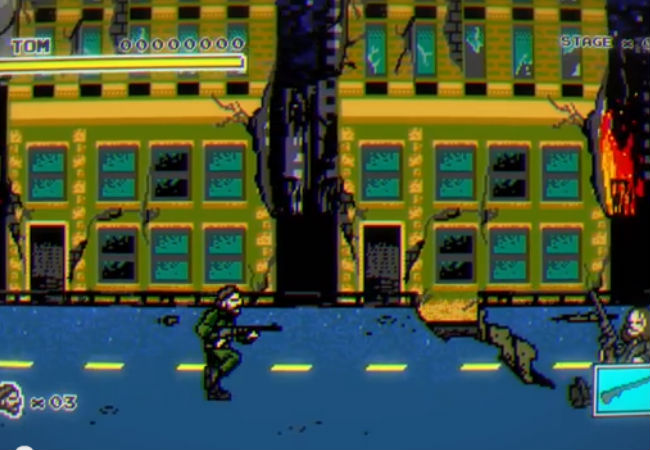 START OF SEASON 4 SNAPSHOT ("Ghost in the Machine")
As season four opens, the Mason family and the remaining 2nd Mass suddenly find themselves under brutal attack by a new Espheni war machine – and a new, deadly creation unlike anything previously encountered. Divided like chattel and spread to the winds, they must each forge new relationships in order to survive. (synopsis via Comic Book News)
There are promos … and then are PROMOS.
Falling Skies, a show that centres on humanity's tenacious unwillingness to let a veritable who's who of alien invaders subjugate them or steal the planet they call home, and knows a thing or two about larger than life, well, everything, has come up with a humdinger of a promo for season 4 of the series, which premieres Sunday, June 22nd at 10/9c on TNT.
Using the tagline The Game  is Just Getting Started, it makes clever use of '80s vintage 8 bit video visuals to quickly recap, via young male narrator, the first three seasons of Falling Skies, with some humourously child-like observations thrown in for good measure.
It's a highly imaginative retro touch that should have this video going viral in … on wait, there it goes now!
It's part of a very savvy and inspired marketing campaign that will hopefully be matched by a consistently brilliant fourth season, something that seriously sounds like it's in the offing thanks to a Season 4 preview of sorts on Screen Crush.
Roll on June 22 – the game is just getting started indeed!