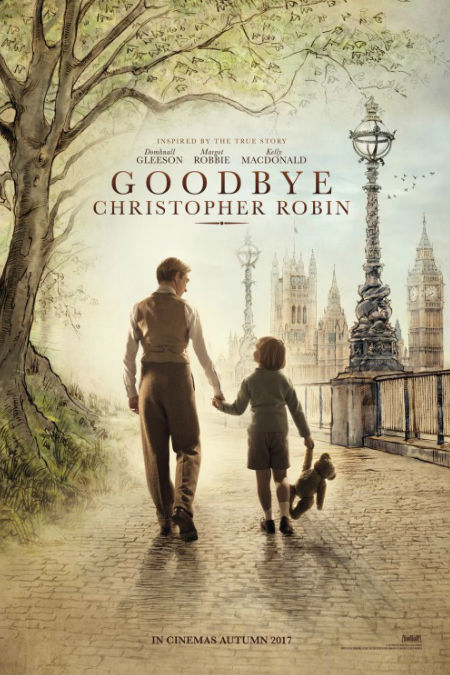 SNAPSHOT
"Goodbye Christopher Robin" gives a rare glimpse into the relationship between beloved children's author A. A. Milne (Domhnall Gleeson) and his son Christopher Robin (Will TIlston), whose toys inspired the magical world of Winnie the Pooh. Along with his mother Daphne (Margot Robbie), and his nanny Olive (Kelly Macdonald), Christopher Robin and his family are swept up in the international success of the books; the enchanting tales bringing hope and comfort to England after the First World War. But with the eyes of the world on Christopher Robin, what will the cost be to the family? (synopsis via Coming Soon)
Like many people, my love for the magical world of Winnie the Pooh runs long and deep.
Starting in early childhood when I devoured the books of A. A. Milne, who created the delightful bear and his friends including Piglet, Eeyore and Tigger based on the toys of his adored son Christopher Robin, and moving on through the movies and cartoons, I have loved everything about the merry, thoughtful inhabitants of the Hundred Acre Wood.
I even marked my 50th birthday by buying a series of Jim Shore artworks depicting Winnie the Pooh and friends; so it's fair to say that the release of Goodbye Christopher Robin, a biopic of sorts of A. A. Milne is going to be very high on my viewing agenda for the latter part of the year.
The fact that it releases in Australia two days ahead of my birthday is an even bigger bonus, and if the trailer is anything to go by, which casts a warm but knowing humanity on the author and his family, this film should be a worthy companion to the tales of his own creations, a reminder that the creator and the created are never ever really very far apart.
Goodbye Christopher Robin releases in UK 29 September, USA on 13 October and Australia on 23 November.