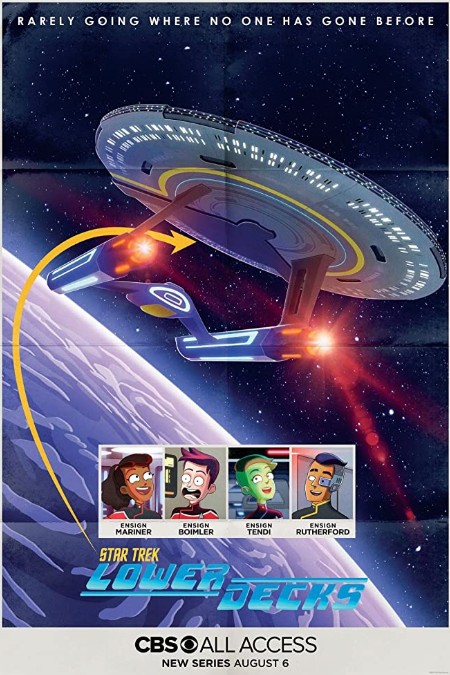 SNAPSHOT
"Lower Decks is developed by Mike McMahan, creator of Hulu's Solar Opposites and co-creator of Rick and Morty. It focuses on the support crew aboard an insignificant Starfleet starship, the California-class USS Cerritos, shortly after the Next Generation era, in 2380, after the events of Star Trek: Nemesis.

"The cast includes, Eugene Cordero (Ensign Rutherford), Noel Wells (Ensign Tendi), Jack Quaid (Ensign Boimler), Tawny Newsome (Ensign Mariner), Fred Tatasciore (Lieutenant Shaxs), Dawnn Lewis (Captain Freeman), Jerry O'Connell (Commander Ransom) and Gillian Vigma (Dr. T'ana)." (synopsis (c) Space.com)
Think everything on a Federation ship happens on the Bridge or where the officers roam?
No, it does not, it most certainly does not and Star Trek: Lower Decks, the first animated outing for the franchise since Star Trek: The Animated Series which ran from September 8, 1973 – October 12, 1974. (Another more kid-friendly series is also in the offing from Nickolodeon.)
As Space.com points out, the series likely takes its inspiration from "the Star Trek: The Next Generation episode 'Lower Decks' (S07, E15) which followed four junior officers involved in a top-secret mission."
Whether that is the case or not, Lower Decks, which does not yet appear to have an international distributor assigned – currently Picard is on Amazon Prime while Discovery is on Netflix outside of the United States – and will be released in weekly instalments looks like a riotous lot of fun, channeling the spirit and zest of a lot of modern anarchic animated comedies.
Get ready to rarely go where no one has gone before!