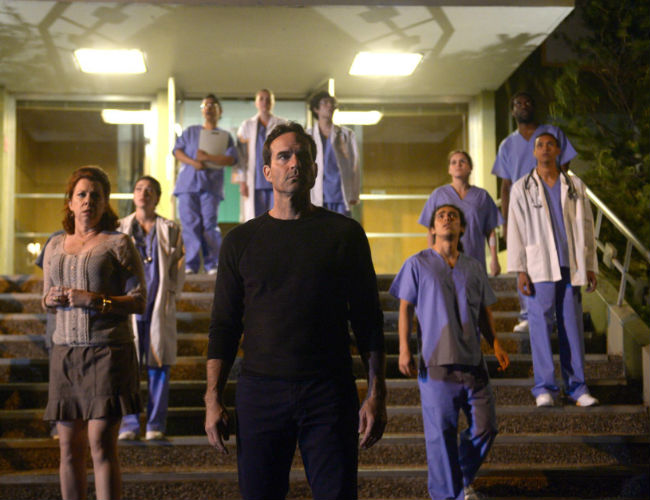 "There are none so blind as those who will not see. The most deluded people are those who choose to ignore what they already know." (John Heywood, 1546)
*SPOILERS AHEAD … AND ABBIES MUSIC WHICH, TRUST ME, IS AN ACQUIRED TASTE*
Humanity this is your 10 second warning – time to take those Pilcher-shaped blinkers off and see your brand new 2000 years later world for what it is.
Which is up to its necks in Abbies who are most definitely not stupid, who can learn and shape their behaviour based on the lessons learnt, and who appear to be aggressively coming at the good and not-so-good – more of the latter than the former it would appear much of the time – based solely on the fact that Pilcher rather ill-advisedly start shooting their peaceful family groups to kingdom come before even bothering to check out if they were a threat or not.
Continuing the theme established long before, but really brought home in last week's episode "Sound the Alarm", "City Upon a Hill" really rammed home the point that many of the survival-threatening issues currently facing humanity's roughly 1100 strong remnant stem largely from the hand of homo sapiens themselves.
While you can never be entirely sure that the Abbies wouldn't have presented a problem anyway, the fact is that Pilcher never took the time to find out, taking his 21st century assumptions, which clearly were based on conjecture rather than actual experience with the then-non existent evolutionary aberrations that now so bedevil Wayward Pines, and running with them.
In other words, he never bothered to find out if his ideas, and again they are only suppositions and assumptions based on what might happen, had actually been borne out in the intervening 2000 years.
He simply assumed the Abbies and went ahead on the basis, shooting them up from the air without bothering to see if they and humanity might be able to happily co-exist.
In other words, the scene that begins "City Upon a Hill" which presented a blissful happy family group caring for each other much as apes and chimpanzees now do, underscored that the threat was not one that previously existed but had been created by humanity.
Way to shoot yourself, via the Abbies who react with pain, sadness and naturally furious revenge, in the collective foot guys!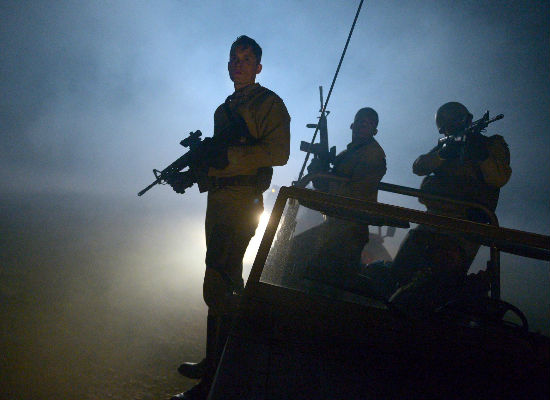 Of course it probably won't turn out to be quite that simple, and we have no way of knowing if the Abbies would've embraced humanity's reappearance with open arms or gone all Darwinian survival of the fittest on their asses anyway, but it's becoming increasingly apparent that once again people are the sowers of their own downfall, meaning that precious little has changed since we first climbed down from the trees and start moulding the world to our flawed liking.
The strength of "City Upon a Hill" and indeed Wayward Pines as a series, even in this quieter, more sedate second season, is that a possesses a fiercely intelligent underpinning that dares to take what could be a fairly open-and-shut case of apocalyptic us vs. them, and turns it on its head, arguing that perhaps Pilcher didn't get it right, despite Jason (Tom Stevens) being convinced he can do no wrong.
So convinced is he that Pilcher is the second coming of evolutionary Jesus that even when Kerry (Kacey Rohl) – his beloved who seems none too keen to have her own baby despite initially responding with guarded enthusiasm – Megan (Hope Davis), yes MEGAN, and others pointed out that perhaps it was time to reassess whether the Abbies were less a mindless threat and more a coordinated Rambo come to whoop humanity's ass, that Jason refused to listen.
Part is that he is shit scared on a grand and epic scale, a shaky house-of-cards sense of leadership that wasn't enhanced by losing 35 people to an all-out beyond the walls Abbie assault that saw, among many others, Theresa Burke (Shannyn Sossamon) die, but much of it comes down to having no other point of reference to guide his actions.
This is despite mounting evidence, both in the lab – Megan sure is LOVING having Dr Yedlin (Jason Patric) staring over her researching shoulder isn't she? No, NO she is not – and out in the fields that the Abbies are bright, clever, coordinated and out to settle some fairly major scores, that have been compounding since that first ill-informed shot from the helicopter.
The lesson increasingly seems to be that humanity isn't learning the lessons of its past well, that it is failing to understand that it is in a new world that doesn't conform to 21st century expectations – they know the world is different but are doing precious little to adapt to it or use it to formulate policy – and that a change of tactics, one informed by real on the ground observations and experience may be needed, and very VERY soon.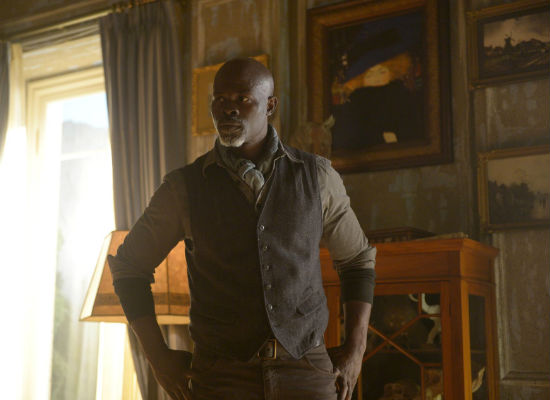 Away fro the big picture issues of Jason refusing to relinquish hardwired ideas on how the future/present will work, people kept caught up in the important minutiae of life.
For instance Xander (Josh Helman) who, quite apart from his current role as Wayward Pines' leading discontent – though he is in a close contest with Dr Yedlin who is yet to smile once if my Yedlin-o-meter is accurate – was once a drug-addicted marine in whom Pilcher saw a lot of potential.
To be fair he has exercised that potential you'd think by leading armed insurrections but the first generation doesn't see it that way and branded him an ungrateful malcontent.
But hey he is watching as his arranged wife Rebecca Yedlin (Nimrat Kaur), with whom he was apparently blissfully once upon an earlier apocalyptic time, tries to patch things up with her actual 21st century husband whom she may or may not love anymore.
Frankly you can understand why Xander's malcontent levels may be higher than the average member of humanity's head-in-the-sand rump.
So there you are – Wayward Pines continues to impress with its sharp observational storytelling which reiterates in ways big and small that though the world around them has changed beyond measure, that humanity hasn't, a liability that could cost it bigtime in the long run, especially given how determined, and yes piercingly-loud, the Abbies have now become.
*Is humanity doomed, doomed I tell you? Well if Jason and the gang refuses to bow to current realities, then yes, yes we are. "Time Will Tell doesn't really give you much hope for a sunnier future …