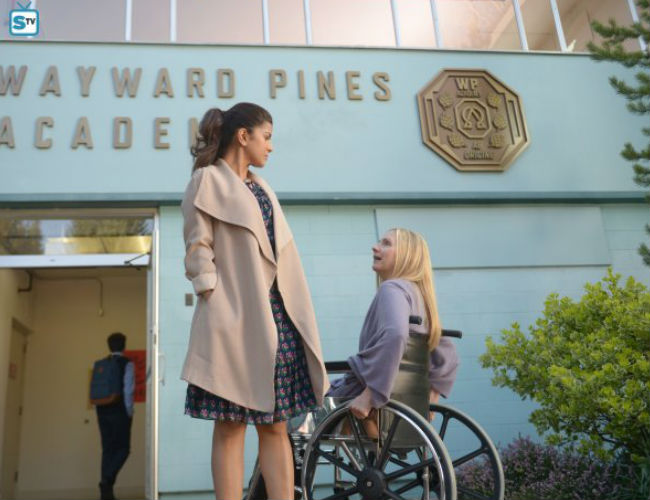 *SPOILERS … AND THE ARRIVAL OF ABBIES ON CAROUSELS … NOT AS MUCH FUN AS YOU MIGHT THINK*
So humanity continues to hold a knife to its throat in the latest instalment of everyone's favourite dystopian future, Wayward Pines.
On the surface, nothing too much dramatic happened; but like the 90% of the iceberg that sunk Titanic or ducks' legs paddling furiously, there's way more going on below than meets the eye, none of which seems particularly promising for the future of good old Homo Sapiens.
For a start, it appears we are on history's losing side if the return of one of the "nomads", one of 12 people sent out by founder David Pilcher (Toby Jones) in the early days of the settlement to see if humanity was as right royally stuffed as it appeared (the answer: ah-hum, yep), Adam Hassler (Tim Griffin) aka Ethan Burke's old boss, is any guide.
You see, apart from sporting the sort of hairy do that Robinson Crusoe would be proud of, Hassler, who as you might imagine did not enjoy the most warm of reunions with Theresa Burke (Shannyn Sossamon) – she had more than a bit of the Inugo Montoyas about her as she confronted a clearly addled Hassler in any alley – came warning that the Abbies were our replacements.
In other words, the tide of evolutionary history is flowing hard against her and we are most definitely yesterday's news, life on Earth-wise.
Of course, nobody particularly wants to hear this, least of all el presidente Jason (Tom Stevens) who along with Kerry (Kacey Rohl) and the evil scheming Megan (Hope Davis) are convinced a greater future full of bluebirds of happiness and leprechauns promising gold at the end of the apocalyptic rainbow await us.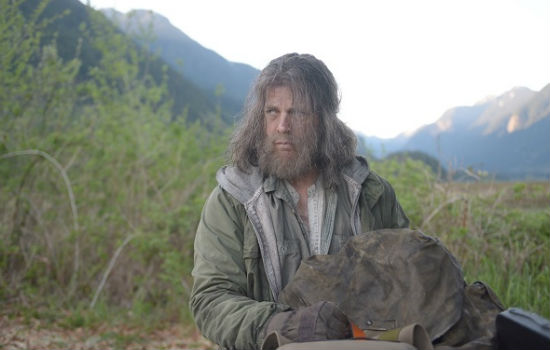 Not so fast true believers.
While Hassler, who was on the people in on the ground floor so to speak, happily consigning some of his best agents to a future they didn't want or ask for, didn't spill the beans to everyone, he did speak to Dr Theo Yedlin (Jason Patric) aka Sceptic-in-Chief, who when pressed by Jason refused to divulge any information citing the good old Hippocratic Oath.
Jason of course ran the old "You're in Kansas anymore, Dr Yedlin" but that didn't wash and with Hassler quickly skipping town back out into the mysteriously Abbies-free countryside beyond the wall, ostensibly to help Theresa find a possibly very dead Ben (Charlie Tahan), the answers may well stay with him.
Suffice to say, the little he did say, and the freaky appearance of the first female Abbie, who apparently has a thing for brightly-lit, really-loud carousels, doesn't augur well for the long term safety of humanity.
The Abbies, you see, are far smarter than they appear (they placed Xander, played by Josh Helman, in a nice big hole and posted a guard, hardly the sort of thing idiots would do), are capable of social cohesion, planning and sacrificing for the greater good, and look to be playing some kind of long game that Jason and the gang, always on the lookout for easy, Pilcher-sized solutions, likely won't see playing out until it's far too late.
As far as they're concerned, it's all business as usual, and they send CJ (Djimon Hounsou) and the First Generation Troops o' Khaki out to test soil, check things out and see where they can establish crops and more settlements and maybe a bar or two oh my!
You want it all to work but you just know, based on what Hassler has intimated, that humanity is cruising for a species-ending bruising and we likely won't even see it coming.
No one saw the female Abbie slip inside the walls for a start.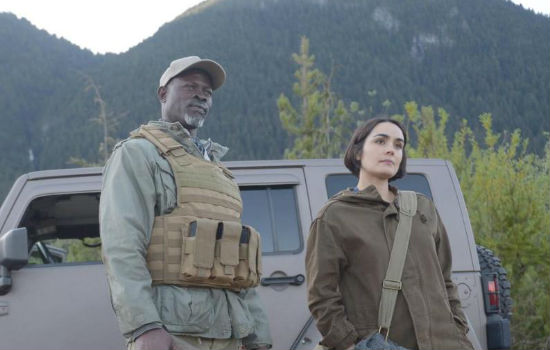 So threats from without? Tick! But threats from within? Oh we got those too!
Even with Pam (Melissa Leo) gone, dead at the hands of her "son" Jason – who, to be fair, did cry a lot when he crushed her windpipe so there's that at least – ructions remain with Megan continuing to throw her wholly-blinkered weight around and Rebecca (Nimrit Kaur) standing up against her.
In this instance, it's hard not to side with anyone who's not Megan.
Rebecca, in this instance, is doing her best to protect 11 year old Lucy (Emma Tremblay) who fearfully confesses that she's just had her first period.
Now this is not your usual teenage angst about things changing and changing markedly; in Wayward Pines, the arrival of puberty signals that you're ready to become a baby making factory, and such is the drive to safeguard humanity's future, that any concerns about someone's rights or needs falls by the wayside.
In effect, with all their focus on saving the species as a whole, Jason, Megan and the gang are forgetting to save what makes us human in the first place, consigning individual rights and freedom, the very soul of who we are as a species, to the dustbin of history.
The concern there is that you might save humanity, although that's by no means guaranteed now is it, but lose the very essence of who we are, and then really what would be the point? Yes we'd physically be around but that would be about it and you have to wonder what the point of anything is then.
So fissures and threats within and without, intrigue upon drama upon tension, and all the while the fate of humanity hangs in the balance.
Frankly much as I am a cheerleader for Homo Sapiens, despite our many shortcomings, you have to wonder if we have it within us to both survive and do something wonderful with that.
Wayward Pines increasingly suggests that sort of utopian ideal may well be beyond us unfortunately.
If there was a prescient title, it's next week's episode "Sound the Alarm". With female Abbies not just a thing but able to slip into Wayward Pines undetected – well save for setting off the carousel in the dead of night which is not the best stealth strategy ever let's be honest – humanity may not be as secure as they thought …