Roaming across one of the most interesting, fun sites on the internet recently, Flavorewire.com, I came across a piece by Johnny Otis on the highly imaginative one-of-a-kind work of Brooklyn-based Jason Feeny, whose artistic modus operandi is to see, in the words of Otis, "what lies beneath the shiny veneer of pop culture".
You have to do admit he does just that, and in a visually-arresting way that's hard to ignore.
But just how did Jason came up with unique view on these pop culture creations?
"In 2002, after the birth of his son, Jason surrendered his messy, toxic studio for a nursery and went digital. A year later he took a staff position as a toy designer. And while that only lasted a year, the stylistic influence these two events had on his creations is apparent, spawning a surreal mixture where innocence clashes with maturity." (source: Moistproduction.com, Jason Feeny's site)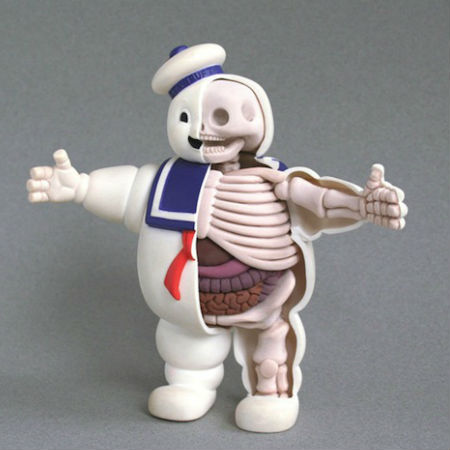 It's highly unusual art admittedly but immediately effective and engaging, and it's very easy to spend a great deal of time pouring through Feeny's site as a myriad of amazing sculptures and posters that give you unexpected insight into pop culture icons like Nemo, My Little Pony and even Lucy from Peanuts.
It's gloriously, delightfully strange in all the right ways, with the result being, again in the words of Otis, "somewhere between Disney and Gunther von Hagens".
Make sure you take the time to be charmed by Feeny's out-of-the-box art.