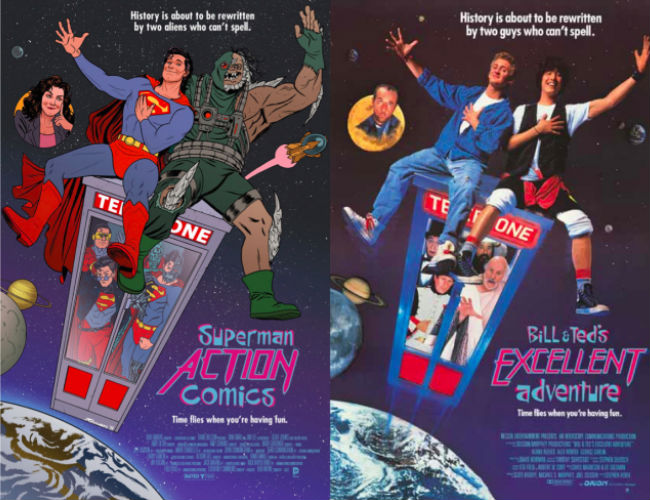 It's always refreshing to see the work of people willing to think outside the box.
It's even better when it's a venerable company like DC Comics, with a slew of much-loved characters to their name and a well-esteblished way of bringing to their fans.
It would be very easy with that kind of well-executed creative treasure trove at your disposal to simply keep doing the same old thing over and over but as they've shown with the transition of their characters to TV – think Smallville, Gotham and the upcoming Kyrpton, they're not averse to mixing things up a bit.
In the spirit of that willingness to have some fun with characters like Superman, Aquaman and Wonder Woman among others, DC Comics will be releasing a series of 22 covers in March 2015, according to io9, which very helpfully gathered them all together from the various sites they were debuted on, honouring a number of the most classic films released over the last 100 years.
Thus Superman will be getting his Bill and Ted on, Catwoman and Steve McQueen will cosy up more than you might have ever expected them to, Aquaman and Free Will be simpatico denizens of the ocean blue, the Justice League United will help the Martians to attack, and The Flash and Cary Grant will do their best to outrun, no doubt successfully, a pursuing crop dusting plane, with 17 more tantalisingly unorthodox combinations besides.
It's brilliantly, cleverly done and proof that with a little imagination and an inclination to bend the rules a little, you can have more than a little fun with pop culture icons and create some truly impressive art into the bargain.
For the full suite of posters, check out io9.