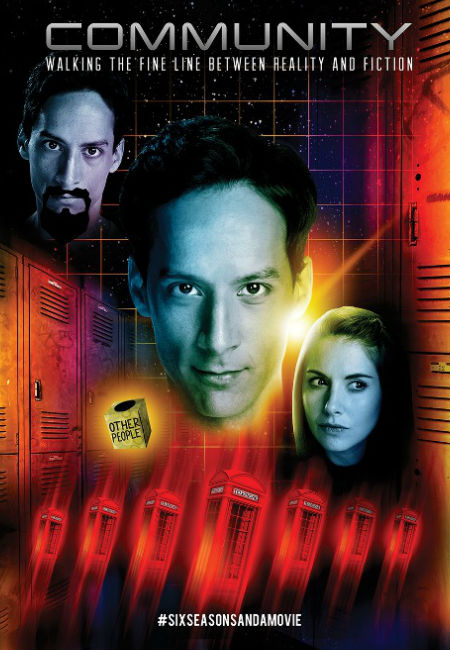 If it's May, then we must be in that unenviable period where the fate of Community, the Little Sitcom That Could (and Wants to do More) hangs in the balance, the guillotine of cancellation held aloft by NBC's executioner, who may spare it and give it the almost-fabled #sixseasonsandamovie, or will finally let the blade do what it's been threatening to do ever since the end of season 1.
As a long time fan, the waiting and nail-biting and daily paintball battles (kidding; they're like every 2-3 days max.) takes its toll but it must be nothing compared to the anxiety felt by Dan Harmon and the people at Sony, who produce the show and face this yearly battle to keep the show on air.
But rather than sit around the library study table wondering which way the axe will fall, Sony Pictures Television gone on the creative warpath, issuing a variety of movie posters with a decidedly Community-esque twist, a clever move given how big a role cinema, and pop culture generally plays in one of the most clever, quirky sitcoms to have ever graced our screens.
But as Zap2it points out in its article on the posters, they're not simply riffs on the original movie posters; they've managed to insert a lot of in-jokes for the Community cognoscenti who have committed each and every episode to memory:
"In the Friday the 13th-inspired poster, for example, the silhouetted Human Being clutches a handful of purple pens ("Cooperative Calligraphy"), and the date itself comes from a tongue-in-cheek announcement made when NBC delayed airing Season 4 (which was supposed to begin on Oct. 19). Similarly, the Fifth Element poster references Season 3's "Virtual Systems Analysis."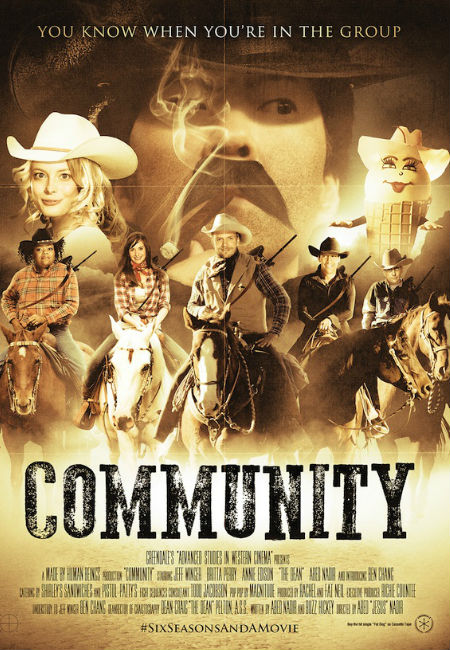 The means of dispersing the posters was quite inspired too.
Each poster's unveiling was handed first to the cast – they tweeted out Social Network-inspired posters that featured their faces – then to Nathan Fillion, an über-passionate supporter of the show who has also guess-starred on it, and finally to news outlets which included TV Guide (Cast Away), The Wrap (The Magnificent Seven) and IGN (Friday the 13th).
While everyone remains cautiously optimistic that Community will get its much-hoped for sixth season and the follow-on movie – in the IGN post Gillian Jacobs, who plays Britta on the show is quoted as saying ""They've got to do it, right? They've got to make it happen. You can't f**k with a hashtag!" – it is by no means certain (despite reports suggesting Justin Lin is lined up to direct the movie) and Sony and the cast and crew need to do whatever it takes to sway NBC.
Frankly despite its modest ratings, it still rates better than NBC's other Thursday night sitcoms, NBC would be bonkers not to renew if only for a token season, given the amazing publicity that would flow from fulfilling the #sixseasonsandamovie hashtag, which first came into existence as a throwaway joke in a season 2 episode of the show ("Paradigms of Human Memory"), and more importantly because it would further sweeten the syndication deal it has with Comedy Central.
Quite whether this will be enough to sway the "Peacock Network" is another matter entirely but you have to at least hand it to Sony for going the extra extremely creative mile to get Community that much-deserved final season, and yes, hopefully a movie too.
Fingers crossed and purple pens held tightly that it happens!