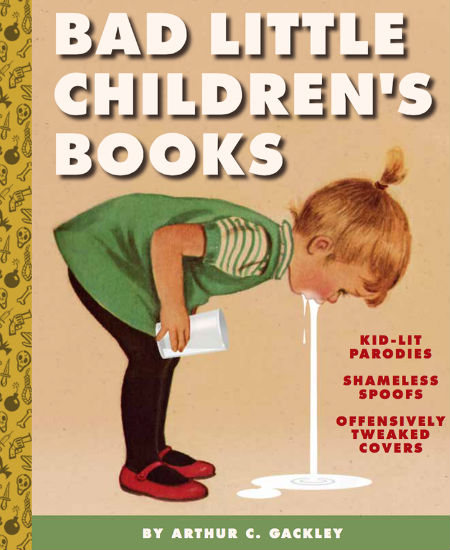 SNAPSHOT
Many of these original books focus on life's lessons, joys, and curiosities. Gackley cleverly takes the books' classic covers and turns them into unforgettable, edgy, politicaly incorrect parodies that speak to the bad little kid in all of us. With a catalog of children's book titles like Peeping Tommy Goes Cougar Hunting, Cousin Milky Is Lactose Intolerant, and The Blind Child's Picture Dictionary, this collection will have readers in stitches. A fun read for parents, grown-ups, and kids-at-heart everywhere, Bad Little Children's Books leaves no bad joke unmade.

Born in 1923, Arthur C. Gackley is the creator of many children's books, none of which were ever actually published. Mysterious and hermetic by nature, he spent his life living and working in a small New England village, but was likely washed out to sea in the winter of 1962—or possibly fell penniless into an abandoned wishing well shaft around 1978. No body was ever found. (synopsis via Laughing Squid)
A well done parody is a glorious thing.
Especially when the object of such perfectly-wrought parody are the types of books with which you grew up.
In the case of Bad Little Children's Books, the effect is hilarious, twisting and tweaking and mischievously subverting the Little Golden Books-esque covers which recall many a pleasant moment spent sitting on my parents knees being read to – but not I should add with books that bear the amusing imputations these book covers bring with them.
More's the pity really because I would have seriously enjoyed them. OK well future me travelling back in time totally would, hopefully leaving a note to then child-like good-Christian boy to loosen up a lot and find it all insanely amusing … eventually.
Because it is, it really is, and there's no way you'll be able to look at children's literature again with a straight face.