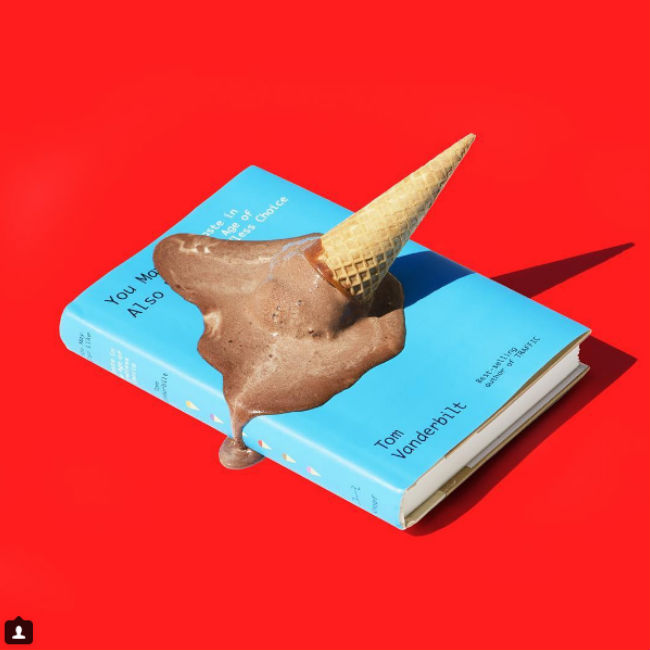 Granted it's winter in Australia but such are our mild temps at the moment – it was 25 degrees Celsius in Sydney yesterday just to give you some idea of how un-Siberia-like things are at the moment! – that these wonderful suggestions from Instagram account Ice Cream Books can be put in play right now.
No need to wait for summer!
Of course if you're in the northern hemisphere then have it since your days of beaches, ice cream and lazy reads are well and truly underway!
Where this imaginative account excels is its inspired combination of ice cream and books in the one action, a clever pairing that has a lot of thought behind it as the anonymous creators told Mashable:
"Each pairing has some sort of connection, some more direct than others. For example: Gerrard Conley's Boy Erased, a memoir about surviving a conversion therapy program that promised to 'cure' him of homosexuality, is paired with a cone of 'Salty Pimp,' from New York's Big Gay Ice Cream Shop; Lauren Groff's Fates and Furies, a novel of a marriage told from two perspectives, is paired with a banana split; and Errol Morris' Believing Is Seeing: Observations on the Mysteries of Photography is paired with two scoops, one Mint Chocolate Chip and one Pistachio."
So yummy and thoughtful! What's not to like? Go forth and dessert your books people!