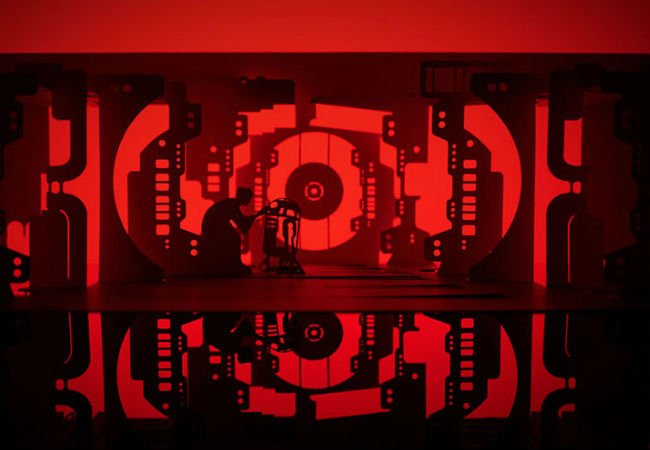 Now here's something fantastically creative, firmly of the zeitgeist and worthy of your time and your money.
Talented London-based Kirigami artist, Marc Hagan-Guirey aka Paper Dandy is currently raising funds on Kickstarter for an exhibition featuring iconic scenes from Star Wars rendered from a single piece of paper.
While they may look inordinately complex and stunningly beautiful, and they most certainly are, the scenes are skillfully cut from just one piece of paper which by some artistic wizardry becomes something far greater than the flat piece of dried cellulose pulp with which it began.
And it all springs, as so many ambitious artistic expressions from a deep love of the source material as Hagan-Guirey explains on Kickstarter:
"As a life long fan of the Star Wars saga, it's Marc's ambition to continue working in the realm of film culture. He aims to create a body of work inspired by scenes from their legendary narratives via his craft of kirigami. Like his previous exhibition 'Horrorgami' the work will be presented within light boxes."
If you need any more proof of Hagan-Guiorey's immense talent or his eye for a colourfully arresting image, then check out his work Horrorgami, a series of kirigami works "based on in famous haunted locations from Film and TV."
By all means, glory in the beauty of his artwork, sourced from a hell of a lot closer than a "galaxy far, far away", but then jump in your cyber-landspeeder to Kickstarter and support the amazing exhibition that will blast forth from all this impressively beautiful work.
(source: Laughing Squid)