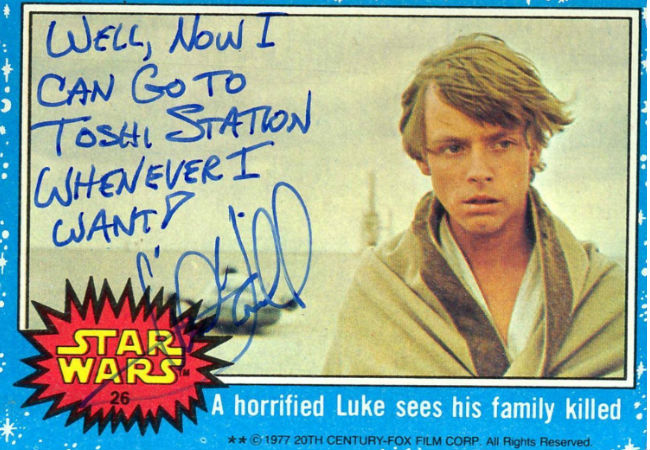 We've all had something signed by someone fantastically famous at one point or another.
Whether it's a book signing – in my case Hilary St. John Mandel autographing her book Station Eleven at this year's Sydney Writers' Festival – or a Comic-Con line-up to have photos signed the stars of the likes of Stargate SG1 or Fringe, getting the signature of someone whose work we love, is usually deemed worthy of all the time and effort to get it.
And that's because for one brief moment we get to talk to them, look them in the eye and watch them scrawl something in our book, on our CD/DVD/download – ha! just kidding about the last one! – and then walk away basking in the idea that we have MET THEM.
Of course we haven't really but that's OK; we got close and that's enough.
But how much do you have to envy the people who got Mark Hammill aka Luke Skywalker, soon to be seen in Star Wars: The Force Awakens, to sign their late '70s Star Wars Trading Card?
I mean, are they not the best signatures on anything EVER?
Funny, clever, gently affectionate, insightful critiques of the franchise that made him famous – what's not to love and treasure forever?
Clearly the Inspired Signing Force is strong with this one.