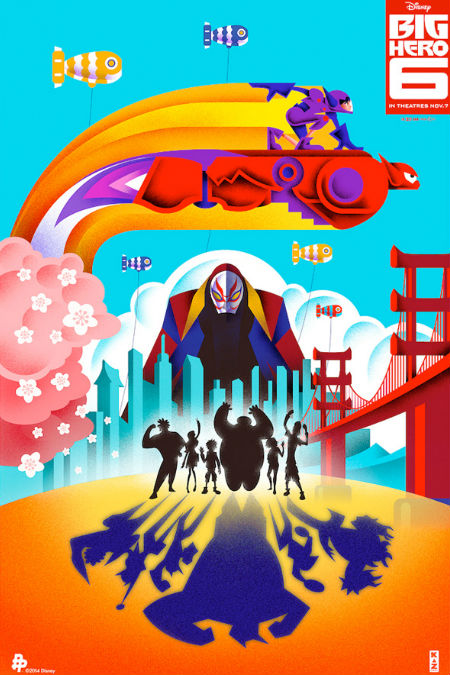 SNAPSHOT
Big Hero 6 is co-directed by Don Hall (Winnie the Pooh) and Chris Williams (Bolt) with a script that Jordan Roberts (3,2,1…Frankie Go Boom) co-wrote with the former. Based on the comic book series of the same name, the film marks the first collaboration between Walt Disney Animation Studios and Marvel. The story follows brilliant robotics prodigy Hiro Hamada, who finds himself in the grips of a criminal plot that threatens to destroy the fast-paced, high-tech city of San Fransokyo. With the help of his closest companion—a robot named Baymax—Hiro joins forces with a reluctant team of first-time crime fighters on a mission to save their city. (synopsis via First Showing)
From the first moment I heard about this collaboration between Marvel and Disney – the former is owned by the latter but this is the first time apparently they have worked directly together on a project – I have been entranced by the humour, the whimsy, the sheer imaginative breadth of the story … and yes the artwork which is both adorable and breathtakingly beautiful all at the same time.
(Check out my previous posts on Big Hero 6 here and here.)
It's this artwork which has been brought even more magnificently to life by Poster Posse, who have previously created one-of-a-kind posters for films like Interstellar, Guardians of the Galaxy and Godzilla, and who have now their attention their official tributes to Disney and Marvel's upcoming film.
The results are unsurprisingly gorgeous, a pleasing mix of technicolour comic book imagination and vividly-realised art, a further sign that Disney is willing to push the boundaries of the movie poster in ways that aren't just functional, they're beautiful.
And if you're one of those fans who were lucky enough to get into the Panel at New York Comic Con, you'll be able to gaze upon the giveaway poster (above) right up until the film and beyond, and remind yourself that great art knows no boundaries or purposes and can be found even in the calling of a young boy from San Fransokyo and his sweetly goofy robot.
Big Hero 6 opens in USA on 7 November 2014 and in Australia on 26 December.