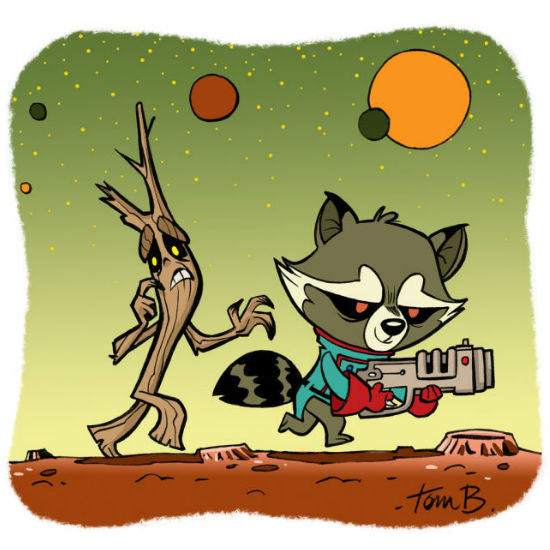 It's clear by now that Guardians of the Galaxy is a phenomenon.
Back on top at the U.S. box office, and benefiting from strong word of mouth and stellar reviews, this is the movie that keeps on keeping on, the film that dared to play hard and fast and downright silly at times with the tried-and-true Marvel formula and came away an undisputed winner.
A large part of its appeal, apart from the liberal and perfectly placed used of classic '70s tracks and stellar performances by all concerned especially Chris Pratt as the playful man/boy Peter Quill, are the bromantic twosome of Rocket (Bradley Cooper in hilarious form) and Groot (Vin Diesel) whose devotion to each other is pretty much the emotional lynchpin of the entire film, and of the comic book series that preceded it.
If you want some indication of just how loved Rocket and Groot are, io9 has gathered together a whole lot of impressive fan art paying home to the wonderful relationship enjoyed by the unlikeliest of friends, all of which bears testament both to their newfound and enduring appeal, and the impressive talent out in the fandom of the Marvel Cinematic Universe.
There is a whole world of fabulous Groot and Rocket fan art out there – check more of it out at io9.