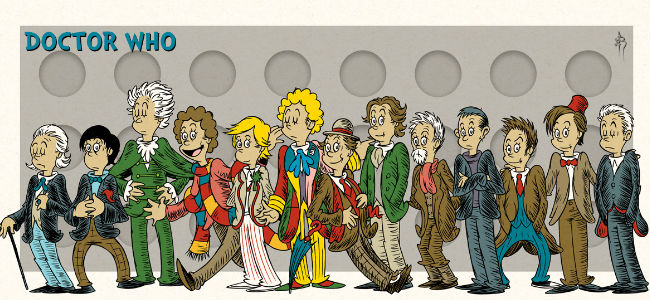 I was sorely tempted to start off this post with my very own Seuss-ian rhyme but you and I both know that I nor aany mortal soul could ever do the great man justice.
So I will simply say that DeviantArt artist, DrFaustusAU, who specialises in traditional art, drawings, illustrations and storybooks to quote his brief bio, is a supremely talented genius.
This is such a clever design, rendering each of the 13 Doctors Who are Dr Seuss-like characters, capturing in the process one of the key parts of the show as Blastr noted:
"Doctor Who has always been infused with a sense of childlike wonder, and this series of colorful children's book illustrations by Melbourne, Australia, artist DrFaustusAU captures that essence with perfection, drawing the 13 iconic Doctors in the familiar style of Dr. Seuss."
Though we all know the Doctor can also be stubborn, dismissive and quite existentially dark at times, he is also whimsical, excitable and prone to rapturous wonder, all of which has been distilled into these wonderful drawings.
Now to convince DrFaustusAU to make a T-shirt of his fabulous design (trust me I am not alone in wanting that; check out his site)
"You're off to Great Places!
Today, tomorrow and yesterday is your day!
Your TARDIS is waiting,
So… get on your way!"
― Dr. Seuss, Oh, The Places You'll Go! [paraphrased]