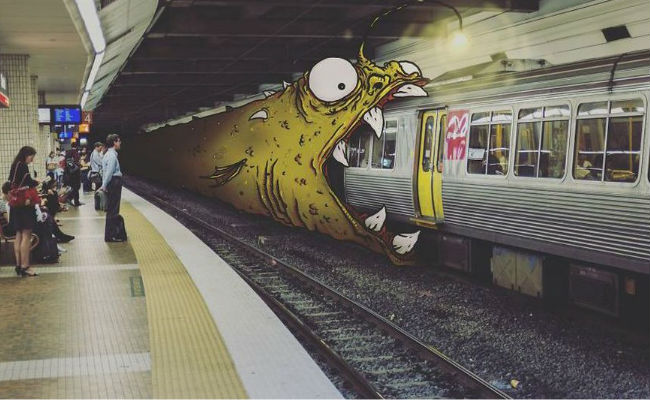 What does the everyday world of commuting, paying taxes and hurried lunches need more of you ask?
Why monsters! Yes … MONSTERS.
Now if you're a resident of some nightmarish apocalyptic landscape like The Walking Dead or Alien/s, you may wish to disagree. But I'll hazard a guess that, Andrew Lincoln and Sigourney Weaver and a few others apart, that you're not, so you need the reality-enhancing monsters created by artist and photographer Jasper St Aubyn West aka Tail Jar, who was recently featured on Mashable, and who drew his initial inspiration from an unlikely source.
West said the idea came to him while in Las Vegas. "I checked out the strip on the first day I was there and found I didn't have the urge to take many photos," he told Mashable.
"'Everyone had a camera! I realized there must be countless thousands of photos out there taken from exactly the same angle of exactly the same thing,' West said.

"'It got me thinking about trying to find a slightly more unique way to document my journeys.'

"After he got an iPad Pro, he found a way to inject more imagination — and monsters — into his photos."
Thankfully this clever artist doesn't subscribe to the motion that what happens in Vegas stays in Vegas and so we can enjoy his fantastical photographs and wonder, just wonder, that perhaps, life wouldn't be just a little more fun with some monsters in it.
You can check out more of Tail Jar's work, and buy very cool posters and T-shirts at his website.