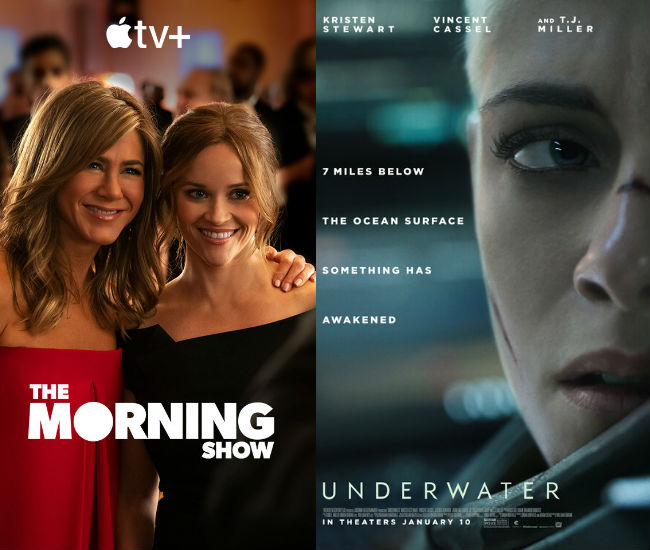 Pop culture is like a hydra, heads sprouting everywhere so often and in such profusion that finding the time and real estate on the blog to feature them all is next to near impossible. Hence, this new series which will throw two wholly different shows/books/movies/comics as a way of getting to promo two things when one would ordinarily miss out and highlighting just how wonderfully diverse modern pop culture is.
In our first instalment, we're featuring an intense new TV show from Apple's relatively nascent streaming platform (launches November 2019), The Morning Show which dramatises a Matt Lauer/Today Show-esque situation and an undersea horror tale, Underwater, which is all about scaring with those nasty things that go gurgly bump in the dark …
SNAPSHOT
Starring Jennifer Aniston, Reese Witherspoon, and Steve Carell, The Morning Show explores "the high-stakes world of morning news and the lives of the people who help America wake up in the morning," according to the show's official description. That story will be told through the lens of two women — played by Aniston and Witherspoon — working in the industry. As Aniston said back at an Apple event in March, "through the prism of those under-slept, over-adrenalized people in front of and behind the camera, we take an honest look at the complex relationships between women and men in the workplace, and we engage in the conversation people are a little too afraid to have unless they're behind closed doors." (synopsis (c) EW)
The Morning Show launches in the US autumn on Apple TV+.
SNAPSHOT
Underwater follows a crew of underwater researchers who must scramble to safety after an earthquake devastates their subterranean laboratory. Trapped and running out of oxygen, they have to navigate through two miles in the dangerous depths of the ocean floor to make it to safety. Think of it as Armageddon meets The Abyss. The film is written and directed by William Eubank (The Signal), and stars Kristen Stewart, T.J. Miller, Vincent Cassel, and John Gallagher Jr. (synopsis via Coming Soon)
Underwater premieres on 9 January 2020 in Australia and on 10 January 2020 in USA and UK.