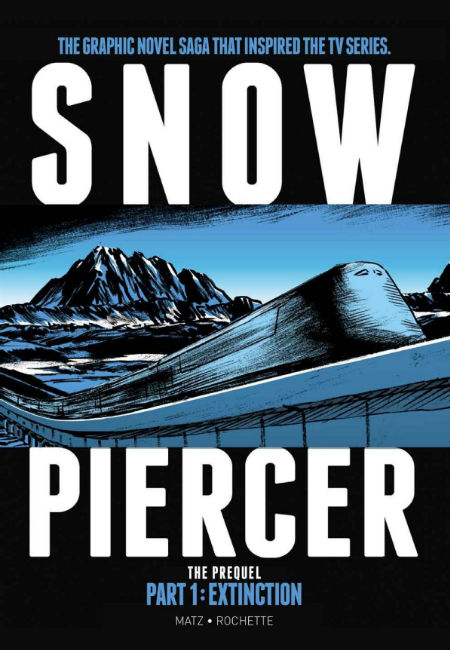 SNAPSHOT
The prequel story to the New York Times bestselling Snowpiercer graphic novel series that inspired both movie and TV adaptations. Perfect for fans of post-apocalyptic sci-fi! The Snowpiercer saga continues with this brand new story by original artist Jean-Marc Rochette and Eisner nominated writer, Matz. Set before the extinction event that caused the new ice age in which the Snowpiercer travels perpetually around the globe, witness the terrifying events that led to the need for and creation of the eponymous train. (synopsis via Bleeding Cool (c) Titan Comics)
Let's face it – there's no such thing as a fun apocalypse.
They are by definition pretty nasty end-of-the-world events and whether they involves zombies, aliens, global warming or an epidemic of some kind (and a thousand other possible things besides), you're not exactly putting out the balloons to celebrate their arrival.
But there's something about the apocalyptic events in Snowpiercer that, ahem, chill you to the bone.
In this version of civilisation's downfall, the Earth is reduced to a frigid wasteland where your options for survival are reduced to being on the train or … well, there is no "or" which is why the authoritarian societal structure which puts the 1% still firmly in charge and the 99% right down at the bottom of the barrel is so frightening.
But how do the events of Snowpiercer, based on the series of graphic novels by by Jacques Lob and Jean-Marc Rochette (later issues were written by Benjamin Legrand) and turned into a film by Korean director Bong Joon-ho, come to be?
We're about to have the answers handed to us in the form of Snowpiercer The Prequel: Part 1: Extinction, written by Matz with artwork by Rochette, which explains, no doubt brilliantly, how the whole doomed 1001-car salvation of humanity on ice comes to be.
Snowpiercer: Extinction launches 25 September.